In today's modern era of technology, social media has become an essential tool for both individuals and businesses to establish connections with their target audience, promote their brands, and share their personal stories. If you're someone who has an influence on social media, a small business owner, or a content creator, it is extremely important for you to grow your social media accounts in order to achieve success.
Growing your follower base naturally is crucial for developing a real and involved audience. This blog post will discuss five effective tips to boost your social media presence without resorting to "buying TikTok followers."
1. Define Your Audience and Niche
The initial step in building your social media presence is to determine your target audience and focus area. It's important to have a good grasp of who your ideal audience is, what they find interesting, and the type of content that really speaks to them. Take some time to figure out who your followers are and what they like so that you can create content that resonates with them the most.
You may better fulfill the demands and preferences of your audience by focusing more narrowly, which will increase the likelihood that you'll get and keep devoted fans.
2. Consistent and High-Quality Content
Consistency and quality are the cornerstones of successful social media growth. To keep your audience interested, develop a content plan that fits your niche and post frequently.
Whether it's Instagram, TikTok, Twitter, or any other platform, ensure your content is visually appealing, informative, and adds value to your followers' lives. Engaging content encourages sharing and attracts new followers.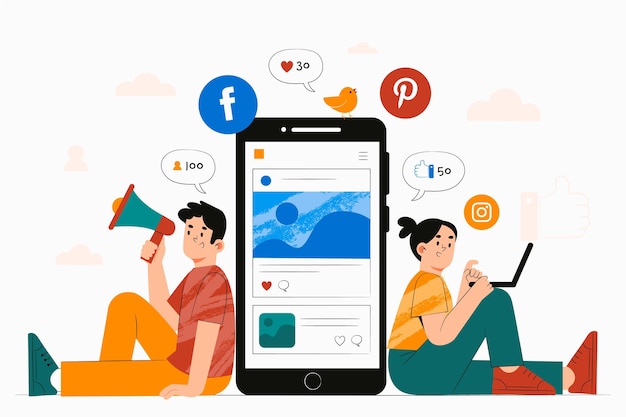 3. Engage with Your Audience
Building connections and cultivating relationships are the main goals of social media. Spend some time conversing with your audience by answering messages, comments, and mentions.
Thank them for their support and take an active part in conversations about your material. By being responsive and approachable, you create a positive and inclusive community, which, in turn, encourages more people to follow and engage with your account.
4. Utilize Hashtags Strategically
Hashtags are a powerful tool to expand the reach of your content and attract new followers. Incorporate hashtags that are current and pertinent to your niche into your posts.
However, refrain from overusing or irrelevant hashtags as this could come across as spammy and turn away potential followers. The right hashtags can make your content discoverable to a broader audience, increasing your chances of gaining new followers organically.
5. Collaborate with Other Creators
Put a reminder in your social media calendar to collaborate. Collaborating with other social media creators can significantly boost your account's growth. By collaborating with influencers or content producers in your niche, you can expose your profile to their followers and reach a new, pertinent audience.
Cross-promotion benefits both parties involved and fosters community within your niche. To ensure a fruitful and worthwhile collaboration, keep in mind to select partners whose beliefs and viewpoints are similar to your own.
Conclusion
Growing your social media accounts is an ongoing process that requires dedication, creativity, and a genuine connection with your audience. Define your audience and niche, consistently deliver high-quality content, engage with your followers, strategically use hashtags, and collaborate with other creators to organically expand your social media presence. Avoid "buying TikTok followers" or followers on any other platform, as it can lead to a lack of engagement and authenticity. By following these five tips, you can build a thriving social media community that supports your brand or personal identity, ultimately helping you achieve your goals and objectives in the digital landscape.