Are you tired of the same boring white walls in your kitchen? Are you ready to shake things up a bit and give the room a modern look with a splash of color?
Homeowners are taking the kitchen accent wall to new levels with a colorful, minimalist look that's all the rage. But how do you go about it? What kind of look are you going for?
There are many different ways to bring some color into your kitchen, as you'll see in this article. Below, we review eight creative ideas for an accent wall in the kitchen.
1. Paint the Wall an Eye-Catching Color
If you want to add a trendy and bold touch to your kitchen accent wall, painting it an eye-catching color is an excellent option. Whether you choose a saturated hue or contrasting pastels, there are plenty of paint choices available to complement your kitchen's existing decor.
Finding a reliable painting company to complete the job for you can be difficult. Fortunately, companies like Fresh Coat Painters Marble Falls provide superior workmanship and exceptional customer service. They will work with you to bring your dream kitchen to life.
2. Hang Art and Wall Decals for Added Texture
The trendiest idea for accent walls in the kitchen is to hang art or wall decals. Wall art can inject personality, provide a focal point, and make the kitchen stand out. Wall decals and prints can also add texture and layers to the space.
For a modern look, you can choose contemporary prints, botanical photographs, or typographic artworks. If you prefer a more rustic aesthetic, you can opt for vintage-inspired prints, wood wall art, or gallery-style frames with hoisting strings.
Hanging art is an affordable way of transforming the look of a kitchen and creating a statement wall. Choose art that reflects your personality and style to make it one-of-a kind.
3. Incorporate Exposed Brick for a Rustic Yet Chic Look
This classic material adds texture and character and creates an effortless, timeless feel. Exposed brick is the perfect material to give the feel of a cozy rustic atmosphere with a modern and up-to-date sense of style. It is a great way to contrast wood cabinets and countertops, or it can even help tie together both a modern and rustic look.
Exposed brick is also ideal for creating a focal point in your kitchen by standing out from your neutral color palette. It is also easy to maintain and can help create an accent wall that is both beautiful and timeless.
4. Add a Statement Wallpaper for a Surprising Element
If you are looking for one trendy idea to incorporate into your kitchen accent wall, then adding a statement wallpaper for a surprising element is the perfect way to go. This will pop off your kitchen walls and make your kitchen stand out from the rest. Choose a statement wallpaper with bold colors, patterns, and textures that will tie together all the elements in the room for a stunning finish.
Start with a neutral base and layer statement wallpaper on top to create a focal point. When choosing the wallpaper, consider the size and color scheme of the room to make sure it complements the look.
With the addition of statement wallpaper, you will be left with a surprise element that you may not have expected. This trendy idea will add a touch of personality and style to your kitchen that will be sure to impress.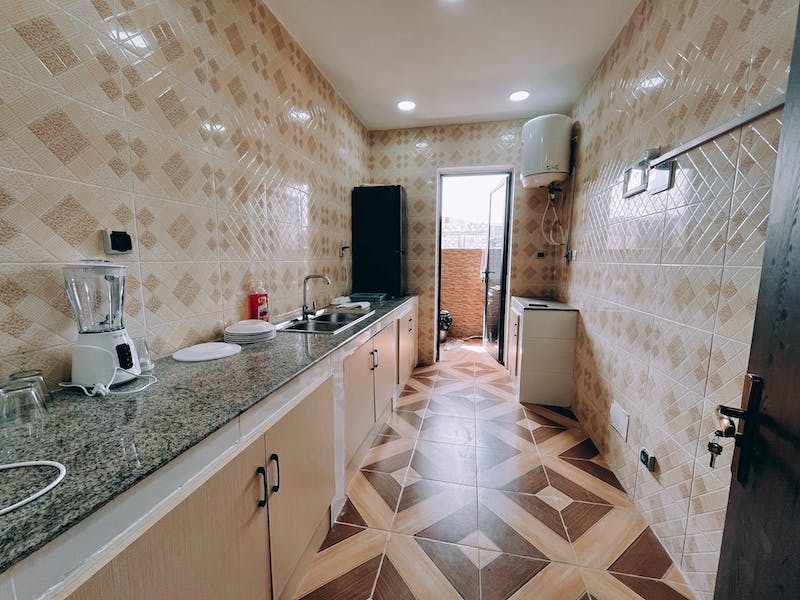 5. Mix and Match Wood and Metal
An accent wall with wood brings in a classic and timeless vibe, while metal brings a modern edge. When used together, they create an interesting contrast and visual texture on the wall. For example, you can use reclaimed planks of wood with an aged patina alongside modern brushed metal kitchenware such as stools, cabinets, or appliances.
To mix things up, you could use a variety of materials, such as tiles, glass, and stone, or add color by staining or painting the wood. With each unique combination, you are able to create a unique and one-of-a-kind kitchen accent wall to set your cooking space apart from the rest.
6. Install Open Shelves and Cabinets for Extra Storage
This will give your kitchen counter a modern look without taking up too much space. In addition, you can add more storage space to safeguard mugs, plates, and other cutlery items. The shelves become a great device for displaying your best and most decorative crockery while keeping the items that you use away from view.
Installing shelves or cabinets is a great way to add extra storage space to an otherwise small and confined kitchen. Plus, it's a beautiful alternative to traditional cupboards and can even be used as a part of a statement art piece. It's also a great way to introduce new colors and textures to your kitchen.
7. Add Wall Lights to Create Interesting Shadows
By creating traditional wall sconces or more modern hanging fixtures, a beautiful and dramatic effect can be achieved. The main focus should be on a single wall, often an accent wall, where a chandelier or light fixture can be the focal point of the room.
To emphasize the beautiful shadows created, high gloss paint can be applied to the wall, creating an even more spectacular effect. Contrasting that wall with a lighter shade of the same hue makes for a stunning look. With several illuminated sources of light, the walls seem to come alive as they cast interesting shadows throughout the kitchen.
8. Include a Chalkboard for Doodles and Grocery Lists
Easily accessible, the board is perfect for writing down grocery lists, to-do lists, or even doodles or favorite quotes. The board is perfect for any decorating style and can add a great statement piece to your kitchen while remaining functional. For the budget conscious, repurposing an existing wall is an easy and cost-effective option.
Adding wallpaper, an artistic mural, or patterned paint to the board can give the chalkboard even more personality. The board is perfect for any occasion, from a family game night to a fun dinner party.
Elevate Your Home With These Kitchen Accent Wall Ideas
A kitchen accent wall is a great way to bring personality and style into your kitchen. Whether you opt for wallpaper, paint, wood panelling, stone, or tile, there are plenty of creative ideas to choose from. Get creative and embrace your inner designer to make your kitchen stand out. Try one of these trendy ideas today!
For more similar topics, check out our daily blog for the latest.