First impressions go a long way, and the appearance of your business premises is no exception. In a way, having a well-maintained lawn can make all the difference in boosting your reputation and customer confidence in your brand.
However, taking care of outdoor spaces can be time-consuming and laborious without professional help. That is why hiring a commercial landscape maintenance contractor can be worth its weight in gold.
In this article, we'll explain why you should consider this move by discussing the priceless benefits that you'll gain from it. We'll also give you some quick tips on how to choose the right contractor for your needs.
5 Irreplaceable Benefits of Hiring Commercial Landscaping Contractors
For many business owners, the idea of hiring professional landscape maintenance services may seem like an unnecessary expense. What they don't know is that there are invaluable benefits to letting the experts handle their landscaping needs.
1. Stunning Kerb Appeal
When you have a commercial landscape maintenance contractor taking care of your outdoor spaces, you can rest assured that your premises will look great at all times. From expertly manicured gardens to neat pathways and flower beds, these professionals will be able to turn your commercial property into a thing of beauty. This can make a great first impression on potential clients and partners, giving them more confidence in doing business with you.
2. Cost-Effectiveness
Yes, getting commercial lawn maintenance services comes with a cost. However, it's actually a financially wise investment to make compared to doing lawn maintenance on your own.
Remember that commercial landscaping requires specialized tools and equipment. Buying these can be quite costly, especially if you don't plan to use them on a regular basis. Also, there's the added expense of compensating an in-house team of gardeners, should you choose to get one.
On the other hand, hiring a landscaping contractor means that you only pay for the services when they are needed. You don't have to worry about getting and storing specialized tools or paying salaries. Plus, the contractors will be able to finish their tasks more efficiently due to their experience and expertise.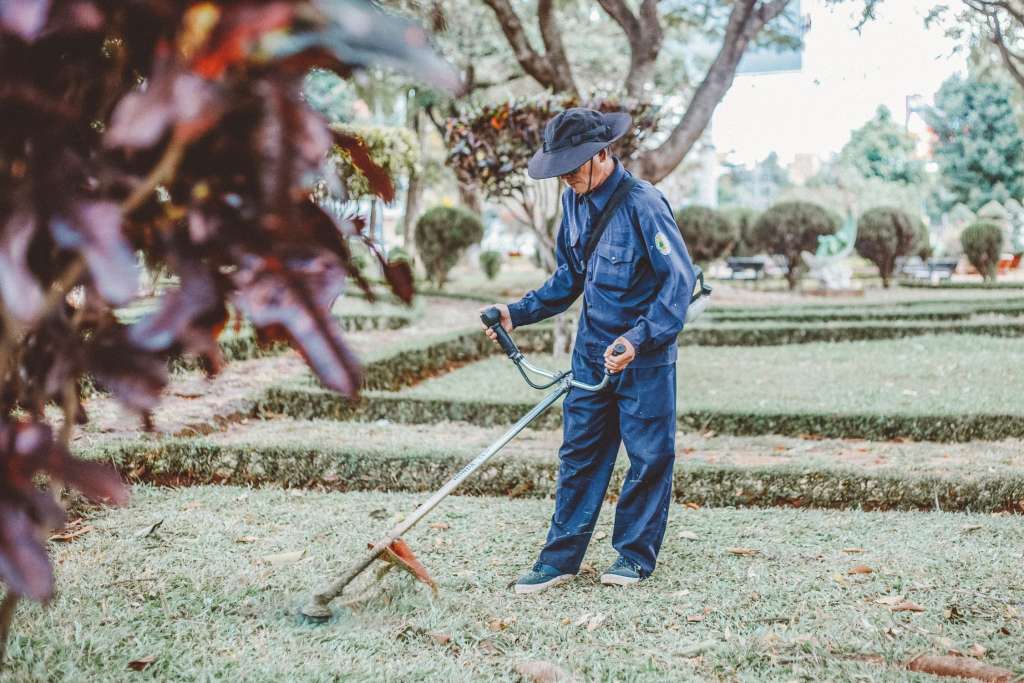 3. Time Savings
Not only does a commercial landscape maintenance contractor have all the tools and resources to get the job done quickly, but they also free up valuable time that you can spend on more important things, like running your business. Time is money, and if you spend hours doing lawn care tasks, that means you're sacrificing time that could have been used on something more profitable.
Leaving the landscaping maintenance to the experts allows you to focus on essential aspects of your business, such as project planning, customer relations, staff development, or marketing. This can make a huge difference in its growth and success.
4. Improved Employee Morale
There's something about a well-maintained landscape that boosts employee morale. A lush lawn can provide a sense of pride to the people who work for you, leading to increased productivity and satisfaction at work.
Plus, commercial landscaping contractors can help you create a pleasant outdoor area that your employees can use for leisure activities like alfresco lunching and team-building exercises.
5. Safety Hazards Prevention
You don't want anyone to get injured on your premises due to untrimmed trees or overgrown shrubs. With the help of a commercial landscape management company, you can keep such areas cleared and maintained to prevent these kinds of accidents from happening. They can also check for any potential risks, such as uneven pathways or damaged fences, and take the necessary steps to fix them.
All in all, these benefits make a strong case for why you should hire a commercial landscape maintenance contractor. Now let's take a look at how you can find the right one for your needs.
Quick Tips for Choosing the Right Professional Landscape Maintenance Services for Your Business
Doing research is key when it comes to selecting the perfect landscape maintenance company for your business. Here are some tips to get you started:
Look for a local professional who has experience working with businesses like yours.
Make sure that the contractor offers a variety of services, from lawn care and landscaping to tree pruning and pest control.
Ask for references or look for reviews online to see what other clients have said about their experience with the company.
Inquire about insurance coverage so you can be protected in case something goes wrong during the job.
Request an estimate so you can compare prices across different businesses and make sure that you're getting a great deal.
Conclusion
A commercial landscape maintenance contractor can do wondrous things for your business. And, you should already have a better understanding of why you should invest in these professionals. Now, all that's left to do is start looking for the ideal company and get them on board so you can reap all those amazing benefits!
If you need more tips and information that you can use to manage and grow your business, feel free to browse our site!