As a fur parent, you know how important it is to find the best dog walkers. But with so many options out there, it can be hard to pin down which one is perfect for your furry family member.
That's why we've created this handy guide—so you can make a paw-sitively smart decision when choosing a doggy daycare! We'll go through the benefits of getting their service and the essential factors to consider when hiring one. Ready? Let's get started!
Benefits of Hiring a Professional Dog Walking Services
Dog walking services are more than just a convenient way to give your pup some exercise while you're away; they can also have many other benefits. Here's why hiring a professional dog-walking service is an excellent choice for pet parents:
Safety and Security
Dog walking professionals are trained in proper handling, restraint, and safety techniques to ensure the well-being of your fur baby. They also know how to handle any situation that may arise, like aggressive behavior from your pup or another dog in the area.
Mental Stimulation
One of the best benefits of hiring professional dog walkers is that your pup will get more than just a few minutes outside for potty breaks. Your canine companion will get plenty of mental stimulation while they are out and about. From the sights, smells, and sounds they encounter on their walks to playing with other pups in the area, they will be sure to get a healthy dose of enrichment.
Socialisation
Getting out and about with a professional dog walker can be a great way to socialise your pup. By meeting other dogs in the area, they can learn how to interact appropriately with other canines while staying safe. And, if you're lucky, they may even make some new furry friends!
Eliminate Boredom
Fur babies can get bored when left alone for extended periods of time. Hiring a professional dog walker ensures that your pup won't be cooped up indoors all day. Instead, they will get some much-needed exercise and enrichment to keep them entertained while you're away.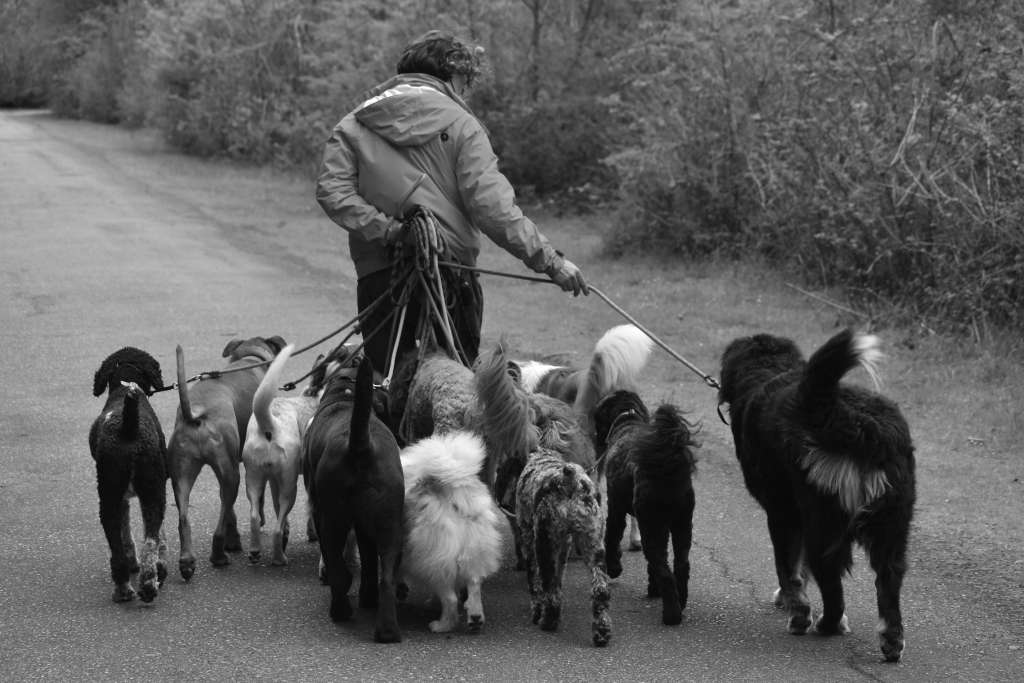 Essential Factors to Consider When Choosing the Best Dog Walkers for Your Pup
Remember that not all dog-walking services are created equal. To ensure that you're getting the best dog walkers for your pup, here are some essential factors to consider.
Experience and Credentials
The best dog walkers are those with significant experience and the appropriate credentials. Look for qualified professionals who are certified in pet first aid, have a background in animal care, or can provide references from past clients. You should also inquire about their policy on liability insurance to make sure your pup is covered if something goes wrong.
So, don't be afraid to ask questions when interviewing potential candidates. It's your job as a fur parent to make sure the dog walker you hire is qualified and reliable.
Availability and Scheduling Flexibility
Many highly-qualified professionals offer services tailored to your pup's needs—some may even take them out for overnight walks or longer trips. It's best to choose a service that can accommodate your pup's unique schedule, so you know they will always have someone available to look after them.
With that in mind, it is best to find local dog walkers that are located close to your home. This will make it easier for them to pick up and drop off your pup in a timely manner.
Services Offered
Top-rated dog walkers offer more than just picking up and dropping off your pup. They should also be able to provide additional pet-care services, such as administering medications or brushing their fur. Some may even offer overnight stays in case you need to go out of town for a few days.
It's important to find out exactly what type of services the dog walking service offers before you hire them. This way, you can be sure that your pup will get all the care and attention they need.
Compatibility
Most importantly, you want to make sure the dog walker you hire is a good fit for both you and your pup. After all, they will be spending quite a bit of time together! Look for a professional who is enthusiastic and passionate about animals, as well as someone your pup can trust.
Take the time to get to know the dog walker and talk to them about their experience with dogs. Ask questions about their background in animal care, how they handle aggressive behavior, and what their approach is when it comes to training. This will help you determine if they are the right fit for your pup.
Final Thoughts
Finding the best dog walkers in Australia doesn't have to be a challenge! With this guide, you should now have all the information needed to make an informed decision. Now it's time to start interviewing potential candidates and finding the paw-fect one for your fur baby!
For more pet care tips, feel free to check out our other posts!