Electric vehicles (EVs) are leading the way in the move towards environmentally friendly transportation, making the future of transportation green. Aiding this change is the advent of EV rental apps, making the eco-friendly travel option more accessible than ever. This article delves into the intricate process of EV rental app development, outlining key considerations and steps.
The Rise of EV Rental Apps
The adoption of EVs has been gaining momentum globally, driven by growing environmental consciousness and supportive government policies. In parallel, the sharing economy has given rise to rental platforms for cars, bikes, and now, electric vehicles. As a result, EV rental apps have become a successful business niche.
Understanding the Basics: What is an EV Rental App?
An EV rental app allows users to locate, book, and pay for electric vehicle rentals within the app. These apps frequently offer extra services like customer support, integrated navigation systems, and real-time car tracking.
Critical Elements in EV Rental App Development
Developing an EV rental app involves careful planning and implementation. Here are some crucial elements to consider: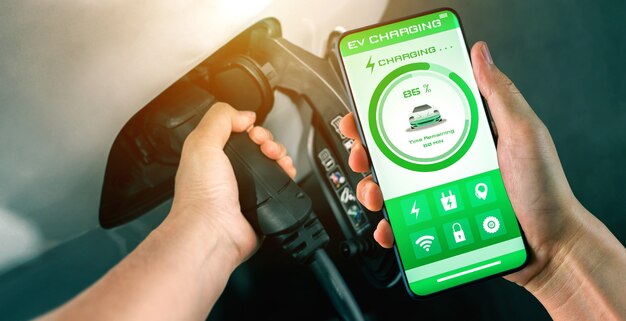 User Registration
A user-friendly registration process is key to retaining users. You might offer multiple options, like registration via email, social media, or a phone number. However, it's important to ensure the information uploaded is GDPR compliant, respects user privacy, and follows data protection regulations.
Real-Time EV Location and Status
Users should be able to find the nearest available EV with ease. The app should also display real-time status updates about the vehicle, like battery level and estimated range.
Secure Payment Gateway
A secure and seamless payment gateway is crucial for successful transactions within the app. Providing a variety of payment methods can improve user convenience.
Customer Support
Customer service that is dependable and easy to reach can greatly increase user happiness. It could be in the form of FAQs, chatbots, or live support.
Driving Sustainability with Technology: Building the App
There are several steps in the development process:
Market Research: Understand your target audience, market trends, and competitor offerings.
Ideation: Outline your unique value proposition, key features, and overall app structure.
Design: Design a user-friendly interface that looks good.. Use wireframes and prototypes for the initial design stages.
Development: Coding the app, integrating APIs, and establishing the backend infrastructure are all part of this phase.
Testing: Thorough testing guarantees the program is free of bugs and functions best under various circumstances.
Launch: Once the app is tested, it's time to launch it on relevant platforms like Google Play and the App Store.
Maintenance: Regular updates and fixes keep the app running smoothly and help incorporate user feedback.
Looking Forward: The Road Ahead for EV Rental Apps
The global EV market is projected to reach $803.3 billion by 2027, according to a report by Fortune Business Insights, indicating a growing demand for EV rental apps. As environmental concerns continue to drive the shift towards sustainable transportation, EV rental apps have a significant role to play in facilitating this transition.
Another study by McKinsey also suggests that shared mobility will significantly transform the automotive industry, further stressing the potential of EV rental apps.
In conclusion, developing an EV rental app is a promising venture in today's digital, eco-conscious world. With careful planning and execution, entrepreneurs can contribute to sustainable mobility while capitalizing on a growing market opportunity.