Blogging has never been a more lucrative way to make money online than it is now.
There are hundreds of bloggers that I know personally who are generating a decent amount of money from blogging year after year since they started it.
There are few attributes associated with blogging that sets it apart from other careers.
For example, you get the freedom to work from home on your own terms. You set your own work schedule and need not bother about commuting.
But the best part is you get an opportunity to earn money that wasn't possibly working a 9 to 5 job.
Individuals, especially in the age group of 16 to 34 years, are already doing it. So this is no secret!
We are already halfway passed through 2019.  There is no point sitting idly on the fence and deciding about your career.
If you want to do something different then start with blogging.
To make things clearer I'm giving you 5 proven ways to make money from blogging.
1. Google Adsense
Novice bloggers need discipline and structure otherwise their blogging venture can go haywire.
So you have to go step by step.
The first step you need to take is deciding a niche for your blog. Choose a topic on which you can create great content consistently.
It may sound you banal but in blogging, Content is the King! And one way to create great content is choosing a niche that is very close to your hobby.
Once you've decided the niche next step is to create your own Blog. If you have a thing for guns then you can create an entire blog around guns. Similarly, if you love playing the guitar then write about guitars.
You can't succeed as a blogger if your content is not appealing to its readers. Objectivity is very important here.
So before you learn different ways to make money from blogging you have to be able to appreciate the importance of great content.
Once you are done with content you have to work on SEO side also. For on-page SEO do the basic things like proper keyword research, internal linking, structuring of blog posts, etc.
However, for off-page SEO (backlinks) you need to do only one thing, and that is getting genuine backlinks from quality blogs by writing guest posts (for free) for their blog. In return, they give you a backlink linking to your site.
Once you've been able to sort out the Content and SEO part 95% is over. Your blog is good enough to receive thousands of visitors on a daily basis.
Now you can apply for Google Adsense. Your blog will be instantly approved by Google for Adsense Program. Adsense is the number one contextual ad platform trusted by thousands of bloggers around the world.
Don't worry! Google pays you on time month after month, year after year.
Once your blog is approved for the Adsense program use their analytic program to analyze page views, visitors, demographics, bounce rate, CPC, CTR, etc.
2. Affiliate Marketing or Internet Marketing
Once the foundation is laid and your blog has a loyal reader base you can feel free to go ahead with Affiliate Marketing.
Always remember affiliate marketing is where you sell products to people online, it is much difficult than getting clicks on your ads.
You can get 10 clicks per 100 views but you don't get even one sale for even 1000 views.
So it takes time and experience before you make money selling products online. However, with affiliate marketing, you can earn 5 – 8 times more than Google Adsense.
8 fold increase in your revenue!
But the best part is you don't need to create your own product because you can sell on other's behalf. Products can be either digital or physical products.
Right now selling products from eCommerce sites like Amazon is very hot among affiliate marketers. Many bloggers join Amazon affiliate Program and earn money by selling Amazon Products.
You just need to choose a product that reflects the niche of your blog.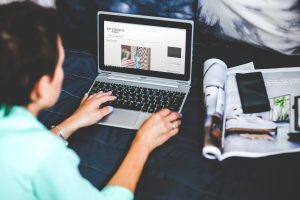 3. Sponsoring Guest Post & Paid Reviews
Income streams from blogging have now gone beyond blogging and affiliate marketing.
3rd Proven way is sponsoring other's guest posts and also writing paid reviews for small and big companies.
Other bloggers in your niche, new brands, agencies, companies would like to publish their posts on your blog. If your blog gets huge quality traffic then they would be willing to pay you anything from $100 to $10,000 for publishing just one post.
The money you charge would depend upon how good your website is.
You can also allow companies to publish reviews of various products on your blog. These reviews generally have a positive bias as basically, you are promoting their product/brand.
If publishing paid reviews doesn't affect your blog's readership then you can publish paid reviews.
There is a big opportunity making thousands of dollars each month by just publishing 1 or 2 sponsor posts.
4. Consulting, Coaching Services& Paid Speeches
Once you've become famous and people know you online you can definitely become a blogging consultant. Many bloggers who have established themselves have become a blogging consultant.
They consult other individuals and organizations on how they can start their blogs and connect with the world online.
You can organize sessions online via Skype and charge them a fee on per hour basis. Again charges could be $250 – $2500 an hour depending upon how big of a blogger you are.
Some bloggers have gone on to start Blogging School where they teach 100 – 200 students every month.
You can also give paid speeches at seminars and workshops.
5. Sell Your Blog
You also make good money by selling your blog. If you are finding it difficult to manage your blog because you have moved on to something new then sell it.
Selling blogs can be very profitable. You don't have to restrict yourself selling just one blog. You can buy and sell even more blogs.
This business is also known as website flipping. Here, you buy an undervalued website, tweak it, make some changes and sell it at a price 10 times higher.
The point is how low you buy a website in a lucrative niche, then add some value to it, do some SEO to increase the traffic and sell it 10 to 12 times higher.
If you can flip a blog each week then you can easily earn 5 figure income monthly on a regular basis.
These were 5 proven ways to Make Money from Blogging in 2019 and thereafter.
The only caveat is to start with Adsense then go for affiliate marketing and once you have established yourself you can go ahead with the last three.
So go step by step!