Every homeowner will admit that the drill is one of the essential tools needed in their toolkit. Apart from the hammer and screwdriver, it's the most useful.
Just for a quick understanding, drills come in types. There are regular drills, impact, and hammer drills. But for typical DIY tasks in the home, the hammer drill may not be a necessity – it's more useful with concrete, stone, and hard materials. The impact drill, on the other hand, uses high power and acts as a screwdriver.
5 reasons why women should know how to use a power drill
When something breaks or gets damaged around the house; it's quite easy to make it one of the items on the non-ending to-do list for your partner.
Of course, you may want to point to the fact that the responsibilities to fix things that go wrong fall mostly to the men. But there are some that women can easily do too; like fixing the washer, hanging a painting and other workable tasks.
So basically, there are five convincing reasons why women should know how to use a power drill.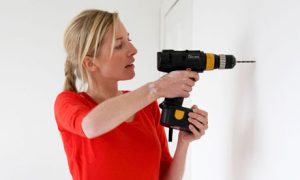 1. Saves money
Regardless of how trustworthy all your home items are, the list of things to be fixed does not end. Now think about how you have to pay the fees of these overcharging contractors and repairers continually. It will cost you a lot! But knowing how to use the drill and other power tools helps you save the most of your earnings.
2. Bragging rights
Have you ever thought of bragging as a good replacement for nagging? Nobody likes themselves after nagging. Of course, every partner will be so impressed to come back from work and hear, "Guess what I did today?" instead of complaints.
3. Proves Independence
The house may be the man's kingdom, but the home is for the woman. It's practically your domain, and where you run your daily activities. Knowing how to use the tools puts you in control, states your claim as independent and not at the mercy of another, or their schedule.
4. Growing and learning
Learning is a part of life, and it doesn't end. Learning how to use a power drill could be the step you need to a prolific career.
5. Shows care
More than only fixing things, it proves to your family that you care. Imagine your partner being out of town and you figure some solutions out and help to cross some items of his list, or even do a bit of redecoration to surprise him
How to choose a cordless drill for women?
Choosing a cordless drill for women will require the following factors:
Overall Weight
Bearing weight is not best suited for ladies which is why weight is the first factor to consider. Lightweight cordless drills are the best for ladies – anything above average is a fail. When you are considering the overall weight, remember that it's the combination of both tools and battery.
Power and Durability
Power refers to the overall performance of the drill. It's better to get one that has a higher power output and can handle heavy-duty tasks without dying in the middle of work
Speed Control
The speed control has the utmost effects on the flexibility of the drill. Some have the option of an adjustable level of speed to match your task. It enables the power tool to function for different purposes.
Special features
A competent drill with unique features is a treasure. It brings better efficiency to work. Consider the ones with carrying bags, cases, LED light, extra bits, or safety glass.
Tips for First-Time Drill Users
Although some might think of the drill's price tags as not worth it; through owning one, you will realize it as a solution to lots of undone tasks. Anyway, the power tool is not always that expensive; you should check out the best cordless drill under $50.
For first-timers, let's give you a few tips:
You need to protect yourself from dust or shavings with breathing masks, safety goggles, and gloves.
Baggy clothing, long hair, or Jewries could get tangled and could be hazardous. Avoid them while using a drill!
Use clamps when necessary, secure your work materials.
Begin your drillings with a pilot hole to ensure accuracy and reduce the chances of mistakes.
Use the proper drill bit and tighten it firmly into the chuck.
Apply proper pressure, but not too much force to avoid straining the motor.
Conclusion
The flexibility of the drill is quite surprising. It can be used to handle many great projects, even the ones you never thought possible. For women, there are a few concerns, like the drill should be lightweight, efficient, and safe to use under any condition. But the market offers a lot of options. So get yourself one!