If you are a diehard of rocky mountain ranges, warm and cozy beaches, historic places, and random city tours, then, Oman is the next destination you should be hopping into!
Regardless of age, occasion, Oman has got something power packed to keep you entertained and excited throughout your stay. What makes Oman so elegantly graceful as a whole? Well, here are the top 7 highly recommended tourist destinations gathered up:
1. Sultan Qaboos grand mosque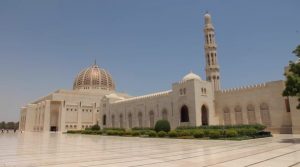 As it is one of the most famous places in the Capital Muscat, most of the people love to start their trip by visiting this divine architecture.
With its elegant blue tiles and a huge chandelier, this modern mosque provides space for about 20,000 people to worship!
You will be surprised to know that the Iranian handmade rug is the second largest rug in the whole world. This rug took 4 years to weave by 200 women!
2. Mutrah Corniche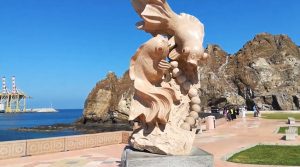 When in Muscat, do not make a lame mistake by skipping this serene place. Make a mental note to head towards this side of Muscat before the sun bids goodbye for the day.
For those who love just to sit and watch calmness in the seafront, this place is the one you should be aiming for! Don't miss the amazing view of forts starting to glow golden in color late in the afternoon.
3. Nizwa Fort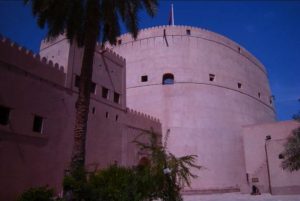 If you are a curious cat about the history of any place you visit, then, this place takes you back in time and lands in the 17th century!
You can enjoy the panoramic view of the whole city by putting the mere effort into climbing the circular tower. So, there you have it!
You can now see why this spot is worth famous for! One amazing view wherein you can see date palms, mosque, souq, and the rocky mountains too!
4. WadiBani Khalid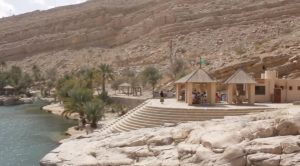 Imagine you are in a desert. How about the idea of swimming in the oasis filled with clear green water which is hugged by the combination of date palms and rocky mountains? Are you in? Then, hop into this stunningly awesome place called WadiBani Khalid.
These dry river beds are known to have water only in a particular time of the year. So, by making some time in your jam-packed life, make sure you check into this charming beauty.
5.Wadi Shab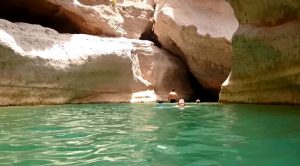 I wonder how Oman as a destination is overlooked by most of the travelers. Wadi Shab is one of the prized possessions of Oman. If you have a thirst for adventure, you can bump into this amusement!
Your adventure begins in a classy style by taking a boat and floating across the river, then, throw a challenge to your legs by hiking for about 45 minutes through a gorgeous valley. Now, comes the most lovable part, swimming!
Well, sometimes it can be overwhelming to book a trip on your own by going through the details, and at times, it can turn out to be unnecessary expenses you have made unknowingly. Musandam tour is the smartest choice, which makes your trip worthy and entertaining!
6. Sur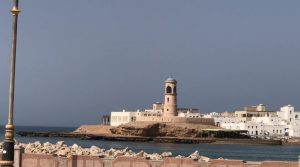 One of my desires is to visit a calm, serene place wherein I can witness how graceful it looks when the desert meets the sea! Do even you want to? Then, welcome aboard!
Sur is the place you should be thriving to visit to see this eye soothing view happen right in front of you!
The whole scene of the long, warm beaches, a dhow boat building yard, Al Ayjah, and the turtle reserve is worth a watch!!
This adventure is successful if you reach a cave by swimming across the series of the pool! There, you can spot a clear, pure waterfall!
7. Wahiba Sands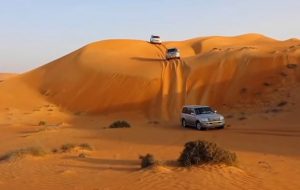 Show up to Wahiba sands if you want to feel the authenticity of deserts. You will be thrilled to experience the rolling sand dunes, one amazing and mandatory camel ride, and 4WD adventures can make your visit worthy!
Oman is a place wherein you can find all generations enjoying to their core. Why not? This offbeat beauty has got something in everything, which makes the place worth a visit!