Atlanta, the capital of Georgia, boasts several historic sites and attractions. If you are thinking about visiting this historically magnificent and professionally developed city, there are a plethora of places that you should visit. It is a city that possesses a history with regards to the Civil War, Martin Luther King, Jr., and the Civil Rights Movement. So, if you are in love with historical sites, this city has a lot to offer you. And, even if you do not like to visit historical places or have no interest in historical sites, still Atlanta has a lot to attract you. This city is famous for its amazing, giant aquarium, the lively nightlife scenes, and killer food. Along with this all, if you are visiting Atlanta with your family, you can enjoy many activities that are designed to enjoy with the family.
Some of the best Atlanta attractions are mentioned below. Keep reading to know more about this splendid city and see what you have in common with Atlanta.
Martin Luther King, Jr. National Historic Site
It is a good place to visit if you are a history buff. It is a museum which is located on Butler Street. King's birth home still contains restored rooms that are associated with his childhood. You will love to visit this place if you already love Martin Luther King, Jr. for the way he led an entire era.
World of Coca-Cola
It is a museum located in Brooklyn. What makes it significant is the history that speaks about the birth of Coca-Cola and the soda industry which came into existence in the late nineteenth century. This museum not only shows the history of fizzy drinks since 1886 but also offers you different unique experiences. Have you ever saw DIY beverage fountains? Fountains that dispense various flavors? You can choose from more than a hundred different beverages. So, visit this unique museum and enjoy drinking classic favors along with the limited editions.
Georgia Aquarium
It is one of the largest indoor aquariums in the world and the largest one in the Western hemisphere. This amazing indoor aquarium contains more than 100,000 aquatic inhabitants. It is located in Techwood, adjacent to Centennial Park. A plethora of saltwater and freshwater species are enough to attract your attention even if your attention span is low. So, if you are visiting with your family and have young kids, this is a must-go place for you. Your kids will love to see so many aquatic animals and they will not get bored quickly. Some of such amazing creatures that you and your family will surely get attracted to are Beluga whales, sharks, and dolphins. Moreover, you can enjoy seeing some rare animals like penguins.
Family-Friendly Destinations
There are many tourist attractions in Atlanta that you should visit if you are visiting it with your family. Your kids might not be history buff like you. So, you can take them to different treetop jungle gyms or old-school arcades. At such tourist attractions, your entire family will enjoy. You can also enjoy kayaking in the Chattahoochee River with your family. Make a list of such family-friendly tourist attractions so that your family can enjoy the trip like never before.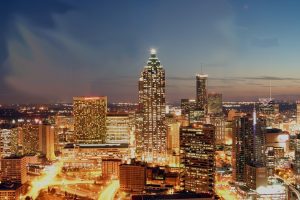 Stone Mountain Park
There are several tourist attractions all across Atlanta. However, there are some particular places that you must visit if you are preparing to visit Atlanta. One such amazing place is Stone Mountain Park. There are many activities and a variety of places which you can enjoy while visiting Stone Mountain Park. Especially, if you are visiting Atlanta with your family, you all going to enjoy this place. Among all of the best Atlanta attractions, this theme park is of significant importance. You can do a lot of different things in this park. Since you can enjoy a variety of activities here, you can equally enjoy visiting this place even if you are alone or with your family. Along with this, some events and festivals are organized at this place. You can check the website of the respective park to know more about the upcoming events and festivals. Some of the things, places, and activities that you can enjoy at this park are mentioned below.
Different festivals are held at this park throughout the year. So, mark your calendar if you want to attend any specific festival at this place.
You can enjoy various events almost every month. You can enjoy different events from the pumpkin festival to highland games.
If you love camping, this is a must-visit park for you. There is a separate campground for camping lovers.
Going with your family? Your kids are going to enjoy it a lot.
You know that this activity is equally liked by kids and adults. So, it does not matter if you are going with family or alone. You are going to enjoy it a lot.
You kids can enjoy indoor games including both fun games and scientific games.
You can enjoy this tour with your family with the help of a captain.
Enjoy your journey on a train which has an almost 80 years old locomotive. Enjoy beautiful scenes while exploring the mountain.
Do you enjoy 3D? Now, this is high time to enjoy 4D animations and have an exceptional experience along with your family.
These are a few things that you can enjoy to do when you will be visiting this one of the best Atlanta attractions. Do check the website of the Stone Mountain Park before visiting Atlanta. In this way, you will get to know about the upcoming events that you can enjoy with your family or friends. If you have more time, you can enjoy a multi-day adventure to this theme park as per your wish-list. Mostly, people come to visit this park with their family or friends. So, come along with your family or a group of friends or colleagues to enjoy this place to the fullest. You will never regret visiting this tourist attraction among all of the tourist attractions in Atlanta.