Visiting new places always brings happiness to the life of a traveler. Especially, if you are a foodie, exploring new places is always fun since you explore new cuisines too. New dishes and particular fruits or herbs that are not easily accessible at other places always love to taste. They give you some unique experience that you might not be able to find out otherwise. Finding out good food full of variety not only fill the empty stomach but also makes you feel good. So, if you are foodie who always loves to try delicious food there can be so many ways to find out good food. In this blog, you are going to know some tips to search for amazingly delicious dishes.
Some hacks to find the best local food outlets
It is true that sometimes a famous restaurant with a big name cannot make you feel satisfied when it comes to having good food. On the other hand, an infancy restaurant or even a roadside food stall or even a hawker can offer you delicious food. Now the question arises that how you can find out such hidden gems. Locals can help you a lot in this regard. For instance, if you are traveling to a destination in a cab, you can ask your cab driver about such places. If he is local, he will definitely tell you about some amazing places that you may not be able to find out on Google. In the same manner, you can ask from your Airbnb host about such places where you can find out good food or some locally made snacks to fulfill your late-night cravings.
Become part of an epicurean tour
If you love to meet new people, you can join a foodie tour planned by a travel agency. Such travel agencies can inform you when they plan a trip if you can drop your contact details to their website. Thus, you can connect with like-minded people and you may have an opportunity to enjoy making some food if you want to do so. You can suggest this as an option to your tour operator. In addition to this, you will not have to search for amazing food or food outlets in a specific area since your tour planner will be planning this for you. If they are experienced in planning food tours, they know their work. It will definitely be an addition to your outstanding epicurean experiences. One of the travel agencies which provide such amazing and unforgettable experience is Food & Wine Trails. Now you can enjoy local food without panicking about how to get the right kind of information about the local cuisine. Thus, you can enjoy breathtaking views along with the most delicious food when you are traveling to a beautiful destination.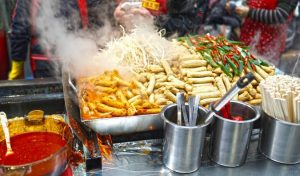 Plan a customized trip
You may not like to mingle with new folks or love to enjoy visiting different places alone. Or, maybe, you like to travel with your family or friends only. If this is the case with you then you should try to plan a customized trip. There are a number of tour planners who can help you in this regard. Do consider this option if you want to make things happen in some special way. A good customized tour planner will offer you a lot of space to plan your trip as per your requirements and desires. Thus, you will be able to plan your trip in such a style that you will not have to face any difficulty after reaching your travel destination. You can ask your travel agent about the best food places. They can plan the most delightful dinners or brunches for you. If you have never planned a customized trip before then do consider planning your trip with the help of a travel planning agency that is well versed in this field. Food and Wine Trails is one such travel agency that offers customized trips. You can contact to get a travel planner who will help you plan your food trip accordingly. Thus, such tailor-made trips can help you a lot in converting your trip into a foodie tour. So, plan an unforgettable trip.
Get information about food festivals
This is a clever trick to use if you are a foodie. Food festivals always allow you to taste the best food in the town. At such festivals, you can get as many different foods as you want. Such events always offer the best local food. Consequently, you will not need to explore good food places on your own. Furthermore, you will save your time and money that you need to spend to reach such food places. You can use this time to explore more places and money on more food. Cheers! If you are visiting another city or another country, do check before planning your trip if some food festival is about to happen or not. Make a plan when you can get an option to attend a food festival and enjoy the most authentic traditional dishes of the respective vicinity.
Plan a road trip
Road trips are awesome when it comes to talking about a variety of food. If you have an adventurous nature and love to travel by road, you can get access to some most wondrous dishes that you may not be able to find out in a five-star gourmet restaurant. Even the chances are that you get some hybrid dishes that are being amalgamated by the roadside restaurants. Most importantly, you always find fresh food at such places since these small restaurants cannot store a lot in their refrigerators.
Although a plethora of ways are discussed through which you can enjoy delicious local food, however, foodie tours are the best way to satisfy your epicurean nature. Enjoy the best food to satisfy your cravings. Go home with unforgettable memories and tastes. So, what you are waiting for. Plan a food tour right now!