Intro
The real estate industry is growing at a huge scale, it's more profitable now than ever to dive into the construction industry.
Building and growing a construction company is tough, and not many make it, but the ones that do enjoy a much larger income than most.
The ones that "make it" have:
Far more effective project management
A better estimating department that can submit bids faster
A quality sales process that lets them close more jobs
Using these and combining it with one of these construction business ideas can give you a lot of success in the industry.
1. Painting Contractor
Painting is so sought after by residential and commercial properties.
Being a successful painting contractor means absolutely knowing the ins and outs of everything there is to know about painting.  One of the strategies painting contractors can take advantage of is using a takeoff service to measure the quantities for their projects.
This includes the different coatings, what looks good on what material, and so on.
You also must be good at generating leads, closing more sales, and bidding more jobs, as is the case with practically every other construction business.
2. Construction Site Cleaning
After every single construction project is completed, there's always a big mess left around.
Because of this problem, a simple solution came up, construction site cleaning services.
These are the people construction companies hire at the end of the job to clean up after them and effectively finish up the entire project to make it public space.
Overall, it's a very important job and a lot of potentials.
3. Building Material Retailing
In this kind of business, you are the supplier for all the construction companies that are your clients.
No doubt this is one of the most profitable construction business models, but also one of the most challenging to launch successfully.
Here you would need to have construction companies come to you to purchase there, for example, paint, lumber, nails, etc.
Businesses always complain about the high prices at Home Depot or other big brands, so they would appreciate a local retailer offering the same materials for more affordable prices.
4. Awning Manufacturing
Most people associate awning with only being attached to RVs but there a lot more common than most think.
Tons of buildings around the world love the style and shade it brings to the exterior to their homes or businesses.
This is an opportunity for someone to step in and be the person manufacturing the materials and the one installing them also.
An average awning for a house is around $250 – $500 and takes around 2-3 hours to set up so you don't need a ton of workers and the profit margins are bigger BUT you do need a lot of business.
A very doable business to create yourself.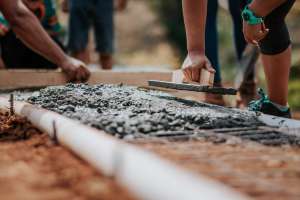 5. Aluminum Door and Window Manufacturing
Aluminum doors are one of the premier styles for homeowners and for business owners alike.
They're much more attractive and durable than traditional wooden doors and the glass in the middle allows it to be a window/door combo.
These doors are relatively expensive and only really require a couple of days, if any, to install several them for a new home.
Owning an aluminum and window manufacturing company could mean you operate the creating of it AND the installation of it, so in other words, you're the person to call whenever aluminum doors are needed.
And just think of the last time you saw a commercial property without aluminum doors.
This is another business idea with a lot of potentials.
6. Carpentry
Carpentry falls under two categories – rough and finish carpentry.  Rough carpentry involved structural lumber, and finish carpentry involved cabinets, baseboards, crown moldings, and wood paneling.
There's always a need for good carpenters to step inside a structure and contribute to the framing, finishes, etc.  Because the market is growing, homeowners are remodeling and adding extensions to their home.  One of the most critical parts of these renovations is the structural component.
Unless a structure is entirely made of metal (which is never the case), there will be a need for a carpenter.
There are a number of carpenter schools teaching this craft and if you have a good sales strategy you can expect a good number of clients for your carpentry business.
7. Carpet Repair and Installation
This is another great construction business idea.
The average price of carpet is $4.50 per square foot and the average cost to install it per square foot is $1.50, so it can be as much as $15,000 to prepare and install the average house in the carpet.
These would be great jobs to secure as a carpet repair and installation company, it just comes down to how good you are at securing more jobs and effectively managing them.
8. Cement Block Manufacturing
Cement blocks are used in walls, floors, etc. and they're one of the most expensive parts of any construction job.
This means the contractor in charge of manufacturing cement blocks for the project can profit greatly, so that makes this another very good business idea to go after in the construction industry.
9. Ceramic Tile Manufacturing and Installation
Manufacturing the ceramic tiles and being the company to install them can be a top-notch business to be in.
To install it the average cost is about $5 per square foot. So if the average square foot of a home is 2600 square feet, that comes around to $13,000.
You do need several employees to help install the tiles so the profit margins aren't perfect, but then again that's the case with most businesses out there, this is a very good and common construction business to start and can potentially be very profitable.
10. Corrugated Sheet Manufacturing
Corrugated sheets are very important when it comes to roofing.
Installing these can be more dangerous than construction businesses involved in other trades, as employees must be on higher elevations to do their work.
But these are very necessary for residential buildings as many houses today need corrugated sheets on their roofs.
Conclusion
To sum things up, there's a lot of businesses to start in the construction industry, and with construction booming right now there's also a lot of opportunities out there.
If you want to start your own construction business, it's going to take a lot of work and you need a good plan in place in order to succeed.
One of the things you're going to need is a high-performing estimating and bidding process, and we can help with that.
Author Bio:
Daniel Quindemil, Founder of I AM Builders. Daniel is a Certified General Contractor and is a Consultant for contractors looking to grow and expand their business.