Technology is rapidly advancing the way things are done in the construction industry. But despite the positive nature of these changes, many construction companies have been slow to adapt.
Today, it is possible to build larger and more efficient buildings while saving money and providing better safety for you and your workers. To maximize these benefits, you and your company will need to embrace the following industry trends.
1. Sustainable Material
Sustainable materials are sourced from recycled materials and resources that are easy to replenish. Sustainable materials are often referred to as green products. Common building materials that are recycled for reuse are lumber, steel, metal, and paper.
Resources that can be quickly replenished with little to no impact on the environment include bamboo, cork, and reclaimed lumber.  Other innovative ideas used to construct structures include homes entirely made of straw, buildings built with rubber tires, and structures constructed using glass bottles.
2. Cost Estimating Software
Cost estimating software is another development that is rapidly changing the construction industry. This technology allows users to quickly manage building plans with accurate construction costs, the ability to share proposals, and the ability to produce line-by-line estimates.
One of the most significant advantages of using contractor estimating software is that builders can avoid the hassle of redesign by perfectly aligning the original designs with the needs and budget of the client.
Cost estimating software also allows users to use a desktop or mobile device to access estimating software any time of day or night. This contractor estimating software provides cloud-based support for several options like keyword searches of terms relevant to the construction business, the ability to track price trends, and detailed price breakdowns.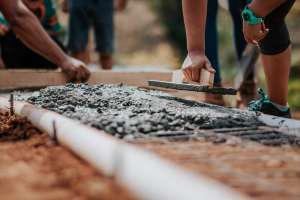 3. Augmented Reality
Augmented reality allows builders to take 3D images of buildings and place them in real-world environments. This provides an opportunity to view what a completed project would look like and allow for alterations to design plans before spending money on construction.
The market for augmented reality is constantly growing and expected to be $90 billion in 2020. Builders and developers are able to produce improved products due to the ability to gain a 360-degree view of a future project and make use of automated measurements to identify needed adjustments. Builders can also conduct a virtual walk-through of a completed project and confer with clients on desired changes.
4. Modular and Prefabricated Buildings
Modular and prefabricated buildings have soared in popularity over the past few years. The explosive growth of this market is expected to continue at nearly 7 percent per year and is expected to reach $157 billion by the year 2023. The advantages that drive the popularity of modular and prefabricated buildings include:
Affordable cost of materials
Faster job completion times
Less material waste
Less impact from weather delays
Flexible building use
Final Thoughts
The constant changes for builders are both exciting and filled with opportunities. However, too many players in the industry are slow to take advantage of the new opportunities presented to them. The four areas of advancement discussed above should be carefully examined by builders who want to stay ahead of the curve and take advantage of all the opportunities available to them.