Instagram statistics show that Instagram, as well as Facebook, hold the top position among social media networks that facilitate digital marketing. When you sit in the corner of your home, you can perform a range of tasks on your mobile device with just a few clicks.
Digital marketing as a trusted and secure medium to make your service known across different locations is one of the fastest-growing methods to increase your revenue online.
Before a digital ads campaign, it is essential to decipher which of these two social media giants is suitable for your company. Both have features that perform this role effectively, but the content below will provide insight into which you should select if you are at a corner to choose one of the two platforms.
Note that if you want to gain more engagement on Instagram within a short duration, consider using sites such as UseViral, SidesMedia, or Thunderclap to buy Instagram followers. In addition, these sites have similar services to Facebook. Now that you have this engagement knowledge, the following aspect shows a significant difference between social media networks.
Content
If you are observant, you will notice that the content shared on the two platforms is quite different. Instagram concentrates more on aesthetic pictures compared to the others. If you have a product with a good quality image, then consider Instagram Ads.
With the right picture or videos, you can create catchy captions that will engage your audience on this service, but if you prefer a network that focuses more on text than pictures, opt for Facebook Ads.
With Facebook, you can input links that are direct to other social networks. However, Instagram uses a call-to-action to redirect to another website or account.  For those with multiple contents to advertise, Facebook lets you upload various ads with pictures and videos.
Audience
Audience demographics is another crucial reason to consider if you want to advertise on Instagram or Facebook. You should be able to answer questions like, who are my target customers? Does my product/service attract more adults than youngsters? Etc.
Statistics show that there are more youngsters on Instagram compared to the older age group. On the other hand, people with different age ranges and demographics are on Facebook. With this information, you can decide which of the two platforms is appropriate for the target.
Is it possible to edit running ads?
Fortunately, both platforms create options for users to edit previous ads posts as you can edit before their schedule ends if you discover the budget price is too high.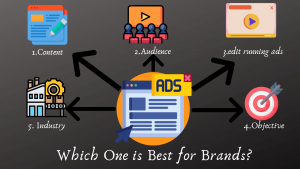 You can try out both services and select the one that suits your preference. However, the most crucial aspect is to have a marketing strategy for ads campaigns based on each social network's strengths and weaknesses.
Objective
Before placing an online advertisement, you should have a goal and stick to it. For example, do you want more audience engagement? Do you want to push traffic to your website? or do you want to generate business leads? Asking essential questions makes it easier to achieve the target objective.
Both social media networks allow you to choose objective options before running ads. However, Facebook offers more features as some options are not available when using an Instagram app. Furthermore, Facebook performs better for traffic diversion to another website as Instagram is more effective for brand awareness.
Industry
To select which social media network is appropriate for your ad campaign, the last feature you must consider in determining your brand's industry. In addition, note that the fashion, food, and travel niche industry perform better on Instagram because they require high-quality images.
Other industries that require details or engagement with customers with products and services are suitable for Facebook. Common examples include automotive, freelancing, tutoring, etc.
With all the factors mentioned earlier, you can decide the best option appropriate for your brand. Both social media platforms have different demographics, as Facebook business statistics show that the platform has a broad audience for people in their 20s or older. On the other side, Instagram is crucial to target youngsters because it uses more eye-catching pictures and videos to create an impression.
Both tech giants allow you to analyze ads performance based on user engagement and the objective chosen for the campaign. You can test drive both to understand their mode of operation and decide which best satisfies your target.
Do not forget that eye-catchy and creative ad types will always get high engagement. Internet surfers always want something trendy and new.