We know that two main elements that are considered while selecting sunglasses are their design and quality. Sunglasses are perceived as a high-end fashion item and our current design reflect this status. Our flat lens cat-eye sunglasses will keep you fashionable and comfortable at a time. These double bridge sunglasses are intended to promote your image by maintaining the functionality and comfort.
Cat-eye sunglasses have a rounded frame that has a flare coming out near the temple bones. These sunglasses became famous during the 1950s and since then they are being liked by people with retro style. The cat-eye frame is more playful than that of square sunglasses and is perfect for women with diamond and square-shaped faces. Our cat eye flat lens sunglasses will not only protect your eyes but will also give you enhanced appearance. The shape of these shades will help you flaunt an exotic look with elegance and sophistication. The round-shaped lens with an extended portion has an extra rim on the external corner. Sculptural effects with opulence are raised by the bridges.
Styles and designs are changed every year. They are rendered useless if not functional. Fashion appeal matters a lot. The trend of double bridge frame is getting popular. Our So Shine sunglasses come with a lighter and fine look. The lines give you a Scandinavian influence. The flat lens cat-eye sunglasses have a look that is clean simple and artistic. You can use them in parties or for a casual office day to make a fashion statement. So shine sunglasses is something that will whisper your style with elegance. Our double bridge sunglasses come in multiple colors. Metallic rim and muted tone of the So Shine sunglasses are designed to keep it light and stylish. It exudes elegance and grace that will make you a confident wearer.
The double bridge sunglasses trend is getting famous in summers 2019. Our double bridge sunglasses have an extra bar crossing the temple bone that is an addition to the nose bridge. The key detail of our so shine sunglasses is a brow bar that compliments the lens beautifully. The double bridge trend adds style to the lens yet does not detract it from the clean aesthetics.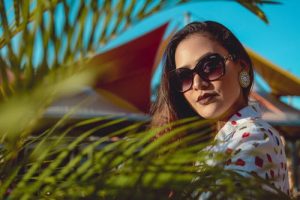 So Shine sunglasses are created keeping in view the latest fashion. We keep the changing trends in mind and our designer's mystique makes the piece timeless. The quality of double bridge sunglasses is maintained in a way that helps maintain elegance with aesthetics. The anti-glare property of this sunglass will help stop light reflected from snow-covered surfaces. The sunglasses are perfect for you if you plan to visit a snowy mountain this season. They also filter UV rays fluffing the needs of boaters, fisherman or anyone else who wants to use them in their day to day routine.
Our double bridge sunglasses protect the eyes yet give you a stylized look. It can absorb different light frequencies. Alternative coating along with colorizing materials given to the lens helps make them look attractive. They serve a multitude of purposes including eye protection, stopping hangovers while giving the right style to your personality. These double bridge sunglasses are useful for utilitarian purposes. They will not only shield eyes from the UV rays but at the same time, they also help add the right amount of light get in so you can spend time under the sun without harming your retina. The So shine shades are right in trend nowadays. The two frames connected together with a bar cross at the top of the lens. The design is reinforced with an extra element of the cat-eye look. It is best for those who want to stand out from the rest of the crowd. Hiding your eyes and giving yourself a touch of style will become easy with us so shine sunglasses. A special type of absorbing lens used in our double-edged sunglasses gives them a special type of absorption capacity.
As long as the properties of the lens are concerned, its Polarized lens is made with special filters that help absorb horizontal light components. Bright light is reflected that help reduces eye strain, UV blockage is also assured with the use of additional coatings and coverings agents in the lens. Hence it is a full package for complete eye protection. You can choose the right color for yourself from our So Shine range. The cat-eye style gives glamorous and elegant look adding funkiness to your style. We spend a lot of time while choosing the material and finalizing the shapes. This nice pair of sunglasses will stay with you for years. Their sturdy design and classic look will make your personality pop out.
Get these So Shine sunglasses to withstand your fun in the sun. Select the most appropriate color that suits your personality type as we offer multiple colors in the same shape. These are the styles that are timeless and fun. Even if you shy away from the new aesthetics or need to find something that is traditional and most suitable for you. www.sojosvision.com