Milkshakes, Juices, and Lemonades are not enough to beat this scorching heat, you also need a cool and comfortable dressing to make yourself feel more refreshing and energetic throughout the day. Summer Sports outfits are in trend these days. They not only improvise your look but also make you feel comfortable and joyful. Most of the women prefer wearing this kind of clothes in the gym and also at work nowadays.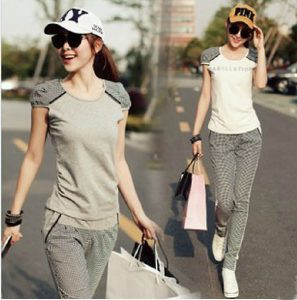 In order to choose the right summer sports dress, the following things should be kept in mind:
Most importantly, it should be comfortable and supportive of your body.
It's very important for ladies that the look should not crush your ribs besides providing style to your body.
You must pair up your dress with the best of shoes and headbands, according to your taste.
Take care of the material of the clothing you are buying. It is of the utmost importance as we have to beat this sweat so special clothing with moisture control will get you rid of the sweat throughout the day.
Try a variety of brands in order to find out which suits you the best. Please don't settle at something average. Choose the best for you in order to feel the best.
Although popular brands like Nike, Adidas, Reebok, etc. give various ideas of how an ideal sports look is, the Worldcup Inspired Fashion is not behind in the race. Many women athletes are inspiring all the women throughout the globe with their cool dashing and comfy look.
There are a number of looks to try on when you think about sports clothing. Some of them are:
A trainer paired with a short skirt is something very much perfect for the summer sporting look.
Trainers also go perfectly with skinny leggings or jeans. You can also have a classy blazer on with a tank top inside.
A very casual sporty look is all about a comfortable vest worn with matching jeans.
Then, is the minis short with a simple sporty look T-shirt.
A simple cute short dress with matching shoes and summer necklace is something even hotter than this summer.
You can also have a camouflage t-shirt with tight leggings and a cool sports shoe.
Gym Wear style has always been in a big trend. A vest with a jumper on it with skinny fit pants.
A cool jazzy look with long sleeve dress paired with sunglasses is something very casual and classy.
Jogging pants go perfectly with loose tees and scarf to give you a comfy look.
Well, these were some of the few ideas on summer sport that looks for women fashion. However, you can easily mismatch the options to make it a choice of your own taste. Summer comes along with lots of heat and lots of designs to make that heartbeat with your look. So, go on ladies surf through the best of brands on the internet and make a change this summer. Apart from going through common brands, try out some swanky new websites, which have launched their best of designs this summer exclusively for you.