After buying a super-luxurious iPhone, all that bothers you is its maintenance. Of course, buying it was not that difficult, but maintaining it is actually a hard task. From its screen, battery, memory to apps, we all face a lot of problems in our iPhones. So, here's a quick set steps to help you fix your daily iPhone problems.
1. iPhone Frozen Problems
This is the most common problem, which every smartphone user comes across every other day. There can be plenty of reasons behind the iPhone screen frozen problem like too many apps running simultaneously, updates not installed properly, outdated software running in the phone, and many more reasons. In this case, your phone stops responding or responds in an unfamiliar way.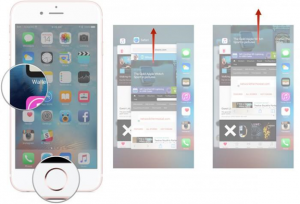 The first thing is to analyze that whether your phone has stopped working after a launch of an app. If yes, try closing the app as soon as possible from the App Switcher.
Now, double tap the home button, App Switcher will be opened and swipe up the app which you have recently launched to close it forcefully, or you can also close all the running apps on your phone.
Another reason could be outdated apps on your phone. So, all you have to do is go to the App Store and select the "Updates" option from the bottom bar. You can simply then select the required app and update it, or you can also click on the "Update All" present on the upper right corner to update all of your apps.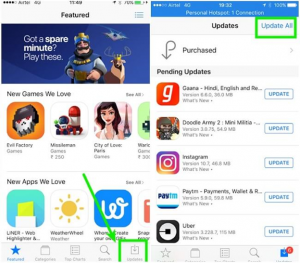 So, if your iPhone frozen issue is not caused by any of the above-mentioned problems, then dr.fone – Repair is the best option to unfreeze it. This tool/software can fix all common issues to your device.
You have to download dr.fone on your PC or Mac from the website. After launching the application, just click on "Repair" option in the welcome screen.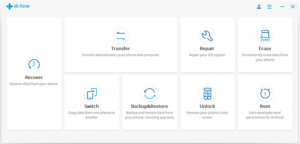 Now, click on the start button after you have connected your iPhone to the PC.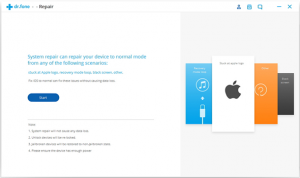 Click Next button and boot your device.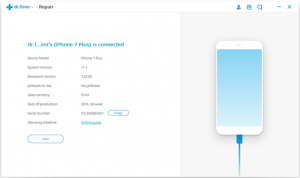 After booting, click on start and then tap "Fix your device" option.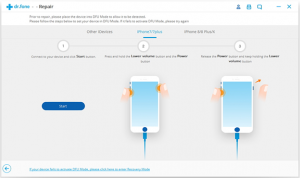 That's all, all your permanent issues are resolved.
2. Battery Related Issues or Screen Damage
Another problem commonly faced by iPhone user is screen damage or sometimes also battery or power issues. In these cases, all that can help out is to repair iPhone option. So, to make a repair request is as simple as searching on the web. All you have to do is go on the official iPhone support page and click on the repair request option and the process starts.
3. Shutting Down Problem
If you frequently face a charging problem, or your phone keeps on shutting again and again, then it's time to give a factory reset to your phone.
Just hold the Sleep/Wake button and the lower button of volume. Please hold both the buttons at the same time on an iPhone7 or newer device. In the devices older to this, hold the Sleep/Wake button and the center button at the same time.
The time the Apple logo appears on the screen, release the button combination held. Once the launch screen appears, let go of the holding of buttons.