The most popular trends in home decorating projects favor self-expression. The trends tend to lean toward a wide range of selections that can come together to present a most desirable outcome. This means that no rules apply when color, shapes, and sizes. 
In the most stylish home decor books, there are visuals of various shapes coming together like placing a round object to break up a set of square items. A great example is placing round pillows on a sofa that has many square pillows as accents. This decor idea can also be more trendy by adding a square, round, and triangular pillows to the sofa for a modern updated look. 
Down-sizing Bedroom space
Changing the bedding is one way to give it a spruced-up look, but actually taking out some things, and bringing in others will do more for the room. Start with downsizing that king-sized mattress to queen-size mattresses to allow more floor space. Change the colour scheme to include bold patterns and wild prints. Add contrasting colours to the main colour scheme, and use mixed patterns that work with the colours. Use solids to re-enforce the main colours. 
Add on Bookcase
Doing something with the bookcase to sprucing up the living room. Put a different finish on the bookcase and shelves. Separate the books with different shaped objects for a contrasting look. Use round vases, or add pictures in oval frames. Replace the shelves to present a staggering effect.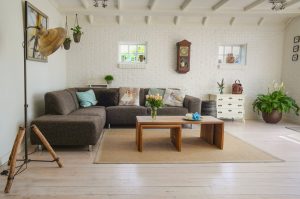 Wallpaper & Paints!
Do it yourself paint jobs are a way of saving money as well as changing the decor of any room. Go bold with stripes in the bathroom, or doing the walls in the bedroom a different colour. Be as creative as you want. Anything goes in today's modern updates, and when you do it yourself, you appreciate it more.
Bold Flooring
Go bold with the flooring. If the choice is hardwood floors, there are many patterns from which to choose. Maybe you want to use the carpet. The texture is the objective here. Choose a texture that is durable, yet complimentary to the room decor. 
Kitchen Makeover
Be creative in the kitchen by changing the colour of the cabinets, or by adding an accent colour to them. You can also get away from the basic white kitchen by using colours like beige or eggshell to give it a new look. You get a professional look without the cost.
Funky Furniture
Try your hand at making an inexpensive piece of furniture look like a high-end piece. Start with an old dresser, sand it, use a primer on it, then stain or paint it. You can go funky with it by using a different colour or pattern for the top and sides.
Conclusion
There are many small do it yourself projects that can be done around the home to make it look different. Even if you are not the best painter, you will find yourself doing quite well once the project is started. Many people have become experts in their own right by doing small projects for home improvement. One last tip for a do it yourself project is doing something to change the appearance of the windows. If you just have blinds, cover them with curtains. 
The trend for this is to buy enough fabric to drape over the curtain rods. It does not have to be perfectly arranged. The more disarrayed they look the better. This can also be done if you already have curtains at the windows. Change them for an updated look. Doing those do it yourself projects around the house can be invigorating, relaxing, or a stress reliever.