Modern homes require decorations so that they can look elegant and stylish. Adding stylish and trendy accessories can transform your home from being boring. The walls can have a bright finish of paint or art which is attractive and eye-catching. For instance, you could add an inbuilt wall aquarium, add mirrors or back painted fusible glass that will make your interior décor look more interesting and attractive. Bright colors within a home or office make everything look modernized as compared to dull colors. When deciding on the type of accessories to add to your home interior, you should consider the kind of theme that you want to achieve. For instance, if you need a historic theme, you can consider adding art that is historic and is thematic. Consequently, if you are looking for a way to add a more classic interior décor theme, you can go for the classic art or other accessories that are considered to be classic.  Mirrors can also be used on walls to reflect on certain historical periods. Depending on how you arrange them on your wall, they may be a reflection of what you want your home or office to look like. Most homeowners who are interested in creating a unique interior décor end up engaging in DIY projects. For a DIY project lover, there is a need to identify a technique that you can comfortably utilize to achieve your required goals and objective. Finding instructional guides on installing cabinets and mirrors in different positions in your space is essential. However, it can be difficult to identify professional instructional guides which you can use for your DIY projects. This article will highlight some of the primary ideas that you can incorporate to decorate your home. Let us find out more about the tips you can use to decorate your interior decor.
Adding Corner Glass display Cabinets in the Kitchen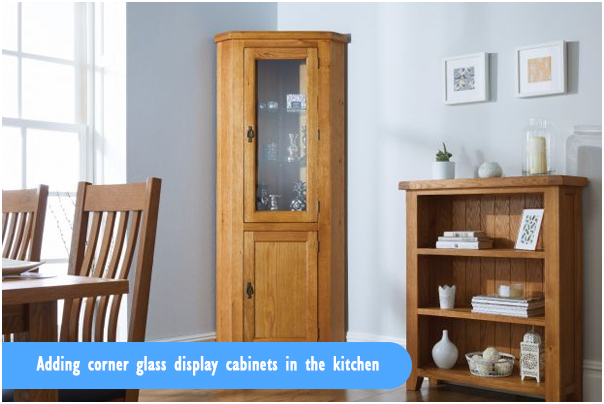 This is a tip that can come in handy for individuals who live in small apartments. Small apartments do not have much space to add large furniture or accessories for storage. Corner cabinets are specially designed to fit in small spaces. A corner glass display cabinet can be great for a person who needs extra space in the kitchen. When you have a glass display cabinets in the corner, it can be used to store crockery for easy access. Therefore, if you have been looking for additional storage space within your kitchen, you can consider adding the corner glass cabinets.
Installing the "lazy Susan" Kitchen Cabinets
This is another type of kitchen cabinet that is suitable for small apartments. Mostly, when looking for a way to stores your utensils among other things in the kitchen and do not have sufficient space, you can have the lazy Susan cabinets added to the kitchen. This allows you to have the glass cabinet shelves attached to the door. When the door is opened, the shelves open outwards giving you easy access to the items that you want to retrieve. This is a great addition to your home interior that will make it look classy elegant.
Add an Inbuilt Wall Aquarium
Aquariums in modern homes are great decorations that combine aquatic life with a home's interior. There are many ways that you can incorporate an aquarium into a home to make it look attractive without overdoing it. Mostly, the aquarium should be sizeable depending on the space available on the wall. Standalone aquariums are great when they are positioned at the right place within a home or office. However, they have been overtaken by the need to maintain little furniture and decoration accessories within modern homes. Aquariums that are inbuilt on walls look more attractive and elegant. If you are looking to make your house great looking and modernized, you should invest in aquariums with reef lighting which will never disappoint you.
Decorating Walls with Floating Glass Shelves
Floating glass shelves are the best you can add to accessorize your walls in modern homes and offices. Floating glass shelves look simple but are trendy and stylish. Mostly, the shelves are used for placing items such as art or flower vases. They are installed on walls using wall clippers to offer sufficient support which can withhold large items. When adding floating glass shelves on your walls, you should first consider the type of items that you will place on them so that you don't end up replacing or repairing them within a short time.
Adding Storage Glass Display Cabinets in the Kitchen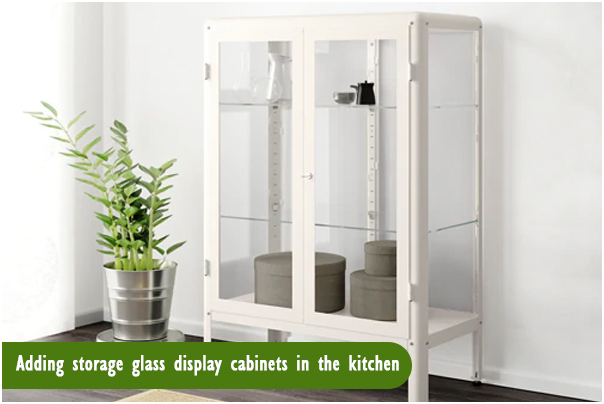 Glass display cabinets are popular among many homeowners today due to their ability to save on space. When they are partitioned with multiple shelves, they can be used to store different items within the kitchen area. Mostly, when they are partitioned, they can also be labeled with specific details for ease of housekeeping. If you are in need of improving the interior of your home to ease the housekeeping process, you can opt for this design of cabinets. Also, you can use colored glass for the doors so that the finish looks amazing and stylish.
Adding a Stylish Backsplash in the Kitchen Area
Backsplashes that are brightly colored can turn the look of your kitchen from being traditional and boring to being more elegant and stylish. Most people are not aware that backsplashes are meant to help in hiding the gaps between tiles as well as make the area look more attractive and stylish. It is a modern elegant and stylish finish that cannot disappoint you if you are anticipating changing the look of your interior décor. Ideally, for individuals that are laid back on adding kitchen backsplashes in their homes, they should understand its importance in creating an attractive and modernized interior décor. Also, when proper lighting is added to reflect on the backsplash, it helps to keep the space bright and attractive.
Ultimately, incorporating stylish ideas for home décor will make your home or office look modernized and eye-catching. If you have been looking for modern home décor ideas, you should consider those that have been discussed here. You will enjoy a transformed home that will remain attractive for a long time.