We buy flowers to spruce up the room to keep the atmosphere vibrant and fresh whenever we want to spruce up the room. We usually buy a bunch of flowers, and at times, we dump them in a vase and let them stay there until we need to buy another bouquet. However, that shouldn't be the case. Whether you received a bouquet from your admirer or you bought one for the house, you need to know how to arrange them properly.
If however, you receive a crown of funeral flowers during the wake of a loved one, the funeral directors Leeds, where the wake is being held, will take care of them. These professionals will know what to do with them and put them in the right place to recognise the memory of the departed.
But if you would want to liven up your homes with fresh flower arrangements, there are some things you would need to avoid. Here are a few of them, so you can be guided when you do them. Have fun arranging flowers to suit your style!
Using too many types of flowers
We know flowers are beautiful and are great to look at when they come in bunches. However, if you're going to arrange them, you shouldn't use too many types of flowers. While there's no general rule of thumb, try to limit them to a manageable number. Look for flowers that have different sizes. Choose a few that would complement each other in both colour and size.
Using clashing colours
We get it, you like colours, but if you're arranging flowers, you need to keep them complimentary at the very least. Don't make the mistake of using competing colours if you want to create a pleasing arrangement. Remember that if you're going to arrange flowers, there has to be a transition from lighter shades to darker colours or vice versa.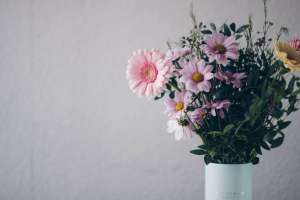 Trying for perfect symmetry 
While attempting to get a perfectly symmetrical arrangement is good, at times, it isn't possible because of the number of flowers available. If this happens, an asymmetrical arrangement would be best to catch attention. You can create a stunning display by incorporating branches, foliage, and other elements to emphasise the central flowers.
Not cutting stems at an angle
Remember to cut stems at an angle whenever you receive flowers. This will allow them to absorb the maximum volume of water to nourish them. Then, re-trim them after a few days to prevent the growth of bacteria.
Not changing the water 
A cardinal rule is always to replace the water once it becomes cloudy. Or, if you're using sponges, you should also place water now and then. Don't forget to nourish your flowers even if they've already been arranged.
Forgetting to remove leaves and foliage  
If the leaves fall below the water line, remove them because they'll cause bacterial growth. It wouldn't be a healthy environment for your flowers to flourish.
Takeaway
You must remember a few things to keep them looking great and fresh longer whenever you arrange flowers. You have to ensure that they're correctly taken care of, otherwise, they'll quickly lose their vibrancy and vitality.
Read More: When to Arrange a Funeral