It can be incredibly difficult when someone close to you passes away, especially when you are facing arranging the funeral.
Below, in partnership with The Elms Funeral Directors, providers of funeral plans Somerset, we have collated all of the information you will need to inform you and help you when it comes to arranging a loved one's funeral, including the practical tasks, services, and goods you may wish to consider.
Choosing a Funeral Director
A knowledgeable and experienced funeral director will be able to unburden you with as much of the stress of the funeral arrangements as possible, so you can instead focus on other things.
They will take all the time needed to listen to you and support you, carry out your wishes and guide you through all of the complicated steps you need to make. 
Whether you wish to honor your loved one with a traditional funeral, a green burial, a totally unique celebration of their life, or just something a little more low-key, any good funeral director will be more than happy to help.
Providing Details about the Deceased
Before a funeral director can begin planning a funeral, they will need information about your loved one. A funeral cannot happen before the death is registered, which is something typically done by a relative, however, a funeral director will be able to undertake all of the paperwork involved in arranging either a cremation or a burial.
The funeral director will need:
The full name of the deceased,

When and where they were born,

The address of their last place of residence

Details of their place of death

Whether they had a pacemaker
Your Loved One's Funeral Wishes
Often too many a funeral is the first step in coming to terms with the passing of a loved one and grieving what has happened. 
A good funeral director will be able to ensure that the funeral arrangements help the family to focus on their loss and grief, whether they choose to celebrate their loved one's life or reflect the sadness they are feeling.
It's common to be aware of your loved one's wishes when it comes to their passing. For example, they may have expressed a wish for a green burial or cremation. Perhaps they left a funeral wish-list in their will?
Many people will feel comfortable in fulfilling their loved one's wishes when it comes to their funeral, no matter how big or small they may be.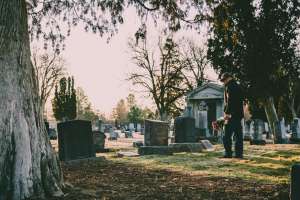 How Soon after Passing Does the Funeral Happen?
Sometimes, the timing of a funeral will depend on a person's religious beliefs. However, it is rather common for a funeral to be held a week or so after someone passes.
Loved ones may live considerable distances apart, therefore people plan a funeral to give lots of time and notice so that everyone can attend.
You may also find that many crematoriums and places of worship have busier times of the day or week, so your funeral director will help you to choose a fitting date and time.
Looking After the Deceased
When someone passes away, the funeral home will arrange for their 'removal' from the place where they died, to make sure that they're prepared for the funeral. The people who do this will do their best to make sure that this process is as reassuring as possible for the bereaved, by treating the deceased with respect.
Coffins, Funeral Vehicles, and Flowers
A funeral director will also be able to liaise with the right people to organize all the goods and services needed. This can include coffins, urns, flowers, and funeral cars.