While we await the harsh British winter, some people are already looking ahead to next summer, when they can uncover their bikes and enjoy the open roads. Aside from a hardy few, British bikers generally garage their motorcycle during the freezing winter months, which is understandable, and come April, they are ready for another great riding season.
Now is the time to buy a new bike
Like most things, the motorcycle market is seasonal and the best time to order a new machine at Wheels Motorcycles is during the winter months, which is the off-season. Prices are at their lowest and you can book a test ride on the dealer's website, plus they have awesome finance deals to spread the cost. They also stock premium riding gear, from helmets to boots and everything in between, and can ensure the bike there and then!
What's your style?
Are you a budding Mark Marquez, or do you prefer the stark look of the mean street machine? If speed and handling are your things, the Suzuki GSXR series has you covered, with the entry-level GSXR600, going up to the brutal GSXR1000R. These bikes are not for the faint of heart and you need a great deal of experience before climbing aboard a sports racer; most start with a 125cc model and over a couple of years, you can graduate to the coveted Class A license that allows you to ride the big boys. The comfort of the tourer has merged with the speed and handling of the sports machine to create a hybrid, the sport-tourer, which is the most popular style among big bikers.
Off-road
And why not? Some of the off-road machines are equally at home on the tarmac and the dirt, with adjustable shocks and a large fuel tank for extended riding. Extreme adventurers like to travel on a rugged enduro-style bike, which can take you just about anywhere, and with some basic off-road training, you will surprise even yourself.
The ultimate tourer
A 4-cylinder 4-stroke 1000cc engine provides all the power you'll ever need; the bike can cruise at motorway speeds all day, while comfort is as you would expect with a superbike. Serious campers can carry all their gear with side panniers and a top box and that long UK summer offers many opportunities for camping trips; you might be an avid bike racing fan and you can attend the big meetings on two wheels and meet lots of other bike fanatics. There are many outdoor pursuits and riding a big bike gives you the freedom and independence to do whatever you want.
Online booking
We all know how tough it can be to find summer accommodation, yet online booking sorts that one out. Campsites and bed & breakfasts are all online, while you can use Google to find out more about the area you are visiting. This makes the experience that much richer, especially when you delve into the history books, and being on a bike means you are travel independent and are not at all bothered by traffic jams.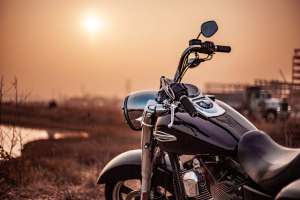 Understanding the risks
There's no doubt that riding a motorcycle increases your chances of injury, as you don't have the body protection of a car, yet there are measures you can take to protect yourself,
High standard helmet
Leather motorcycle jacket
Leather riding pants
Motorcycle gloves
Motorcycle boots
Biking garments have special padding for the elbows and knees and quality leather protects the skin; the bike dealership would probably offer the best brands in riding gear, so you can get the bike and your gear from the same place.
Raw power
When you fire up a superbike, you have a lot of hp at your disposal and that demands respect; there are reasons why a novice can't ride a 1000cc machine. We recommend a course with a local riding school, which will teach you how to control the bike on a range of surfaces. Safe braking techniques are essential and with a healthy respect for the throttle, you will gain the experience needed to upgrade to a more powerful machine.
Bike maintenance
Much like your car, a motorcycle needs to be serviced at specific mileage intervals and the dealership would normally handle the first 3-4 services, which fall within the warranty period. Engine oil needs replacing, chain tension checked, spark plug replacement, air, and oil filters replaced, while brake pads are examined and fluids checked (including liquid coolant). While today's motorcycle is a wonder of engineering, it does need a lot of TLC if it is going to perform as it should.
The first thing to do is find out what size bikes you are able to ride on your current driving licence and then start looking at bikes. By the time summer arrives, you will be ready to explore some of the amazing countrysides the UK has to offer on your new superbike.
Read More: Things to Consider Before Buying Your First Motorbike.