Are you new to the world of motorcycling? Here are some tips to consider to make shopping for your first motorcycle a little less daunting.
Whether you're buying a new or used motorbike, you'll need to consider things like how often you'll ride it, the style of motorcycle and insurance.
Even motorcycle gear like a helmet or jacket can have an impact on your riding experience. So read these top tips before buying your first motorcycle, and you'll be more prepared to visit your local motorcycle dealer.
Consider your riding style
One of the most important things to consider is what type of riding you'll be doing. Will you be riding it to work every day? Maybe your motorbike will only be used for day trips when you're riding up and down the coast.
Consider what road surfaces you'll be riding on the most. Some motorcycles are better at handling rough dirt and gravel roads than the asphalt you'll find on most suburban streets.
You should also consider the duration of your trips. Standard road and sports bikes are designed for shorter trips while cruiser bikes or sport-tourers are made for the long haul.
Touring bikes are designed for longer trips with features such as larger seats and higher handlebars that put you in a more comfortable upright position. The choice is totally up to you. Just make sure the model you purchase is built for what you want to do.
Budget for motorcycling gear
While figuring out your budget for a new motorcycle, don't forget all the motorcycling gear you'll need.
Novice riders often make the mistake of blowing all their budget on a new model before they've spent a dollar on motorcycling gear. All your protective motorcycling gear such as a helmet, boots, gloves, and jacket could set you back up to $1000 depending on the brand.
Premium motorcycling gear will do more than reduce the impact of a road accident. The right equipment can help protect you from the elements, including rain, sun, wind, and debris. A combination of body armor, leathers and helmet are one of the best ways to protect yourself from an impact on the road.
While safety features should be valued above all else, it's still worth considering the comfort and practicality of the motorcycling gear you choose.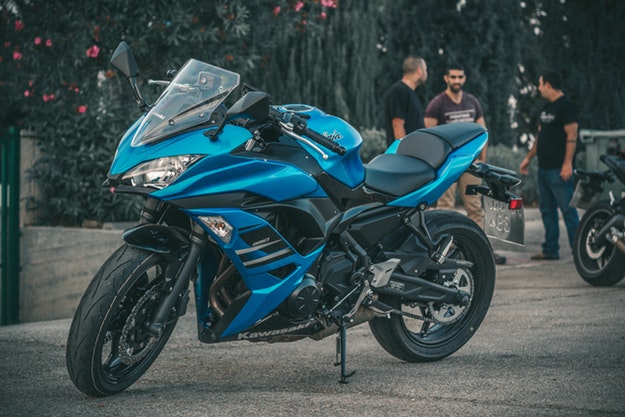 Insurance is compulsory
So you've followed the above tips to purchasing your first motorcycle and found your perfect bike and gear to suit. Now you need to consider motorcycle insurance.
For anyone riding a motorcycle in Australia, it is compulsory by law to have motorcycle insurance. This type of insurance is referred to as Compulsory Third Party Insurance (CTP).
In most states of Australia, CTP is compulsory with the purchase of your motorcycle registration. Other states will let you purchase your CTP separately. There's a vast range of insurance coverage options available for riders that include the following:
Comprehensive
Covers damage to your motorbike and other people's vehicles and property. Additional extras could consist of the coverage of theft and emergency accommodation.
Legal liability, fire, and theft
The expenses of damage to other people's property, fire, and theft are all covered.
Fire and theft
It only covers the cost of any damage incurred by fire or the theft of your motorbike. For NSW, QLD, and ACT, it is a legal requirement that CTP is purchased in addition to fire and theft cover.
 Final advice
So before you go out to buy motorbike models or accessories, think about all the real costs involved. Consider how the motorbike will fit in with your lifestyle. Make sure the model you choose is the right fit for your needs, safe, and comfortable enough for the style of riding you'll be doing.
On the day you go shopping it also helps to bring someone along for a second opinion. It's easy to get blindsided by all the stunning looks and impressive features of a model. Bring along someone reliable who knows you and what you really need in a motorbike.
Now that you're equipped with more useful knowledge, we hope you make an informed decision with your first motorbike. Don't forget there's no need to rush when it comes to choosing your dream bike. Take as much time as you need until you're fully confident with your decision.
For more top tips on buying your first motorbike, ask the experts at Peter Stevens Motorcycles.