Mirrors have been used to create beautiful living spaces for centuries, and they play more than just a decorative role. Besides their ability to enhance a room, they also are functional and help distribute light, adding dimension to any space.
However, wall mirrors are not just for the home. Your office can also be livened up with the brilliance of one that is both functional and decorative. Since many office spaces tend to consist of smaller or darker rooms, mirrors are invaluable in making them more pleasant to work in or receive clients in.
Even if your office already has one focal point, the clever use of a mirror will enhance it even further. This could be an interesting view, piece of art, or light feature.
The shape of the mirror: 'Coins in the Fountain'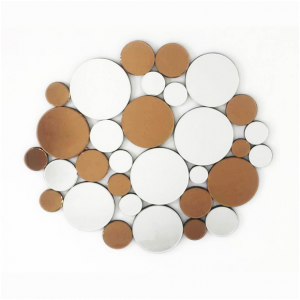 Branded by Fab Glass and Mirror, 'Coins in the Fountain' is a creatively designed decorative wall mirror that is the perfect art décor piece for the workplace. Whether you intend to give the reception area of your business a welcoming aura or want to create a feeling of depth and illusion in your office, this high-quality mirror most certainly does it.
'Coins in the Fountain' is a round mirror, but its distinctive ornate design is created to enhance the beauty of any space. The design consists of a collection of round attached smaller mirrors in various sizes, giving the illusion of coins scattered at the bottom of a fountain. Of course, your imagination can run wild and it can also remind you of a bubble gum dream or of floating soap bubbles.
Round shaped mirrors are one of the most versatile mirror options because they add a touch of elegance in any space. They also allow for mirror groupings that create interesting wall features. 'Coins in the Fountain' gives the same effect as this type of grouping, but you can use it as a centrepiece, and then allow your creativity to lead you.
The ornate mirror is almost round in its design and has a length of 35 ½" with a width of 40 ½". Besides it being able to brighten up your office space, the mirror is very easy to clean.
How does the decorative wall mirror liven your office décor?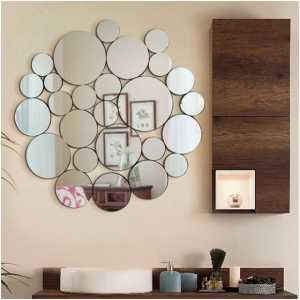 Just like you would in your home, you can create an accent wall in your office that will stand out to your clients. In many offices, walls tend to be drab and practical to avoid having to maintain them often. 'Coins on the Fountain' is perfect as an accent on wood panelling, tile, stone, brick, and on drab dry-walling.
In a dark office, a strategically placed mirror can help to distribute light throughout the room from an exterior light source or artificial lighting. Lightening up your office in this way will make it more pleasant for you, your co-workers, and clients, while also adding interest to the lighting and design scheme.
Correct mirror placement is of utmost importance. Mirrors that are placed incorrectly can fail to have the desired effect. The two keys are height and reflection and mirrors do not always have to be at eye level like works of art do. Make sure that the mirror you decide to use to enhance your office space captures the light or other areas you want to reflect.
Colors and style options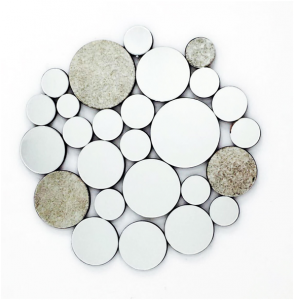 If 'Coins in the Fountain' does not match your office décor, then look at 'Nickels and Dimes', another mirror branded by Fab Glass and Mirror.
While 'Coins in the Fountain' is interspersed with bronze mirrors and looks like a fistful of mixed silver and bronze coins have been scattered into a fountain. This works well in spaces where you want to introduce the warmth of bronze, especially if you have chosen to decorate your office space with the warmth of wood and warmer colors.
However, if your look is more contemporary or clinical, you may decide to opt for 'Nickels and Dimes'. With the same dimensions as 'Coins in the Fountain', 'Nickels and Dimes' is a wall mirror that is slightly bigger but has just shiny silver bubbles. The super-bright 'Nickels and Dimes' mirror also has a polished edge and made from high-quality material. It has a length of 39" and a width of 40" and is easy to clean.
Where to buy a decorative wall mirror?
Whether you are looking for a mirror for your office or any space within your home, visit Fab Glass and Mirror online today and find one that matches your décor. Fab Glass and Mirror is the established seller of decorative wall mirrors in the USA with a huge variety for you to choose from. Choose the wall mirror for your space and it will be delivered to you in no time, safely boxed, and with mounting instructions.