The first impression is an incredible element when going for an interview. The first impression you make will play a significant role in whether or not you get the job. The first thing interviewers see when you walk into an interview is your outfit. This is why you ought to be very careful and strategic when it comes to your outfit choices. Below is a guide to some of the most appropriate outfits for a job interview;
How to dress up for an interview

1. Professional tops with dress pants or a skirt
A professional top should always be simple, conservative, and comfortable. A suitable type of professional top is a button-down shirt. You can always pair the top with a cardigan, a blazer, sweater, or a casual jacket, depending on your taste. It would also be wise if you chose neutral colours and simple patterns. Make sure to stay always from oversized sweaters and any clothes that do not fit well. Additionally, avoid pieces with plunging necklines and easy to wrinkle fabric.
You can pair the professional top with dress pants or a skirt. For instance, if you wear a button-down shirt, you can pair it with a pair of dress pants and tuck the top in. Doing so will help give you a polished look. The pants can be khaki or cotton. Every fabric is ideal as long as the pants design is professional. You can also pair the top with a pencil skirt. Make sure the skirt is at least knee-length or longer. Depending on the type of top, you can have it tucked in or not.
2. Casual dresses
A casual dress is also an appropriate outfit for a job interview. It should be conservative and simple as well. It would also help if you steered away from extremely bright colours and intricate patterns. The point is to get the attention away from your body and what you are wearing and to your content and intelligence. You can pair the dress with a simple belt, a pair of official high heels, and a cardigan. If you are not a high heels type of girl, you can always pair your outfit with a cute pair of doll shoes. A blazer would also do you justice.
3. Shoes and accessories
The best choice of shoes for a casual business interview is black or brown closed-toe flats, pumps, or low heels. High heels are an excellent choice, but they often are not conservative enough. It is also not a good idea to have your toes exposed during an interview. Therefore, make sure to keep off flip-flops and sandals. It would also help if your shows were not scuffed, scratched, or dirty. Steer clear or flip sky-high stilettos and sneakers as well. Also, avoid bright coloured shoes.
On the other hand, when it comes to accessorizing, simple is the best way to go. Therefore, you want to stay away from chunky and large distracting jewellery pieces like bracelets, necklaces, and earrings. Instead, opt for stud or hoop earrings. If you have to do necklaces, the best choice would be a delicate and simple one. One or two simple bracelets would also not hurt. However, make sure that they do not jangle because you do not want any distractions.
4. Makeup
When going to an interview, you should avoid too much makeup. For instance, stay away from bright eyeshadow and opt for nude or neutral colours. Also, avoid wearing thick eyelashes and daring lip colours. The same goes for your nails. You can wear muted nail polish colours or clear nail polish. Make sure your nails are clean and not chipped.
Interview outfits for men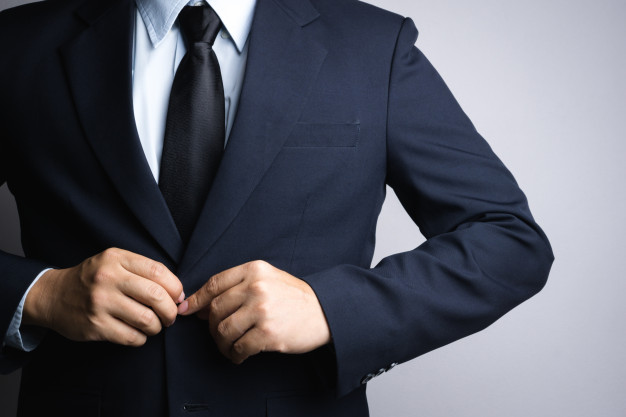 Below are some excellent interview outfit options for men;
A suit is perhaps the most appropriate outfit for an interview. However, you want to stay away from bright and unorthodox colours. Try solid colours like navy, black and dark grey. Bright colours will attract too much attention to your outfit instead of the more essential elements of the interview.
2. Shirt
You can pair your suit with a light-coloured button-down short. Long sleeves are always an incredible option. The shirt should be pressed appropriately down, and it should feature a collar. Make sure to tuck the shirt neatly into your pants. Stay away from shouting colours. You do not have to pair the shirt with a suit. You can opt for a solid-coloured blazer or a lightweight sweater. Never wear a t-shirt to an interview.
3. Pants
Dress pants are an incredible option. They can be cotton or khakis. Chinos are also the right choice. Stick with neutral colours like grey, black, and navy blue because they can match with a wide range of shirts. Steer clear of jeans, especially light-coloured ones.
4. Shoes and accessories
Dark-coloured leather shoes are the best option. They can either be brown or black loafers, lace-up dress shows, or Oxfords, among other professional shoes. Make sure that they are freshly polished, they are closed-toe, and they complement your outfit. You can pair the shoe mid-calf length dress socks. Make sure the socks match the colour of your pants and stay away from athletic socks.
You can accessorize using a classic wristwatch. The watch can either have a metal or leather band. However, stay away from any distracting accessories like necklaces, bracelets, and earrings. A leather belt that matches your shoes is also a great accessory. You can also add a pocket square to complete your look. The point is to make sure that your outfit is simple, classic, and there are no distractions.
Conclusion
It is always great to prepare your wardrobe before an interview. However, if you happen to have an impromptu meeting, you can always find the perfect outfit through online shopping. With online coupons and voucher codes, you can find the best interview outfits at an affordable cost. Click here for some voucher codes for online shopping. When choosing the best interview outfit, always opt for sophistication.