Winters are here and that rings the bell for the arrival of Christmas. Christmas brings lots of amusement and happiness to the hearts of everyone. Christmas is the time of snow, food, decorations, sweaters, love, and lovely gifts. Gifts are probably the most interesting part of Christmas. We all love to give and receive gifts from our loved ones. Christmas makes the bond of love stronger between friends and family. 
The excitement for the festive occasions doubles when you have a toddler in your home. If you also have a little bundle of joy in your home then you have to choose the best present for him or her. You can find endless cute toddler girl outfits and toddler girl accessories easily. 
Choosing the Gift
Choosing the right present for friends and family is always quite confusing. However, the confusion gets double when it comes to buying a gift for toddlers. Mostly, the maximum number of people buys clothes for babies but that has become a very common gift. If you want to make this Christmas special for a baby then you have to choose anything unique like a Disney mystery box.
Christmas Gift Guide
If you are going to gift a toddler of any other family then you have to know about their preferences. You can talk to any family members about the type of things they like to have as a present for their kids.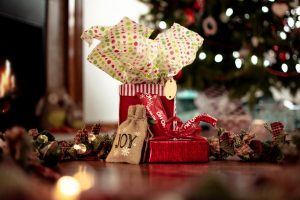 To make your task easier, here we bring you the list of best gift items for a toddler. 
1. Clothes 
Clothes are a very common gift but if you want to keep things simple then you can go for clothes. Just simply do not stick to one pair of clothing. You can gift a set of two or three stylish outfits. 
2. Toys
Toys are the best friends of all toddlers and they never mind having them. If it is a girl then you can gift her beautiful Barbie. If it is a boy then you can gift him car toys, small football toys, and bike toys. 
3. Angel Wings Socks 
Every parent wants to make their babies look entirely cute and lovely like angels. Therefore, it is best to give them angel wing socks. Both the baby boy and a baby girl will look like little cute angels by wearing angel wings socks. 
4. Bow Headband
Headbands look entirely lovely on babies and they also keep their head safe. Therefore, you can gift a set of cute-looking bow headbands to a little toddler. Make sure that you choose the headband made of soft material such as velvet. 
5. Turban Hat 
Turban hat is the best and most useful gift for babies during Christmas. A turban hat will keep the head of the baby covered and warm in winter. So, it is the most useful gift that you should give. 
On the Ending Note
I hope you like this toddler gift guide! You can search for various baby clothing stores online to find the best clothes and other gift items for the baby.