With Halloween right around the corner, you may be wondering how to choose a good costume. Click here to learn how to know what to wear for Halloween.
Witches and monsters and zombies, oh my! The spookiest day of the year is almost here! Time to put on your coolest costume and go trick-or-treating or attend a creepy Halloween bash.
Some of you may still be wondering what to wear for Halloween, but never fear. Choosing a costume doesn't have to be the scariest part of the holiday. Here are some great ideas for Halloween costumes and some tips to help you decide on the perfect one.
Stick to the Classics
Some Halloween costumes are faithful standbys that have been popular for decades. This is because they totally embody the spooky season and can be customized in lots of ways for a unique touch.
You can't go wrong with classic spooky costumes like witches, vampires, ghosts, skeletons, and mummies. Classic monsters like werewolves and Frankenstein's monster are good options, too.
You can make these costumes as simple or elaborate as you want. For example, to dress up as a witch, all you really need is the hat. But you can take it to the next level with spooky makeup, a witch's nose, and a rustic broomstick.
Get Scary
If you want to give people a real fright, there are plenty of great horror Halloween costumes. Creepy, gory costumes like grim reapers and gruesome undead monsters are great scary options.
Villians from popular horror movies are a good place to find inspiration for your scary costume. For example, creepy clowns are having a big moment thanks to Pennywise from the It movies.
Zombies are a great option for a scary costume because you can get really creative with it. You can be a zombie fill-in-the-blank, taking any costume or outfit you have lying around and adding some blood and spooky face paint.
If You Prefer Something Pretty
Do you want to dress up for Halloween, but you're not into blood and guts? You can go with a classic princess or angel costume, both of which just require a few simple accessories, like a tiara or a pair of wings. If you'd prefer something pretty with a supernatural spin, you could go with a fairy or mermaid costume instead.
Costumes for Comedians
Want something more light-hearted for Halloween? Consider going with a funny costume. For example, costumes that are puns are really popular. Plus, funny costumes are a good strategy to get away with a low-budget look.
Let Your Nerd Flag Fly
Is there a book, movie, TV show, or video game that you're really into? Choose your favorite character and dress up as them. Some popular fandom costumes include characters from Harry Potter, Game of Thrones, and Star Wars.
Costumes for History Buffs
Historical costumes are a fun option for anyone who wants to explore a certain era in time. Anything from Victorian regalia to flirty flapper dresses is great for Halloween parties.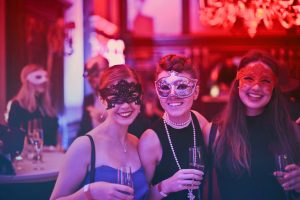 If you want something a little simpler, you could throw on a leather jacket and slick back your hair to become a 1950s greaser. Or you could dress as a laid-back hippie or groovy disco dancer.
It's a Bird, It's a Plane
No, it's you rocking a superhero costume! Superheroes are super popular, and there are hundreds of them to choose from when picking out a costume.
Superman, Batman, and Wonder Woman are classics. They've been reimagined so many times that you'll have plenty of costume styles to choose from.
All the Marvel superhero movies of the past few years mean that there are a ton of costumes inspired by them. Who wouldn't want to feel like a superhero for a day?
Simple and Budget-Conscious Costume Ideas
Maybe you're just looking for a simple costume for your company Halloween party. Or maybe you're trying to stick to a strict budget.
There are plenty of easy and affordable Halloween costumes to think about. Here are a few costume ideas that won't take a ton of time or money.
Use Things You Already Have
Sometimes all it takes is a little creativity to turn your ordinary clothes into a festive Halloween look. For example, do you have a cowboy hat or cowboy boots? Boom, you're a cowboy now.
How about a pair of suspenders? Combine them with a pair of big, taped-up glasses, and you've got a nerd costume. Bonus points for plaid pants and a pocket protector.
Do A Group Costume
Find a few friends and come up with a fun theme for a group costume. It can be as simple as wearing different colored shirts and calling yourselves a box of crayons.
The great thing about group costumes is that the outfits themselves can be fairly simple. The big impact is from having so many of you dressed the same.
Cool Face Paint
If you're artistically inclined, you can forgo the costume altogether and do some cool Halloween face paint. Use your imagination to achieve a look that is scary, sweet, or funny.
A few colors of face paint is generally a lot more affordable than a whole costume. Or if you've got a makeup collection already, you can just use that.
Simple Animal Costumes
If all else fails, you can just go with some animal ears and an outfit in a coordinating color. Sure, it may be a bit of a joke at this point, but it still totally counts as a costume.
Deciding What to Wear for Halloween: Some Practical Considerations
Once you've figured out what you want to be for Halloween, it's time to ask some practical questions. Here are a few things to consider when putting your costume together.
Consider the Event
Keep in mind where you're going to be wearing your costume. For example, if you're planning on going to a little kids' Halloween party, you might not want to wear a super skimpy and suggestive costume.
If you're attending a low-key work affair, you might not want to dress as an undead ghoul with its guts hanging out. Use your best judgment about the occasion.
Consider the Weather
If you plan to be out and about on Halloween, be prepared for potential cold weather and rain. Look for a costume with the option to dress in layers. Also, make sure your costume provides enough visibility to stay safe.
On the other hand, if you're going to be indoors at, say, a crowded house party, you might not want to wear a super heavy costume. It's no fun spending the night sweating in your Chewbacca costume, no matter how cool it looks.
Have Some New Ideas About What to Wear For Halloween?
Halloween is all about having spooky, creative fun. It's important to choose a Halloween costume that is cool, comfortable, and appropriate.
So what are you waiting for? Get out there and get spooky!
Did this article help you find some inspiration for what to wear for Halloween? Check out more from our website for other holiday and lifestyle tips.