Are you looking for a job in the healthcare industry, but don't want to endure years of schooling. Here are 7 of the highest-paid medical jobs you can consider.
Are you looking for a job in the healthcare industry, but don't want to endure years of schooling?
There is always a high demand for medical professionals, and doctors aren't the only high paid medical jobs available. But as healthcare is such a wide and varied industry, it can be hard to keep track of the best jobs available to you.
Don't worry, we are here to help. Read on for 7 of the highest-paid medical jobs that don't require a Ph.D.
1. Respiratory Therapist
Average Salary: $60,000
Minimum Education Level: Associate's Degree
Respiratory therapists are there to care for those needing treatment for breathing issues. They cover a variety of disorders including asthma and emphysema.
Respiratory therapists also work with a variety of age ranges too. From premature neonates whose lungs haven't developed to the elderly with lung disease.
As well as needing an associate's degree, respiratory therapists must get licensed in their state. The only exemption is Alaska. Due to growth in the middle-aged and elderly population, employment will increase.
2. Dieticians and Nutritionists
Average Salary: $60,000
Education Level: Bachelor's Degree
Dieticians and nutritionists specialize in food and nutrition. They train and study so they can provide advice on maintaining a healthy diet.
This is essential for the management of most diseases. They are a key resource when it comes to treating diabetes and obesity. It's not just about diseases; they'll help anyone who wants a healthier lifestyle.
We are continuing to learn more about the relationship between good health and diet. As such, you can expect growth in the number of dietician and nutritionist positions.
3. Radiologic and MRI Technicians
Average Salary: $61,000
Minimum Education Level: Associate's Degree
Radiologic and MRI technicians do the imaging for things like x-rays. They're also known as radiographers. MRI technicians train to supply patients with magnetic resonance imaging… or MRI. This helps doctors provide a diagnosis.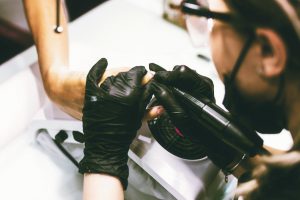 It's another growing job sector, and increased employment opportunities are expected. Due to the potential risks of these technologies, you will need to be licensed by your state. In most cases, you'll need at least an associate's degree and to fulfill other CME requirements.
You can find a cheap way of achieving these CME requirements here.
4. Radiation Therapist
Average Salary: $82,000
Minimum Education Level: Associate's Degree
Radiation therapists administer high doses of radiation to treat serious diseases like cancer. They will need to collect and examine patient data to put a specifically tailored treatment program together.
You will need to have an associate's degree in most cases and be licensed in your state. With the population age rising all the time, and advances in radiation therapy developing, demand is set for technicians is set to rise too.
5. Registered Nurse
Average Salary: $72,000
Minimum Education Level: Bachelor's Degree
Registered Nurses, sometimes abbreviated to RN's, are skilled nurses that hold an associated degree in Nursing and have met their state licensing requirements.
Registered Nursing is a varied career depending on the environment you are working in, but it focuses on patient care – treating and giving support to patients and their families.
Registered Nurses aren't limited to hospitals though. They work in almost all healthcare settings, including physician's office and long term care facilities.
Our aging population and increased focus on preventative care have placed a large increase in the importance of nurses.  This has seen demand for nurses increase substantially over the last few years and isn't stopping anytime soon.
Nurse employments are set to increase by 15% over the next 10 years. This is one of the highest predicted growth rates of any occupation in the USA.
6. Nuclear Medicine Technologist
Average Salary: $77,000
Minimum Education Level: Associate's Degree
Using an advanced scanner, nuclear medicine technologists provide images of areas inside a patient's body. This is then used to help diagnose and treat certain conditions.
They use radioactive drugs administered to the patient who needs the scan. These drugs cause abnormalities to show up differently from normal areas of the body in the scan. This means that doctors can accurately locate and treat the issues.
You'll need to achieve an associate degree from an accredited nuclear medicine program. Due to the rise of an aging population, the demand for nuclear medicine technicians is set to rise too. This group relies on this type of scanning to locate and treat diseases like cancer.
7. Health Services Manager
Average Salary: $100,000
Minimum Education Level: Bachelor's Degree
Medical and Health Services Managers cover a wide range of jobs across healthcare-related to managing medical services. This ranges from running an entire hospital down to managing a medical department.
As well as medical knowledge, health service managers need experience in business, ethics, finance, law, and technology. This is because running a healthcare facility comes down to far more than just knowing how a body works!.
In line with the entire healthcare sector, health service manager jobs are set to increase over the next few years, making any investment into the training required a sensible long term decision.
Most Health Services Managers hold a bachelors level degree before entering the field, and supplement this with further training.
The Highest Paid Medical Jobs Today
As you can see, doctors aren't the only well paid medical professionals. Many of the highest-paid medical jobs don't require you to complete a doctorate.
The healthcare industry is wide and varied, so whatever your interests, skills or level of education, there is a well-paid job for you. Whether you want to be at bedside or backstage keeping everything running, you can make a successful career in healthcare.
The medical field is always changing. New technologies that can revolutionize healthcare are created each year, so it is important to keep your eye on the jobs market. You may be perfectly suited for the next big thing!
If you found this post useful, check out our other articles at itsmyownway.com.