Southeast Asia is a wonderful travel destination for both luxury or backpacker lifestyles. Here's how to save money when traveling in Southeast Asia.
Southeast Asia is a beautiful region to travel to and cheap too. The cost of travel and food and board are all budget-friendly. The average trip is around $35/day for a solo traveler and for two people the average cost is about $50/day.
Check out this breakdown of how to save money when traveling to Southeast Asia.
How to Save Money When Traveling to Southeast Asia
Traveling in Southeast Asia is cheaper than many parts of the world.
There are still plenty of ways that you can reduce the cost of your trip even more.
Stay in Hostels 
Hostels are usually way cheaper than many hotel chains.
This option is ideal when you're traveling with a group of people because you can split the cost. Most hostels in Southeast Asia $12/night.
Walk When Possible
The cost of a bus, ferry, or tuk-tuk can add up.
Instead, explore your surroundings and walk to your destinations. You're far more likely to see interesting new things on foot than in transport.
Book With Cost-Efficient Airlines
The most expensive part of planning a trip to Southeast Asia is booking the flight.
While most airlines cost hundreds of dollars, airlines like AirAsia are cost-effective. Also, bring a carry on if you can to save even more money on your ticket.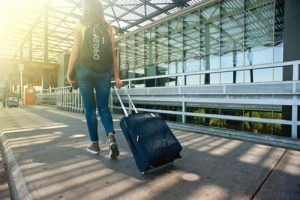 Grab Food from a Street Vendor
Don't be afraid to eat from local food vendors. The food is cheaper than other restaurants in the region. Also, try to avoid Western dishes because they are more expensive than local cuisine. A meal at a street food vendor in Southeast Asia will cost as low as $3 per meal versus $20 at a local restaurant.
Don't Buy Souvenirs
Although you may upset friends and family back home, don't buy souvenirs.
The costs for little trinkets or t-shirts can add up and you'll usually pay way over the odds for what you're getting.
Pack Your Own Drink
The cost of alcohol adds up pretty quickly, so either avoid buying alcohol or drink your own drink. It may seem unusual but it's totally acceptable in Asia to bring your own alcoholic beverage to restaurants or cafes.
Another option if you want to enjoy alcohol is to pregame. Purchase alcohol at a local store and split it with your travel buddies.
Skip Tipping
While it is expected to tip in Western countries, it is not required in Southeast Asia. Therefore, you can save a lot of money by avoiding tipping.
If you do want to tip, make sure you don't overdo it.
Research Ahead
It may be tempting to accept the first "transportation and accommodation" package you see, but you might not always be getting the best deal.
Most of the time you can shop around and find a package for the best price. Sites such as world roamer offer transparent pricing so you know exactly how much everything costs in advance.
Travel in Groups
Traveling with a group of people is not only more fun but it can greatly cut down the costs — especially if you split the cost of accommodations.
If you're traveling by yourself, you can often find other solo travelers who will be happy to share costs with you.
Get Traveler's Insurance
Traveler's insurance is essential. If you get into an accident or miss your flight, your travel insurance will cover the cost of these unexpected events.
Now you are all caught up on how to save money when traveling to Southeast Asia. Planning a Southeast Asian vacation does not have to break the bank.
All That's Left Is to Have the Time of Your Life
Now that you know how to save money on your next trip, all that's left to do is have an amazing time!
For more great travel articles as well as plenty more content on a wide range of topics, feel free to take a good look around the site.