Many pet owners often feel overwhelmed with the wide range of options available for dog collars. Did you know that some collars are made specifically for certain types of dogs? Moreover, many of these collars wary in their clasp mechanism and material used. It is important that you pick the right one for the safety of your dog as well your convenience.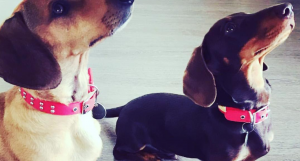 If you have been thinking of buying the perfect collar for your pooch, you have come to the right place.  In this article, we will share important Tips to Choose a Dog Collar that is not only perfect for daily use but also suitable as per your pet's behaviour and size.
First things first!  The most common type of collars, known as flat collars, is meant for daily use. They are affordable, durable, and easy to use. Flat collars are usually made of nylon, but one can also get them in leather.
A flat collar must be chosen based on the size of your dog. It is mostly used when you take your dog out for its routine walk. Nylon collars are preferable to leather one because they are easy to maintain and can be machine-washed. If you have a young puppy, you will find nylon collars to be incredibly safe and adjustable. Leather collars are highly durable and are best suited for high-spirited dogs.
Before buying a flat collar, measure your dog's neck using a cloth or measuring tape. While the collar should fit snugly, it should also have enough room to fit two fingers. It should also have metal D-rings that can be used to insert the dog's identification tag.
Collars For Highly Active Dogs
If your dog is unruly or highly active, then head collars are your best bet. They are safe and will give you better control over your pets. One strap sits close to the dog's ear and the other one around its muzzle. If your pet pulls or jumps when you take it for a walk, this type of collar is indeed your perfect choice. However, remember that the collar must fit well to work efficiently. Unlike flat collars, head collars must be used only for a short duration of time. Put it on when you take your dog out for a walk and take it off as soon as you are back.
Collar For Positive Training
When training your dogs, you need to keep an eye out for their behaviour. Are they obedient or unruly? If your pets fall into the latter category, then you should buy an aversive collar that can train them to not do something that they shouldn't do. Don't overuse this type of collar longer than their training period. You can also discontinue its use time and again to see how your dog behaves in its absence.
Choke Chain Collar For Hostile Dogs                                                       
Made from metal chains, these collars constrict your dog's neck when it tries to pull too hard on the leash. The best thing is to avoid using this type of collars completely. However, if your dogs are disobedient to the point of aggression, then training them using a choke chain collar may be necessary.
Choke chain collars do not have a safety mechanism that can limit its grip on your pooch's neck. Some of these collars have been known to strangle or cause irrevocable damage to the dog's nerves or trachea. Therefore, it is extremely important that you take help from a professional trainer if you are not sure how to use this type of collar to discipline your pet. Moreover, remember that it is not meant to be used every day. Therefore, it is important to exercise restraint when using choke chain collars.
Some collars are made specifically for certain types of dogs. Sometimes when your pet barks excessively to the point of disrupting your life and that of your neighbours, then you may be forced to use this type of collars to control their bark. Experts suggest that it is better to address the source of the problem rather than restricting it with a collar. However, it can serve as a temporary solution to the problem.
There are also other types such as vibrating collars for dogs that are deaf or GPS-enabled collars to keep a track on your dog. The collar you eventually buy depends on your purpose and budget.
Remember to keep these factors in mind when you go out to purchase the much-needed collar for your beloved pet.