Handmade rugs are also called oriental rugs because they are designed mainly in India, Turkey, Iran, Afghanistan, Uzbekistan, as well as Pakistan, Morocco, and Tibet.
Handmade rugs, which combine ancestral tradition with conceptual modernity, are not only their particular handmade but also their patterns, designs, and colors. It makes it an extraordinary piece of great value. In the world of rugs, we believe that not only the highest quality but also the most beautiful are handmade rugs. From our wide selection, everyone can find their dream hand-woven rug, which will meet their expectations and desires.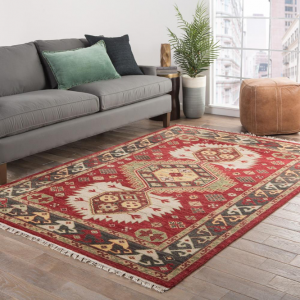 Modern Gabbeh Rugs
Made by Qashqai nomads in Iran and factories in India, these rugs have a simple design with only a few decorative patterns. The name says it all. "Gabbeh" means "rare" but also "natural". The Gabbeh rug is monochrome in its original form and has a high pile. They give your bedroom warmth and tranquility.
Kilim Rugs
Kilim rugs are not knotted, they are spun by Turkish, Causassic, Afghan, Turkmen, and Iranian nomads. Moreover, they have no velvet. This is why they are often called flat fabrics. Since the last century, these flat fabrics have started to become popular in Europe. Most have been adored by experts and admirers of Kilim art. Kilims are colorful rugs that are woven. They liven up simple rooms but are also a bit lighter.
Ziegler Rugs
Ziegler rugs are imitations of classic Persian rugs. In order to make them look old-fashioned, the rugs are sun-bleached and worn with stones, to scuff the pile and make the color appear more antique. However, they do not match the quality of traditional hand weaving. Ziegler rugs often have an Abrash. This washed-out look gives a certain vintage or antique character but should be combined discreetly. Cream tones are to be found in the bedroom.
Persian Carpet
Traditional Persian rugs are popular and extremely famous. It's no surprise that the reason for this is their mind-blowing quality. Hand-knotting, natural colors, and woolen threads characterize a luxurious Iranian rug, a product from ancient Persia. With patterns, traditional colors, and finesse, the Persian rug is back in fashion to bring ambiance, comfort, and timeless style to your home. Traditional Persian rugs are available in an almost endless variety of designs. Often, ornaments are more suitable for light and calm rooms, since the basic colors are red, blue, and beige. Simple furnishings give them a pleasant and warm atmosphere.
Nomadic Carpets and Village Carpets – Natural Beauty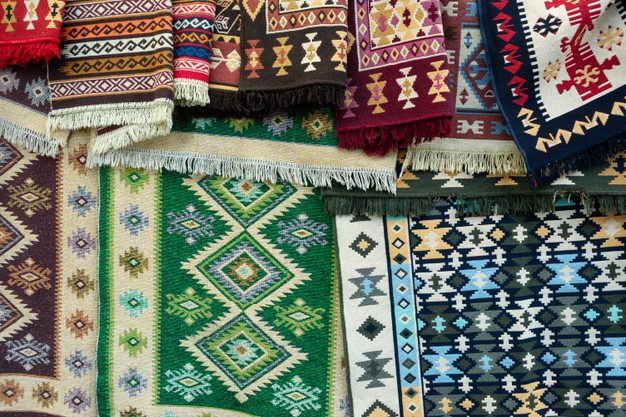 Many Iranian rugs with beautiful, unusual patterns and bright colors are hand-knotted by nomads or even in houses in villages. Many patterns on these oriental rugs are inspired by nature and absolutely unique. Village and nomadic rugs have become very popular in recent years. Geometric patterns fit into modern styles of urban furnishing. In addition, they harmonize perfectly with the Scandinavian design, which has been prevalent in the interior for some time now.
Pakistani and Afghan Rugs
Pakistani and Afghan rugs have patterns similar to those of nomadic rugs, but mostly in very dark tones. In purist and bright rooms, these handmade rugs can create warmth and tranquility and thus enhance privacy.
Indian Rugs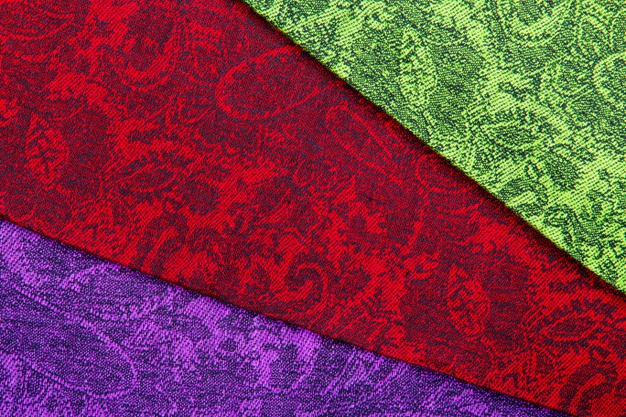 Indian rugs are very similar to those of Persian origin, but of a coarser design and therefore more affordable, but also less robust.
Hooked Rugs
Hooked rugs are handmade using a needle-like tool. They are woven into a canvas and have a lining to support the design. They are a cheap and trendy type of rug.
Braided Rug
The creation of braided rugs is done by tying strips of cloth together. Fabrics range from cotton to wool. Their thickness may vary. Are you wondering what decorations they can match? Well, they are also great for country house decoration and traditional decoration. Another advantage of braided carpets is that you can use them by reversing their sides. If the lug becomes dirty, the other side may be used. It also comes in a variety of sizes, oval and circular.
The range of handmade rugs is busy, and it is in your interest to master the main selection criteria so that your investment is wise. If you want to start buying this ornament, know that it is your senses that you have to get involved. It is important to evaluate not only the appearance of the carpet but also the feel of the carpet to judge the quality and meet expectations. However, one of the most important factors is color and its combination. As an object of decoration, the Oriental rug must be aesthetic and integrated into the room in which it must be placed.