Find the best scent for you can be quite a difficult task, especially if this is not something that you are used to. Not all perfumes will smell the same on you, so you can buy one that your friend only has for it to turn into a disaster. This is why it is essential to understand what works with you, which can be according to the way you are feeling, the weather, or what you are up to.
Before finding out the best scents of 2020, you need to understand the basics of perfumes. This will allow you to understand what is most likely to suit your needs. Find out what you like then find out some great samples that will fit your budget. This article will tell you what you need to know when buying perfume and some of the most popular ones this year.
What Are The Main Types Of Scents?
All perfumes fall into several categories, and for you to find the best ones for you, you need to familiarize yourself with the types, also known as fragrance notes. These are the main ingredients used in making scents. Some of these work best in particular weather, places, activities, and different people. The following are the dominant fragrance notes in the market.
Citrus
This scent is usually light and fresh most suitable for hot summer days or even in the spring. They have noted similar to citrus fruits such as orange, lemon, tangerine, or bergamot. It is most suitable for people who are bright and bubbly as it compliments their character since they are very light.
Floral
These are usually drawn from sweet-smelling flowers and can be a bit heavier than the citrus notes. The most common flowers include roses, gardenias, jasmine, and various blossoms. These scents are characterized by being most suitable for romantic settings. However, there are a few that have tropical notes and are great for casual settings, especially in the summer.
Spicy
Spicy notes are a favorite for both men and women, and just as the name suggests, these are scents that are drawn from spices. The most common spices used cinnamon, clove, cardamom, and pepper. These are great to have as your everyday perfume, a day or evening out to a coffee shop as it complements the setting.
Woody
This note is used mostly in men's perfumes as it is more stable, unique while remaining a little toned down. It is a combination of moss and wood that create more subtle scents inspired by patchouli, citrus, oak, and in some cases, bergamot. They are suitable for people that love classic scents that are memorable yet not too pronounced, so they are excellent for everyday use.
Oceanic
These are scents inspired by the ocean and wet smells. It can be the smell of the mountains early in the morning or flowers and plants at sea. They tend to be a bit mellow, so they are great for wearing as you go for work or at the gym if you prefer wearing some there.
What Are The 5 Best Perfumes For 2020?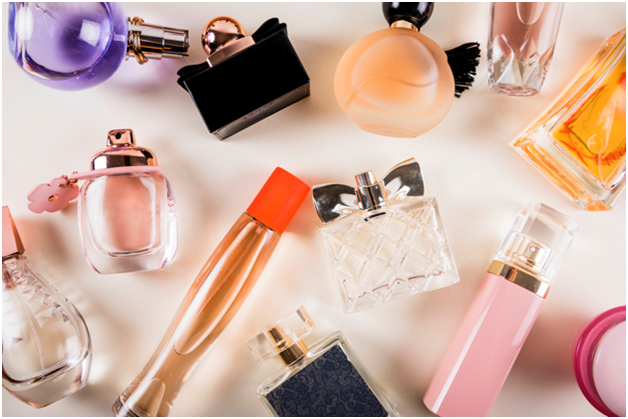 Now that you have an idea of what to expect in most perfumes, you can now choose what suits you best in the following list.
1. Creed Aventus
It is one of the most hyped scents for men in 2019, and many are still excited about getting it in 2020 as it is a bit pricey. It has a mix of fruity, spicy, and musky notes as it smells like vanilla, birch, bergamot, and some jasmine. It lasts well throughout the day without having to top it up so you can be sure of getting value for your money.
2. La Nuit De L'Homme Yves Saint Laurent
If you are looking for the perfect scent to attract more ladies to you on a night out, then this is what you need. YSL is one of the best perfume creators, and this sweet cologne fits the bill perfectly. The top notes on it are lavender, cardamom, and bergamot. It is sexy, friendly and inviting so best to save it for after-work activities.
3. Maison Margiela- Coffee Break
If you are on a budget and you want a unique scent for everyday activities or a relaxed day out, this unisex scent is perfect. It is smooth, sweet, and smells like a coffee shop, so it would be perfect for that break time date. It has a vanilla undertone that is sure to lift your spirits even when you are feeling low.
4. Tom Ford-Fucking Fabulous
It is a relatively new fragrance by an incredible designer, and it will turn heads wherever you go. This is the female version of the Aventus as it has been selling out like you would not imagine. It has a mix of woody, lavender, sage, and vanilla notes that combination beautifully to give you a perfume that will last. It is excellent for a date where you want to impress a relaxed night out with friends.
5. Tiffany & Co. – Love
If you are looking for a fantastic perfume to brighten your mood instantly, then this attractive option is the one for you. It is light as it features citrus notes with a woody undertone that allows it to smell even better later in the day. It has a men's option that is more woody than citrusy. It is excellent for special occasions, and generally any day you want to feel great about yourself. If you are a Tiffany fan, then this is a must-have.
There is no perfect scent for anyone, as every single aspect of your life at any moment defines what scent would be suitable. This is why it is a good idea to start building your collection of different perfumes that make you feel great. You don't even have to get designer scents, but having at least one that you love is an excellent gift for yourself. Explore different notes, and you will find a new accessory in the various options that you will have.