Digital course creation has never been easier thanks to new, easy-to-use tools for creating digital courses. In today's multimedia society, instructors can easily and quickly deliver content from their computers to their audience. Video tutorials that show step-by-step procedures for using a particular product are among the most popular digital courses. 
Perhaps a visual book or report created with illustrations and graphics would be more attractive to your prospective students than a text-based digital course. Whatever you may think, these courses help deliver your message across – it's just a matter of presenting them in the best way possible.
These tools for creating audio and video courses are equally easy to use. A high-definition video camera, tripod, and editing software program are some of what you need for creating the perfect courses. Or you might prefer to use real people as your speakers so you can give your students a personal tutorial. 
1. PDFBear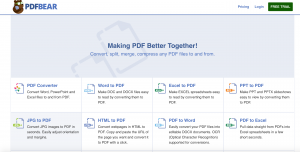 PDFBear is a professional PDF conversion tool. Many business owners use it to convert PDF files into Word documents or other formats. With PDFBear, you can convert almost any document or image into an easy-to-use PDF form. In addition, PDFBear offers a 100% free conversion tool for those who wish to convert any file into another format.
Apart from conversion, PDF also has a function to protect PDF, which can benefit course creators. This way, you can save your files and make them available to a specific audience if you want to. Feel secure and safe when visiting this site, as your edited files are deleted once you're done downloading them. 
2. Canva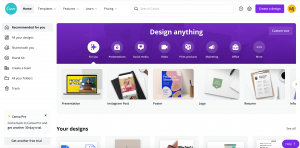 Do you need new graphics for your social media page, and you're unsure where to get them? Do you feel like you have no artistic talent but would rather not outsource your work to someone else? If your answer to all this is yes, then you should use Canva. 
Canva is a popular free graphic design platform perfect for creating company logos, blog layouts, invitations, cards, and more. The free version offers a wide variety of layouts and fonts, making it ideal for online courses. But if you've invested in your brandings, such as logo, brand colors, fonts, and textures, you can easily upload it to canva. In addition, Canva makes it easy to create PDF workbooks and covers.
With a drag and drop interface, creating hundreds of templates is easy. Once you have chosen a template you like, you can then apply it to your Canva page, change the background and graphics to fit your tastes, add text, and edit your layout with additional photos and illustrations. With Canva, you can keep your visuals consistent. For non-professional graphic designers, Canva can give you the best edge to your website designs.
3. Vimeo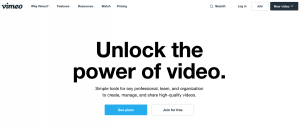 There have been so many changes in the video editing community. From 3D design templates to animations and transitions, video editing software keeps getting better. As a creator, you might want to promote your new course or program. Also, if you have professionally filmed and edited videos, you need a place to present them. For that, you would need video design software like Vimeo. 
Vimeo offers both free and paid options to download, serve, and share high-quality HD videos. After the video is uploaded to Vimeo, you can share the link or embed it on your website for your students to view online. What's more, there can be privacy options that only allow paid members to view the video. It is perfect for online course creators who want to create videos, share links, or embed them on websites.
4. Zoom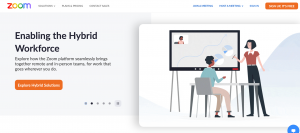 Zoom is a revolutionary video telephony/conferencing application developed by Zoom Video Communications. The free option offers an introductory video conferencing service, which enables up to 100 simultaneous participants. In addition, users can take advantage of the various features of Zoom, such as recording, sharing, and chatting even while on a video call.
It is also possible to manage and control the volume of the audio and video. A free trial version of Zoom runs on a web browser without installing software. The app version can be downloaded and installed on any Windows, Mac, or Linux operating system. Thus, zoom can be a secure way of sharing information and video.
The Zoom platform can also be used for webinars hosted on the Internet, so you get to your customers and prospects from all over the world. 
5. MailChimp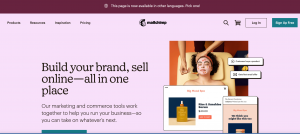 MailChimp is an email marketing platform that provides marketers with an affordable, efficient, and highly effective marketing solution. This would be beneficial to promote your courses to a broad audience. MailChimp has all the functionality and capabilities that are required for online marketing. Apart from this, MailChimp also provides several advantages that are not available with other email marketing platforms.
The most crucial advantage of MailChimp is that it is easy to install and use. Even beginner marketer can start their campaign in very little time with the help of this powerful email marketing platform. Thus, MailChimp helps marketers and webmasters save time, effort, and money.
This tool helps in identifying appropriate subject lines. In addition, you can specify whether to attach images or files when creating your newsletter. In short, MailChimp allows you to create an email newsletter that is tailored to your requirements. Another significant advantage of MailChimp is that it can be operated even if you are on a limited budget. Thus, you do not need to spend thousands just to start an email marketing campaign.
If you want to send out different messages to different recipients, you just have to enter their names and email addresses in the automatic email sending module. MailChimp also provides its users with a large variety of templates, which are extremely helpful when building email campaigns.
Conclusion 
Anyone can create digital courses using one or more of the software listed. The secret is knowing how to use the right tools for the job. Don't be afraid to spend some money on high-quality tools that will help you grow as an instructor.
Your investment would be worth it when you create courses everyone can relate to. If you're unsure whether you should use a video or audio-visual course creation tool, you should consider your audience and the platform you plan to sell.