When dealing with PDF documents, we all need to be flexible, and PDFBear may assist and provide flexibility for managing PDF documents. Anyone can use the PDFBear system and the website's broad collection of PDF utilities. Furthermore, anyone can utilize and benefit from these PDF tools for free. PDFBear makes it easier to work with PDF documents by converting them to and from different formats. Of course, you'll want to return to the format you prefer or require, which is why PDFBear enables users to convert to and from PDF format, PDFBear uses a quick PDF converter that is easy to use, convenient, and free. Aside from converting, PDFBear has several additional useful functions that will be discussed in this article.
Page numbers are vital in documents, particularly when they are shown to others. When you add page numbers to the pages, it will be much more beneficial and simpler to find them. Your files would also be professional-looking when presented or shared with others, giving your job a respectable and smart appearance.
The first step to take if you'll add pages to PDF using PDFBear is to drag and drop the files on the platform's toolbox or simply select them from your storage. Then, PDFBear will scan the one you submitted and allow you to decide how and where to add page numbers. You can also specify that the first page will be the cover page. After that, you can either download the PDF file to your device, store it on Google Drive or Dropbox, or send it immediately via email or other messaging sites like Messenger, WhatsApp, and Hangouts.
PDFBear also provides PDF document optimization tools. The PDF Compress tool, also known as the PDF Compressor, is among the platform's PDF optimization utilities. This PDF compressor will come in handy when it comes to shrinking and condensing PDF files into smaller file sizes to minimize device storage. As a result, this PDF tool is suitable for PDFs that scale to big sizes.
The website's PDF Compress tool can accommodate PDF files up to 1 GB in size. Consequently, compressing your PDF documents with the PDFBear program can decrease their file size by up to 70%. By lowering the size of your PDF, you can use it for jobs and activities such as specialized online uploads, email attachments, and even printing.
Anyone can use PDFBear to minimize the size of the file of their PDF free of charge. In addition, by subscribing to PDFBear PRO, you may enhance the number of times you may compress PDF documents with this program. PDFBear PRO pricing starts at $5.99, making it especially inexpensive and cost-effective to use PDFBear's infinite PDF jobs.
PDFBear also includes features to help users arrange their PDF documents. These are the Split PDF, Merge PDF, and Delete PDF Pages features. All of these PDF organizing tools are completely free to use yet will consistently deliver effective and high-quality outcomes.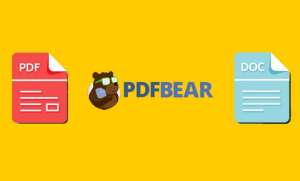 Previously, these PDF organizing tools could only be found in offline applications focusing on PDF editing and other procedures. But now, you can have an online option for splitting, merging, and deleting certain pages of a PDF document. The big and great deal is that PDFBear does not charge a premium for these three PDF organizing services.
The term PDF reader indicates that it is a tool for providing and reading PDF files and documents. To your amazement, PDFBear's PDF Reader does more than just open and read PDF files. Similarly, it enables you to open, distribute, and even provide a high-quality evaluation of your PDF photos and pictures.
To view a particular document or file using PDFBear's PDF Reader, you must first transfer the document to the PDF Reader program. After the software has properly analyzed your file, you can gain access to it. This functionality also allows you to directly update, revise, or edit your papers. If you need to print your records, you can do so with this tool as well.
The advantage of using PDF Reader is that you can be certain that all of your data will be protected and safeguarded. Nobody can access or even read your data without your permission because of its high-quality SSL encryption. Furthermore, because PDFBear wants to provide you with the finest service possible, the software will guarantee to supply you with the most recent version.
There is currently no other PDF Editor available on the web that provides the same level of quality as PDFBear's editor. If you have a large scientific paper, bank documents, government statements, and other files that need to be updated fast, then using this platform's PDF editor is your right approach.
This PDF Editor allows you to edit the font style of text, add and delete photographs, crop a few images, and many other things. The main purpose of PDFBear is to always deliver a high-quality experience to the customer and returning customers, particularly when it comes to modifying PDF files.
Passwords can be embedded in PDF files to protect and secure them. Locking your PDF protects it from unwanted access, copying, or manipulation. Because PDFBear uses 256-Bit Encryption, your password-protected files will be difficult to crack and access.
The first step in adding a password to your PDF file is to upload it into their database. PDFBear will scan your file and prompt you to enter a password before clicking "Encrypt PDF." Once completed, your PDF-protected file will be available for download on the memory of your device, and you may save it to Dropbox or Google Drive.
In A Nutshell
Whatever PDF tool you require, PDFBear will have it available at your most needed times. It provides its PDF converting, editing and optimizing capabilities in a condensed and simple manner. There is no need to go deeper into your technical expertise to use the PDF tool you require on the website. These programs are completely free to use and have the potential to consistently provide reasonable and successful performance and results.