For candidates with dedication and commitment who decide to embark on a career in social work, there are many benefits to be had. These include not only long-term employment opportunities and financial rewards but also the knowledge that they are helping some of the most vulnerable people in society deal with their problems. They help them move forward and live rewarding and happy lives.
A social worker aims to help create change and improve the resilience of individuals as well as families and communities. The International Federation of Social workers defines the job as a 'practice-based profession and an academic discipline that promotes social change and development, social cohesion and the empowerment and liberation of people.'
Many people enter the profession because its principles are similar to their values and the role enables them to be involved in work that encourages others to achieve in their lives values of fairness, respect, equality, dignity, justice, and the right to health and well-being.
The importance of what social workers do can be seen in readily available statistics. According to the National Association of Social Workers, there are more than 700,000 professional social workers employed in the United States, and there are more clinically trained social workers providing mental health and behavioral health services than in any other profession in the country.
The specific tasks and responsibilities of a social worker will depend on their clients and what field they specialize in, but generally speaking, they can be summed up as:
Assessing the client
This means getting to know them and working out the best way to work with them. It includes gathering information about their background as well as where they are placed within their individual, societal and organizational systems, and learning about their family, friendships, schools, jobs, medical histories, and any issues they have. This enables the social worker to understand the client's perspective, what needs to be addressed, and how to develop an effective plan of treatment with them.
Creating a treatment plan
This involves listening to the client and jointly defining their goals, whether it be to overcome, recover from, or adjust to the situation they need assistance with. The plan could include therapy sessions on a one-to-one basis, as a family, or as a group.
Referring to other programs
As well as possible counseling or a different kind of therapy, clients may need to be connected to other resources, such as medical professionals, for instance, or unemployment services, food banks, benefits programs, or support groups. Social workers must understand what organizations are available in their area so they can refer their clients correctly and effectively.
Monitor improvement
Once treatment is ongoing, the next step is to regularly evaluate how the client is progressing toward their goals. This could mean adapting the plan if new issues come to light or if something is not proving as effective as was originally hoped. Flexibility on the part of the social worker and client is essential to move forward positively.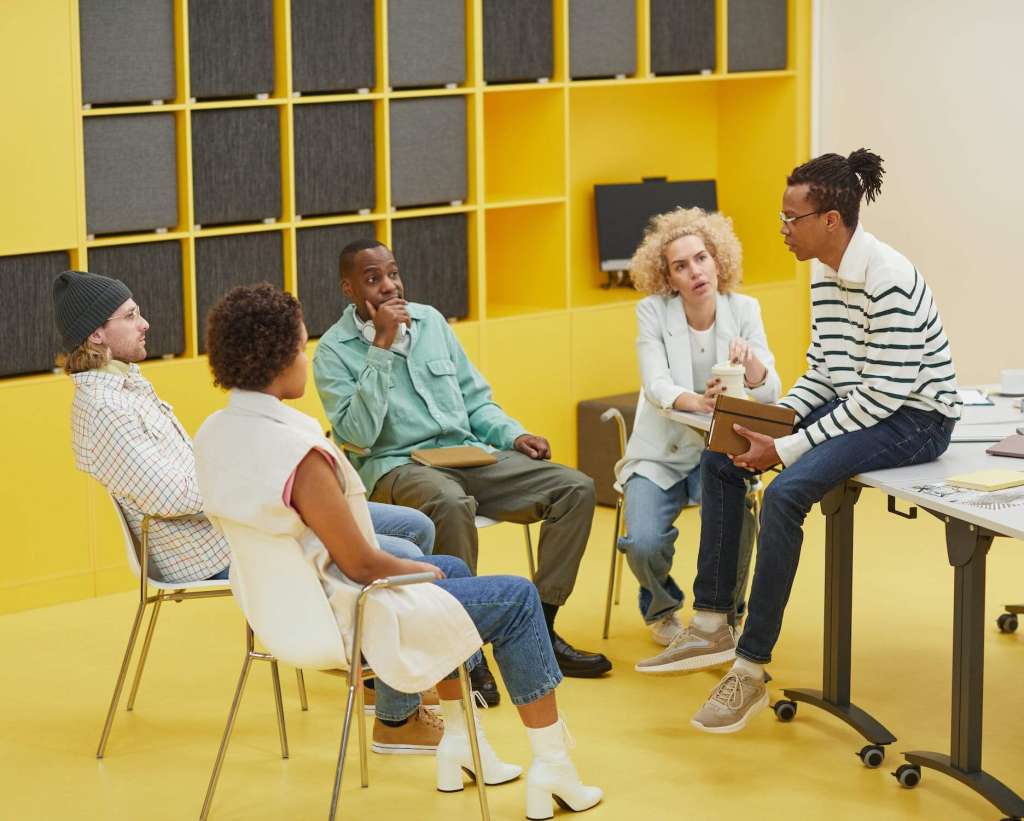 Social workers can be found in a variety of settings, such as hospitals, schools, private practices, senior centers, prisons, and public agencies. They could be helping people dealing with inadequate housing, substance abuse, families experiencing domestic conflict, or individuals dealing with a disability or life-limiting illness.
Most clinical social workers will practice in rehabilitation and mental health clinics, while direct social workers are often found in other areas. The main difference between the two is that although all social workers can connect clients with resources and offer guidance, only clinical social workers can provide counseling.
Some specialisms include advocacy, which is one of the mainstays of social work, in which the rights of individuals and communities are represented to achieve social justice.
Child welfare social workers help the most vulnerable children, young adults, and their families in society, supporting them if they are experiencing neglect or abuse and ensuring they get the services they need to protect and nurture them.
Macro social work focuses on creating policy changes in everything from communities up through regions, states, and nationally, whereas medical social workers in hospitals and other health centers help individuals and their families during an immediate crisis and the direct aftermath.
School social work means working with young people as well as school staff to assist with conflict mediation, improving mental health, and the prevention of bullying.
Social worker skills
Getting the right qualifications and experience is key, with a strong focus on lifelong learning and reading a variety of literature, both job-specific and more general, to understand the wider world in which the clients will live. This could be clinical, or more general reading regularly.
Developing communication skills is a vital part of the role of a good social worker. They help them to form trusting relationships, gather information, and come up with effective plans with their clients.
Active listening is a key factor in any conversation or interaction with clients and means more than simply hearing the words that are being spoken. It involves trying to understand the meaning or intention behind what is being said and showing the other person they are being heard and valued. Techniques such as using good eye contact, asking open-ended questions, paraphrasing and reflecting on what has been said, and noticing and using non-verbal cues.
Empathy is important in that it will help improve understanding of how the person you are dealing with feels about certain situations. Critical thinking enables a social worker to objectively analyze information based on interviews, observations, and research.
Good time management and organizational skills are vital for managing and documenting complex cases and the diverse needs of clients.
It is also very important for social workers to develop self-care techniques and strategies to help maintain a healthy work-life balance in a very demanding field of work.
Getting the right qualifications
The first step toward becoming a social worker is to obtain a bachelor's degree from an accredited institution such as the Council on Social Work Education (CSWE). To become a licensed master social worker (LMSW) in Georgia. it is necessary to have a master's level education in social work through an approved MSW degree program and pass the master's social work licensing exam. Licensed clinical social workers (LCSW) have an approved MSW degree, completed three years of full-time, supervised professional experience, and passed the clinical social work licensing exam.
The Georgia Master's of Social Work is available to residents of Georgia via Florida State University – its online master's degree program offers students a clinically focused online Master of Social Work degree and has two programs available:
The Advanced Standing program for students who have completed a Bachelor of Social Work from a CSWE-accredited program
The Traditional program for those who have a bachelor's degree in a different subject
Both programs are clinically focused and offer field placements that should align with the student's interests. The average time to complete the course is two years for the Advanced Standing program and three years for the Traditional program.
The advantage of studying online is that it allows for a degree of flexibility, allowing students to study around other commitments. Most class learning materials are available online, so students can work from wherever they want as long as they have internet access. Also, for those students who are independent learners and self-directed, online learning is perfect as they can set their own pace and work at whatever speed suits them.
As well as studying for the right qualifications, it's a good idea to spend some time and effort on building networks and having conversations with professionals in the field you are interested in following. Joining student organizations that reflect your goals and put you in contact with peers who feel the same can also help as well as getting involved in volunteering for roles that will provide useful experience, such as advocacy. Taking on a related part-time job can also help improve career prospects, as can doing an internship in a related field.
Getting the resume right
Compiling an effective resume is crucial to helping candidates land the right job, and there are a few general points that should be remembered before putting pen to paper.
Tailor the resume to each job, so researching each potential employer is very important. Find out what they are looking for and whether there are any specific licenses or certifications required for that particular role.
Make an outline and list key points by organizing education, skills, experience, training, and any memberships on the page, and include internships, volunteer work, and experience. Highlight your strengths and think about the language you use when writing to ensure you set the right tone.
A well-formatted resume will mean it is easy to read and follow. It should be one page unless the job you are applying for is a clinical position, in which case it can be longer. It's important to proofread it to ensure all spelling and grammar are correct.
A professional-looking cover letter should also be included to help your application and resume stand out.
Job prospects
The job prospects for qualified social workers are very positive according to the Bureau of Labor Statistics, with overall employment in the field projected to grow 9% in the decade from 2021 to 2021, which is faster than the average for all occupations.
The reasons behind this increase in demand are varied but one of them is because of the changing demographics of the USA. The population is aging, and by 2050, 88.5 million Americans will be 65 years or more, meaning more people will use the healthcare system. Therefore, hospitals, for example, will need more social workers for care coordination and other related roles within gerontology. But that is just one area in which social workers are becoming more and more in demand.
There are many opportunities to work in a variety of settings in Georgia for social workers, such as a licensed clinical social worker in general practice, within the Veterans Affairs Emergency Department, and in the Public Health Administration and local hospices.
Vacancies arise regularly in areas such as victim assistance, family counseling centers, psychology centers, and the department of human services all over the state. Potential candidates can find information on job opportunities through websites, such as indeed.com, and employment agencies as well as via the websites of organizations and companies that hire social workers.
Once candidates have embarked on their first job, it's important not only to focus on that but to think about how to progress within the industry. Undertaking further education is important, as well as learning relevant skills and gaining more professional experience. Educating others about social work can also help move a professional's career along.
Other ways to help identify which direction to take include job shadowing, researching what other skills will help to enhance performance and improve prospects, thinking about what drives you and which areas you are passionate about, and joining professional organizations.