Since gentlemen only put on limited accessory, a wristwatch could probably be the ideal expression of their character.
Most of us prefer to have more than one watch so that we can wear the ideal one that could complement our outfit. Also, this practice applies to the formality of the occasion we have to attend.
So, what are the tricks into achieving the ideal pairing between your timepiece and your clothes? Here are a few.
Do the colors matter when wearing a timepiece?
Matching the tone of the watchband and its case may seem like more effort than necessary, but everything will come off excellently when done correctly.
However, if you only have a limited time to choose, then you should go with a timepiece with a white case because white goes with almost anything. But remember to at least put an effort to match the color of your shoes to your watchband.
Are expensive timepieces worth buying?
The cost of a wristwatch could indicate anything from its precise craftsmanship, purity of the materials, the diamonds, or merely the designer's name, like the Omega Speedmaster. It is entirely up to you if you need one. However, you need to put these questions into mind first:
Is your budget enough to purchase a particularly pricey timepiece?
Are you going to wear it only on special events, or forever?
Always research to determine what you are paying for and whether you are fine with that.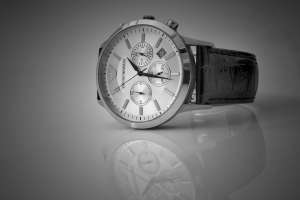 Balance the watch strap with your outfit's formality
Once you determine the type of wristwatch that will ideally match with your outfit, then you can further narrow things down regarding the material of your timepiece's strap.
Black leather provides more formality than brown leather, and the leather watchbands are more formal compared to the metal ones.
In the most formal form of events, silver or gold metal bands will not be ideal for you to wear. However, these metal bands can be ideal for occasions in which you must look elegant and stylish.
The leather should go with leather
If you plan on wearing a wristwatch that has a leather strap, the color and material of your shoes will be an excellent reference for the selection of the watchband.
You must begin by matching your shoes with your belt, and then, you match your timepiece with both. Pairing is quite simple, remember that a brown band should go with brown shoes and a brown belt, while a black watchband should go with black shoes and a black belt.
Furthermore, your watchband does not necessarily have to be with the exact color as your belt and shoes, but their tone should complement each other.
Metals should pair with metal
The metals utilized to create the case of a wristwatch or its band include steel, silver, gold, titanium, and platinum.
The tone of your timepiece's metal must balance with the metal accents of the other accessories. These accessories include your cuff links, rings, belt buckle, shoe buckle, and many more so that all of your accessories are either silver or gold.
The colors do not have to precisely match the other. For instance, if you have a belt buckle that has a yellow gold color, then you can opt for a rose gold watch since it is close enough.
Always pair your wristwatch with your shoes
Black is more formal, and that is why a black watchband is generally appropriate for formal occasions. However, that factor does not always is the default choice because there are times when brown shoes become a better option.
Silver timepieces match excellently with gray, silver, blue, and black shades while gold wrist watches pair with beige, tan, brown, and other earth colors.
To Conclude
Since men wear limited jewelry, their wristwatch will be an excellent expression of their personality. The best wristwatches are simple, versatile, sophisticated, and classic.
If you have been having problems with pairing your outfit and wristwatch, then these fundamental tips will entirely elevate your matching game.