Does your dog follow you around wherever you go? If you have a clingy pup, whether you're heading to the bathroom or the bedroom, your furry pal will always be one step behind.
A dog who clings too much to his pet parent is a so-called "velcro dog."
If your pup follows you from room to room, stands up when you stand up, then he's a certified velcro dog who sticks to you wherever you go. While a pup who loves to rest his head on your lap every time you sit and watch TV is not a problem (and even cute), it becomes a different story if he starts displaying symptoms of separation anxiety.
Here are some tips from a Dubai pet food company on how you can enjoy your pet's devotion while helping him become independent even in your absence.
1. Set some ground rules
Some dog breeds are more genetically inclined to be clingy. For instance, lapdogs like Chihuahuas or pugs tend to become quite attached to their humans. However, the personality of each canine still varies even if coming from the same breed, and it's up to you to set an acceptable amount of clinginess.
Often, dogs become clingy simply because you allow too much attention. If this becomes a problem, you may want to cut back on:
Petting your pup every time he is near
Letting your dog sleep with you
Giving your dog treats every time he barks or whines
Set boundaries early on so that your dog will understand you won't do or give everything he wants.
2. Empathise with your dog's fear or anxiety
If clinginess is a new behavior you've noticed in your dog, it may be his way of getting relief from either fear or anxiety. Are there young kids poking and grabbing your pup? Have neighbors been using firecrackers lately? It's okay to pet your canine pal when you know he's afraid. There's no risk of making your pup more fearful when you comfort him. Sometimes, even senior dogs with dementia or hearing loss will stick close to their humans for guidance and comfort.
If the situation involves fireworks, thunderstorms, or any new housing situations, your pup can learn to become less fearful through gradual conditioning.
For instance, you can let your dog experience more positive feelings towards the "thing" that scares him. Do this little by little, and in the meantime, let your pup have a safe area where he can go to when he's afraid so that he'll depend on you less.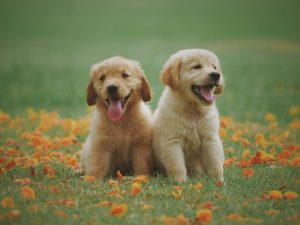 3. Create a safe space
Setting up a safe area is a good way to keep your pup out of trouble while giving him his own place to retreat for relaxation.
It's essential that your dog has a positive experience during training so that he can calmly enter and leave at his own will. Then, add a bed, some treats, and other dog supplies to make the safe space homier and inviting.
When creating a safe space using a pet bed or crate, keep in mind these steps:
Don't let your dog sleep with you.
Place his cot by the side of your bed, but not actually on your bed.
Once your dog learns to sleep comfortably in his own bed or crate, gradually move it further out from your bedroom.
You may want to keep your dog's favorite things in his bed or inside the crate; at least, until he gets accustomed to the safe space you created.
4. Give interactive toys
When a dog doesn't have someplace else to give his attention to, he will more likely have his full focus on his human. As a result, it's up to you to keep your pup occupied. In this case, interactive toys like the Kong Classic and puzzle types will make it fun for your dog to play even without your participation.
Introduce your dog to other forms of entertainment besides your presence so that he can divert his focus and clinginess from you. One option is to gather some of your dog's favourite treats or toys, then spread them around the house. This will encourage your clingy pup to leave you and find them.
Help your pet become a strong, independent dog
Creating a healthy distance between you and your pup is the best way to prevent him from becoming too clingy.
If you think you're the cause of your canine pal's insecurity and dependency, the four tips above can help. Ideally, your pet should be interested in where you are, but still, be able to relax and act independently whether or not you're around.
AUTHOR BIO
Farah Al-Khojai is the Managing Partner of Pet's Delight. A passionate entrepreneur, Farah holds a Bsc in Government from the London School of Economics. She is always on the lookout for new opportunities to develop and grow the pet and equestrian retail and wholesale market in the UAE and beyond, and is proud to be at the helm of the first and the largest pet care provider in the market representing world-class brands including Orijen, Applaws, Hunter, Savic, Flamingo, Ruffwear and Rogz.