If tying the knot is starting to come up in a discussion between you and your partner, you are probably already thinking about the perfect engagement ring. Your engagement ring can not only represent the story of your love but can also say a lot about your style and who you are.
If you get the chance to drop some hints about what kind of ring you want you to need to have a clear picture in your head. All the better to get your point across with minimal input. You don't want to spoil all of the surprises for yourself. 
You should know whether you are interested in custom made rings or something more traditional. You should consider a few important factors like quality and your budget to make sure that you end up with an engagement ring that you will adore forever.
Choose Your Style
If you don't really know what you want you can start by browsing. The web is full of pages dedicated to different styles and designs of engagement rings. Once you start to look at a variety of designs you will naturally start to gravitate toward a certain style that fits your taste and personality. 
As you narrow your search you can refine your options by filtering in your preference between rings that are simple, elegant, impressive or romantic. It's a good idea to go with your gut to find your true style but balance it with your mind for what you can afford.
Set Your Budget
It's fine to dream about a princess sized diamond engagement ring but that probably won't fit into your budget. Start your search by setting your price range right from the start. It can be disappointing to fall in love with a ring that is well out of your budget. 
For those on a tight budget, choosing a ring that uses alternative metals, wholesale diamonds, gemstone rings, and lab-created diamonds is a great way to save money.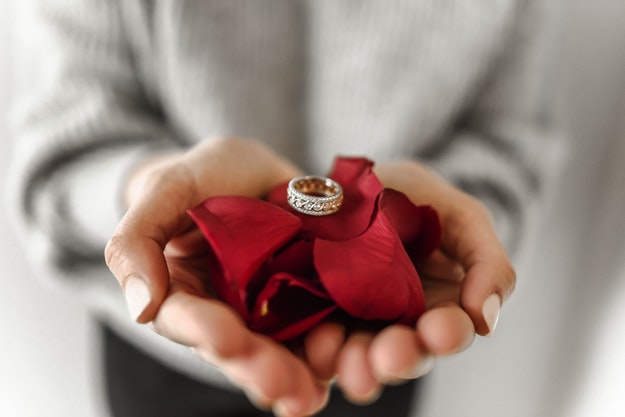 Custom Design
When you take advantage of savings of up to 60% when you buy your engagement diamond through a wholesale broker you can get more bang for your buck. You can buy raw diamonds at a discounted price and have them set separately in order to cut out retail price inflation.
If you want to stand out from the crowd you need a ring that is truly a one of a kind. You can design a ring yourself or work with a ring designer to help you create a ring you will cherish forever.
Gemstones
Since Princess Diana first showed off her famously stunning sapphire and diamond engagement ring to the world, gemstone rings have remained a popular choice for brides. The possibilities are endless and usually more affordable than diamonds. Choose your favorite gemstone and create a unique engagement ring that will be one of a kind.
Conclusion
Choosing your engagement ring is an important decision that will last a lifetime. Take your time and really search out the right style for you. Follow some of these tips to help you narrow down your choices and end up with the engagement ring of your dreams.