Each Spanish region, each city even, has its own pace, vibe, and traditions. Read on to discover the best cities to visit in Spain here.
Are you planning a trip to Spain? You're going to want to know more about it before going there.
This country has such a wealth of timeless monuments, historical sites, fantastic architecture, and beautiful nature, that exploring it is truly magical.
The top cities to visit in Spain are full of gorgeous locations, world-class restaurants, animated bars, and vivid nightlife, with locals and tourists living it up until early morning. To learn about the best cities in the world to live, you can visit City Ranking.
The warm climate and scenic oceanic setting add yet another dimension to this vibrant country.
This article ranks the 10 best cities to visit in Spain. So read on and let yourself indulge in a dream of flamenco, paella, and churros.
1. Barcelona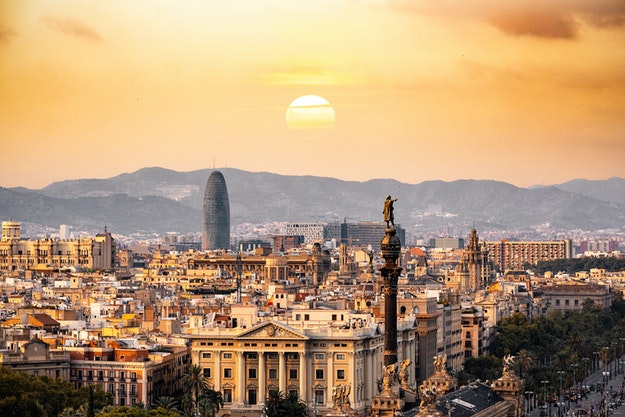 The second biggest city in Spain, Barcelona is found in the Catalunya region of the country.
Barcelona has a perfect blend of culture and history within an incredible modern metropolis setting.
The beautiful city is bright and colorful and offers picturesque scenery wherever you look, notably thanks to the works of world-renowned architect Gaudi.
Barcelona is host to a fantastic nightlife, as well as the famous Football Club of Barcelona. There's nothing quite like going to a soccer match with 100,000 fans in a frenzy.
If you're planning on visiting Barcelona, you'll want to look at the best tours to make the most of what the city has to offer.
2. Seville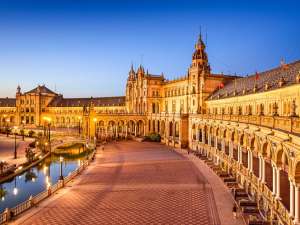 Located in Southern Spain in the dazzling Andalusia region, Seville is Spain's third-largest city.
It's generally considered as the home of flamenco, a deep and emotional art form based on traditional Spanish folklore music. Flamenco will move you with its profound music and stunning dancing.
Go visit the Triana neighborhood to learn all about this ancient art, and be amazed by its very best performers.
But that's not all, as Seville boasts such landmarks as the Alcázar castle complex, built during the Moorish Almohad dynasty, and its Gothic cathedral.
What's more, you won't want to miss the Plaza de Toros de la Maestranza, an 18th-century bullring, where man and beast have fought fierce battles for hundreds of years.
3. Madrid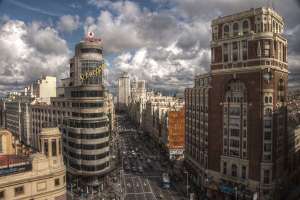 The capital city of Spain, Madrid is naturally a must-see if you're going to visit Spain.
Madrid is blessed with ornate architecture and perfectly maintained gardens. It's also rife with great green spaces. Don't miss the Buen Retiro Park with its lavish water fountains and expansive greenery.
If you love fine arts, you're going to love Madrid. Of course, you'll have to visit the Prado, a world-class museum that houses spectacular works all the way down to the 12th Century.
4. Valencia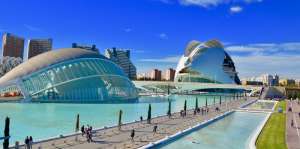 Valencia is located on the Mediterranean side of Spain. This scenic city has a wealth of culture and art that will enchant any culture-lover.
Valencia has a reputation as the City of Arts and Sciences, and hosts some incredible architecture, in the form of futuristic buildings such as the oceanarium, planetarium, and interactive museum.
Don't forget to go for a dip in one of Valencia's beautiful beaches. If you visit in the summer, you might find them packed with tourists, but with the warm climate, you'll be able to go swimming all-year-around.
5. Bilbao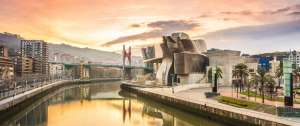 With a population of only 350,000 people, Bilbao might go under the radar for many when it comes to deciding on what cities to visit in Spain. And yet, it'd be a shame to miss on this smaller port city.
Located in Northern Spain, Bilbao is the capital of the Basque Country. A beautiful city, Bilbao offers a charming blend of modernity and tradition with its time-honored Spanish architecture and state-of-the-art towering skyscrapers.
Bilbao is also famous for its Guggenheim Museum, a marvel built by architect Frank Gehry in 1997. The museum has a unique style with its modern, undulating building. Inside, you'll enjoy the cream of the crop of contemporary works.
6. Granada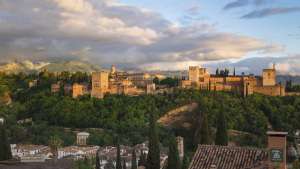 If you're a bit tired of the frantic pace of Spain's bigger cities but still want to enjoy an authentic Spanish experience, Granada will suit you just right.
While Granada is more laid back, don't let it fool you, it hosts some absolutely breathtaking sights. The Alhambra and the Sierra Nevada mountains will leave you with unforgettable memories.
Go for a hike in the foothills of the Sierra Nevada mountains, your lungs will thank you as they take in the fresh clean air.
If you want to truly adopt the Spanish way of life, head back to the city in the afternoon for a nice siesta.
And it's Spain we're talking about, so of course, you'll be able to go for a wild night out on the town. The BoogaClub is the destination for all partygoers with a great atmosphere and lives music every night of the week.
7. Salamanca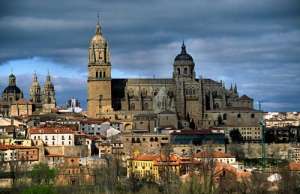 Salamanca is a city full of charm located in the Castile and León region. It's so beautiful that the Old City of Salamanca was granted UNESCO World Heritage Site status in 1988.
A lot of its elegant buildings were created during Spain's Golden Age. Salamanca is a must-see for all architecture lovers. It boasts two wonderful cathedrals, a host of Renaissance palaces, museums, and galleries.
Though it's rich with history, Salamanca is also a city full of students, which makes for a lively place with countless entertainment options.
8. Córdoba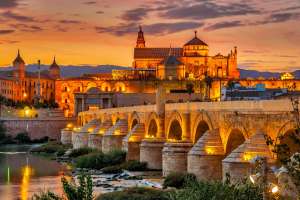 Located in Andalusia, Córdoba is full of history and prestige. It was once the largest city in Western Europe, and its stunning Mezquita mosque testifies to the city's former grandeur.
The amazing Moorish mosque, situated in the historic part of Córdoba, displays lavish architecture and splendid arches. Walk around the city to take in its grand history, and enjoy one of its many restaurants and bars.
9. Malaga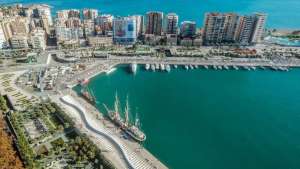 Found on the Costa del Sol, Malaga is a city rapidly evolving. Full of modern art galleries, Malaga has beautiful historic sites such as its amphitheater, which dates back to Roman times. You'll also enjoy its Moorish fortress.
The port area was recently renovated and offers Malaga a breath of fresh air. What's more, cuisine lovers will relish its thriving culinary scene, before going to the beach for an afternoon of sunbathing.
10. Zaragoza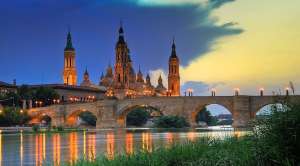 The fifth-largest city of the country, Zaragoza is home to some beautiful Spanish landmarks.
The city's main attraction is the gorgeous Basilica del Pilar, but it also has a wealth of beautiful architecture, with some ancient Roman remains and its old castle. And if you enjoy art, you'll love to visit its many galleries.
Enjoy the Most Beautiful Cities to Visit in Spain
Now you know the 10 best cities to visit in Spain. Whether you're staying for a few days or a few weeks, you're sure to have an amazing time if you go to these places.
Don't forget to visit our Travel section for many more traveling tips.