Introduction
The hype of selecting the best social media agencies has been on the rise for the last decade. As we are living in an extremely tech-driven world, social media agencies are booming.
In this digital age, having an online presence is extremely crucial for small-time businesses; not only does it help them to stand out of the crowd and leave an impact on the Internet, but it also helps them to reach a broader audience base.
Since you have clicked on the link to one of my blogs, I presume you are a small scale business owner, and you are looking for some Top Social Media Agencies that will take your business to new heights. The buzz that revolves around social media agencies is quite hard to ignore.
Social media agencies made millions of dollars amid the COVID-19 pandemic. Since people were not able to move out of their homes due to the fear of the coronavirus pandemic and the government imposed lockdown. All their business stuff had to be done from their homes.
How To Select The Best Social Media Agency In 5 Easy Steps
Select the best social media agency for your business in these 5 Steps.
Some social media agencies just follow the conventional forms for all their clients. As a small scale business owner, you might want to have them do things in a different way.
Each client is unique and has different sets of demands and wants. So social media agencies should customize those services in such a way that suits the respective client.
Since the social media agency industry got a boom after the COVID-19, you are going to find social media agency is every hook and corner these days. There are thousands of social media agencies in the US, and new social media agencies are being built every day.
What sets the best social media agencies apart from a normal agency is that they are experts in what they do. They provide impactful social media campaigns.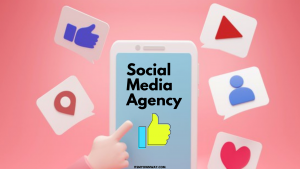 Do your proper research about the social media agency that you are planning to work with. Ask around, read reviews on Google. The best social media agencies will have all their accomplishments showcased on their website.
If you see the reviews, ratings, and testimonials favorable only, then move ahead with the social media agency; otherwise, look somewhere else. In simple words, select a social media agency that offers credibility, an agency that you can depend on.
Does the social media agency that is intending to work with ranks on search engines when you are searching for top social media agencies? A good social media agency would have used proper SEO techniques and have its website ranked on Google.
This means not only are they serious about their work, but they also want people to know that they are good at what they do.
5. Select an agency that increases brand awareness
Since there are a ton of social media agencies in the market at this moment, choosing the right social media agency for your business can be a tough task.
There are only a handful of social media agencies that do work the right way. Make sure the social media agency you are selecting increases your brand awareness. It should always be more about you and less about them.
Final Thoughts
In this tech-driven world, no one can deny the power of social media; Social media has the power to make and break any business. There are over 3 billion active users on social media in the world, which tells a lot about the power and potential that social media possesses.
Keeping this in mind, you would want to consider the above five steps before selecting the best social media agency for your business. A social media agency will help your business grow on a low budget.