Listening to your favorite music on a loud volume is immensely exciting. The best way to play your top tracks loud and proud is to buy a good quality speaker. If you don't want to worry about getting the pesky speaker cables tangled, then a Bluetooth speaker is the best choice. Although Bluetooth speakers offer incredible flexibility of use and portability, more often than not, the wireless speakers tend to have a lower maximum volume level, as compared to conventional wired speakers.
However, it's not necessary to undermine your Bluetooth speaker's performance when you have several ways that teach you how to make a Bluetooth speaker louder.
Why should you buy a Bluetooth Speaker?
Bluetooth is one of the most advanced and commonly-used wireless technologies today. Several media devices with Bluetooth technology, such as your laptop and smartphone, can easily connect to these wireless speakers. With a simple click, you can play your favorite songs at a much louder speaker than those built into your device.
Bluetooth speakers provide an incredibly efficient, easy, and convenient way to connect with media devices and play audio files without the hassle of cables and compatibility of ports. Not every wired speaker may have connectivity ports that are compatible with every media device. Thus, Bluetooth speakers offer an advantage of universal compatibility to users and are extremely convenient.
Apart from optimal compatibility, Bluetooth speakers are also incredibly portable. As they run on rechargeable batteries, all you need is to have the speakers charged sufficiently and you can carry them along on road trips, picnics, to the beach, or camping.
How to boost the volume of Bluetooth Speakers?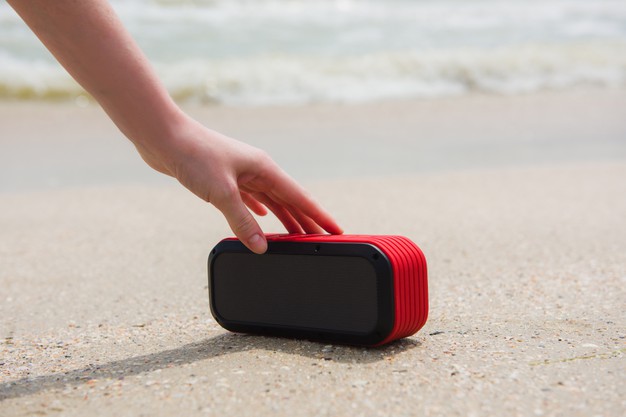 Bluetooth speakers may come second to conventional wired speakers due to the former's smaller size and battery-powered functions. However, this shouldn't restrict their optimal performance when being played in a large room or in an open area.
Check out the simple tips and tricks on how to make a Bluetooth speaker louder and listen to your favorite songs on full blast anywhere and at any time.
1. Check the room size
You should know that your speaker's volume can sound louder when it is placed strategically in a large enough room. If you want to play your top tracks in a very large and open room then the speaker's sound waves may simply dissipate and mar the quality of sound noticeably. Hence, the size of the room matters when you wish to play Bluetooth speakers on a loud volume.
Search for a room that is appropriate-sized and then place the speaker in the right spot. Our experts suggest placing the Bluetooth speaker in the corner as the walls to two sides will reflect and amplify the sound effectively. In simple words, the smaller the room is the better the sound quality produced by your Bluetooth speaker.
2. Put it on the floor
This might sound too simple but placing your Bluetooth speaker on the floor can actually amplify its sound considerably. The reason behind it is that when the speaker is placed on the floor, the sound waves emitted from it flows naturally around the room. This makes the sound clearer and noise-free.
Placing the Bluetooth speaker on the floor is an excellent way to blast your favorite songs loud and have a great time without needing an expensive and extensive music system. In addition, you can even play soft ambient music at a quiet party without the sound overwhelming the chatter among your guests.
3. Fix it to the wall
Walls naturally act as sound amplifiers by reflecting the sound waves evenly from their flat surfaces. If you can't buy extenders you can simply put the Bluetooth speaker close to a wall and this can boost the speaker volume by as much as 25%.
Although the type of wall and the distance between the speaker and the wall may dictate the quality of sound, when you place the speaker at an ideal spot, your tiny speaker can enhance the audio to incredible levels.
Conclusion
We know that these tips and tricks will definitely answer the question of how to make a Bluetooth speaker louder and help you to enjoy your favorite songs in crystal-clear sound.