According to Pew Research Center, 90% of Americans use the internet to connect with friends, shop, research topics, browse service providers, and more. The growth of the digital world has also encouraged businesses to advertise their products and services online allowing them to tap into new markets. 
One of the ways a business can market itself is by using Pay-Per-Click (PPC) advertisement. Every business can benefit from using a good PPC marketing strategy. Since attracting new patients and giving them the best services should be every dentist's priority, dentists should consider using the right dentist SEO services and take advantage of what PPC ads have to offer.
What Is PPC Advertising?
Pay-per-click advertising is an effective way of putting a business in front of its target audience. They are paid ads that show up on major search engine results pages and social media sites. Search engines like Google can boost your practice by as much as 80%.
PPC ads are not free. You will be paying to have your dental practice show up in the results of search engines. Therefore, you need to use the right strategy to ensure you get the best out of every dollar you spend. This means using a digital marketing firm that understands the needs of a dental practice. 
Google Ads, which are an example of PPC advertising, can reach a network of over two million websites and applications. This can give you a good return on your investment. If you want to increase your website's traffic, reach your target audience, and attract new clients to your dental practice, you should consider including PPC in its digital marketing campaign.
How Your Practice Can Grow with PPC
When trying to get new patients and increase traffic on your website, you should first pay attention to the target audience near you. Your target relies on the internet to find the best dental services in their area, so it's important you rank well in their searches.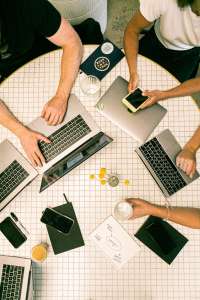 PPC can help your ad or website get clicks immediately. Even if your site is not optimized, PPC can work effectively. However, the benefits will be short-lived. To increase your site's success, in the long run, you should consider having it optimized for search engines for natural growth. 
The location where your ad appears will depend on the terms or keywords you use. For example, if you bid on 'dentist in California,' your ad will appear when your target uses the same keywords in their search.
Dental services providers can benefit from PPC ads because their target audience is defined, have clear goals, and are good at closing business. If you meet or exceed your client's expectations, it is also quite easy to retain them and receive referrals. 
Using the right keywords or bids in your PPC ads will help you climb easier through the rankings than other SEO strategies would. The cost for ad spots varies according to the location you want it displayed. Your digital marketing service provider will help you maximize your results while sticking to your budget.
Grow Your Dental Practice with PPC Marketing
Your dental practice relies on your marketing efforts to grow. This means investing and implementing the right marketing campaigns. PPC marketing can help you boost traffic to your site and grow your business. To get the best out of your PPC ads investment, contact an experienced dental digital marketing firm to help you develop the best keyword campaign for your practice.