Forging is a manufacturing process carried out by molding metal into specific shapes with the use of compressive force. An example of a material that can be forged is steel. The forged components are used in several industries, including agriculture, aerospace, automotive industries, and a few others.
As we continue to elaborate, we will be discussing the uses of steel forgings and how beneficial they are to some industries.
Agricultural Industry
Since agriculture makes use of machinery and implements, there is a need for steel forgings. They provide strength, durability, and reliability to farming equipment. They are mostly used in engines and transmission parts of agricultural machines. But in addition to that, they are used in gears, levers, shafts, and spindles used in tying rods. They also provide parts to the cultivator shaft, spike harrow, and a few others.
Aerospace Industry
Forgings are mainly used in commercial planes, helicopters, and jets because of the particular alloy materials they offer. They also have ferrous and nonferrous components that allow them to be used in both military and spacecraft.
Steel forgings offer strength, durability, and structural reliability, which aids the aerospace industry's performance.
Automotive Industry
The capabilities of forged parts make it easy for automotive and trucks to operate. They have characteristics such as strength, reliability, and economy, which enables their performances ideal for automotive and trucks application. They are mainly used in point of shock and stress, like, axle beam and shaft, kingpins, wheel spindles, steering arms, idler arms, pitman arms, ball studs, and torsion bars.
Sports and Recreation
These forgings are sometimes used to create sporting equipment, for example, golf clubs. And also, recreation equipment like garden tools are made from forged steels.
Apart from the industries discussed above, forged steels of numerous sizes are found in machinery and industrial equipment used by refineries, chemical power, paper, textile, generation and transmission, and steel industries.
Popular Grades of Stainless Steel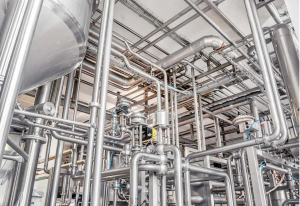 The most popular grades for manufacturing projects are the 300 and 400series alloys. On the other hand, you can choose the 500 and 200 series alloy used for specific applications. You can learn more about the different grades below.
1. The 300 Series
The 300 series used in the forging of stainless steel has several features: 301, 304, and 316.
The 301 has the best wear resistance and weldability during work. The ductile nature it has makes it great for the application of formed products.
The 304, also named A2, is the standard 18/8 steel alloy, the popular grade of stainless steel.
The 316 is mostly used for surgical and food preparation applications. It has marine-grade properties. And compared to the 304, it has excellent wear resistance.
2. The 400 series
These are very affordable options. They have ferritic and martensitic alloys that are easy to use. They also come with some distinct features. There are the 408, 409, 420, and 440 models.
The 408 is a chromium alloy that is heat resistant. Note that even with its heat resistance feature, it isn't used in applications where there might be corrosion.
The 409 is mostly used in the manufacturing of automobile exhaust. They are also one of the most affordable stainless steel available.
The 420 is mostly used in surgical applications. It's martensitic steel with high polishability, making it able to form cutlery grade materials.
The 440 is almost similar to the 420. It is used for making cutlery grade materials because it has toughness and edge retention. It can form top-graded cutlery materials.
There are a couple of iron crystal structures that affect the quality and performance of stainless steel. They are as follows:
3.    Austenitic
The austenitic offers a non-magnetic grade that has excellent cryogenic toughness. It also has a high impact strength compared to other crystal structure options.
4.    Martensitic
This grade offers high resistance to pitting corrosion, and it is also reliable. It is mostly used in the formation of sharp blades.
5.    Ferritic
These crystal structures have the least amount of carbon. They tend to have average hardness and strength and are not so resistant to corrosion.
Because stainless steel is suitable for several industrial applications and has excellent versatility, it is crucial to find the right provider to provide you with quality ones.
If you are interested, then it's best to contact a building or materials contractor. They can provide you with quality options at reasonable rates. You can check here https://worldsteelprices.com/ for more on the cost of different options in the market.
They can create a range of stainless products for use in different applications and industries that require them. Some of their offerings include:
Iron fittings
Gun components
Rail components
Gear blanks
Golf clubs
Refrigerator components
Valve bodies
They can provide you with unique stainless-steel inventories, for example, if you are in specific need of the 200 or 600 series. They are also able to suggest any particular sequence that is best suitable for your application.