How to apply liquid eyeliner is a question to many females; it is like a battle for many young girls. Eyeliner is a must-have cosmetic product for many people, and you can see the beauty it gets on one's eye when applied in the right way. The eyeliner comes in many forms, like pencil eyeliner, liquid eyeliner, and gel eyeliner, and cream eyeliner. But the most usable and best finishing comes when you use the liquid eyeliner as it forms the art with a darker shine finishing.  So let me help you with how you make your eyeliner on the pick. With liquid eyeliner.
Things to know before picking a liquid eyeliner
Go for a waterproof eyeliner:
Yes, dear liquid eyeliner has the most significant issue of smudge, so always go for waterproof, smudge-free eyeliner and eyelash extension tweezers. So that you don't end up looking like a ghost at the party at the end of the day. You have a lot of brands that have waterproof eyeliners so you can pick anyone my favorite one is Lakme eyeliner. So you can choose according to your choice.
Now eyeliner brushes come in different shapes; some are, and some are thin, so make sure you check the comfortable brush so that the flow of the eyeliner is perfect and does not look messy.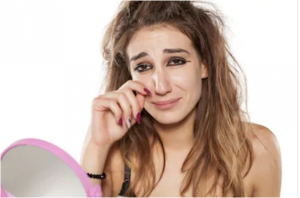 Not just for eyeliner but always remember to be it any product that you are planning to use on your body or face just come from a trusted brand or else it might be a little harmful to your body and face and may result in a side effect.
How to apply liquid eyeliner:
Wash your face, using a scrub or face wash.

Pat dry your face and keep it clean.

Apply lotion on face and let it dry or else your eyeliner might get smudged.

Now if it is summer the best advice from my end would be if you could go for powder so that you don't get sweaty.

Close your eyelid and pull from one end slowly.

This will expand you, and you can make a smooth line of eyeliner.

Now apply eyeliner from the tip to tip and never forget to touch it from the closest to the eye so that you don't give a gap.

Once it dries out, to apply a second layer on it, and it is dry.

You have a perfect eyeliner look to go with.
This is a perfect basic look makeup, and you can put on a simple eyeliner and the right lipstick shade. You are ready to go, and you can look elegant.  If you want to get the makeup to the next level, you can go with a different eyeliner style which you can read in our future articles. Eyeliner and lipstick are good to go with. Just the pro tip here is never rubbing your eyes when you have your linear on, as you might turn to look like a devil.  This was our points on how to apply liquid eyeliner.