A car wrap, sometimes also referred to as car signage, is a vinyl wrap that serves as a moving billboard for your brand. You collaborate with companies like Platinum Signs vehicle wraps to create your mobile commercial using graphic design software. These custom-designed advertisements are printed on vinyl and added to your vehicle as wraps.
Marketers depend on brand events to create relationships with potential customers by offering a personal touch that digital marketing often lacks. For customers, it's a chance to connect directly with businesses and get a sense of their special brand personality. Vehicle wrapping is an innovative and effective way of promoting a brand event at affordable costs.
Ways in Which Vehicle Wrapping Helps in Event Promotion
A vehicle wrap promotes your brand to people seeing and noticing it by displaying details such as your brand name, logo, contact information, and other relevant advertisement tools. The most favorable thing about vinyl vehicle wraps is that they last for years. If the wrapping is planned, designed, and installed by professionals like Platinum Signs vehicle wraps, it may prove to be a highly profitable marketing investment.
Some other benefits of Vehicle Wraps in Event Promotion
1. Great Attention Grabber
Your company's vehicles will stand out from the crowd with brightly colored, eye-catching vehicle wraps. A simple white van on the road would not attract passing passengers, but a well-designed vehicle wrap would easily do the job. People's eyes automatically gravitate towards colorful vehicle wraps because they are so entertaining. A quirky tagline or graphic can easily catch anyone's attention and help amazingly while promoting your next brand event.
2. Reach Larger Audience
You can attract thousands to over a hundred thousand viewers each month, depending on how many vehicles you own, how long they are on the road, and how far they travel. A vehicle wrap can reach a wider audience than almost any other form of advertisement.
The vinyl wraps on your company vehicle begin acting as a marketing technique as soon as they are installed and will continue to be one for long. With a vinyl vehicle wrap, you don't have to worry about your target audience's demographics. Anyone having their eyes on the road is the target of your advertisement.
Vehicle wraps are affordable one-time investments to promote your business event, unlike PPC and other forms of marketing that require constant investment.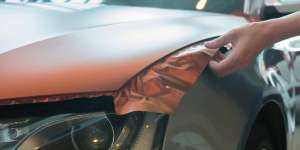 3. Advertisement in Your Neighbourhood
Most of the brand events target the consumers that are nearby.  Vehicle wrap advertising can produce focused and narrow results since you are advertising to your local market. The people in your neighborhood are the first ones who will see your car wrap the most. People prefer doing business with local companies as it is easier to trust. So local marketing through vehicle wraps generates excellent results.
4. Affordability
Unlike billboards and ads, which have fixed costs for the length of the commercial, you may change your vehicle wraps as often or as much as you want for less money. For a fraction of the expense of other long-term advertising campaigns, you can make an initial investment that will pay off for years. This is probably the most important feature of car wrap advertising that sets it apart from other marketing formats.
Final Thoughts
Due to high competition, marketing strategies like mailers, TV advertisements, etc., are becoming more generic. So your competitors may be using the same marketing strategies you use. Finding a way to stand out in ways that your rivals can't is the most important marketing concept. Vinyl car wraps are one such way that can be used to promote your next business event successfully.