Traditions do change. Long-lasting traditions have been altered and modified to suit the present times. Wedding bands have traditionally been made of gold, silver, and lately platinum. Conventionally, we have always attached precious metals with special occasions. However, times are changing. Now, the truly efficient rings are often made of more advanced material, such as the Groove Ring. In contrast to traditional gold, silver, or platinum wedding bands, today silicone rings have started trending.
What are the Groove Rings?
Groove rings are made from a special rubber material. It naturally stretches and bends, which makes it an extremely popular choice of material for wedding and other rings now. Silicone rings initially started for adventure-seekers who did not like ring-less fingers but today has become a fashion accessory and much more.
Traditional wedding bands are immensely expensive and seem a daunting buy for many. Gold, silver, and platinum bands can cost from a couple of hundred dollars to several thousand, depending on quality, design, and weight. Despite their high value, the materials are not practical as they tend to fade with time and use. In addition, gold and platinum bands are not only uncomfortable but can also become downright dangerous too. Statistics show that over 150,000 people suffer from Ring Avulsion Injuries every year in the US.
These are excellent reasons to make a smart choice and replace your traditional wedding and any other ring with a silicone groove ring.
How good are Groove Rings?
Silicone groove rings are unlike the flimsy wristbands, that you get free from stores and various nonprofit organizations, which may just break after a few days. Groove rings are immensely strong yet soft, which makes it a genuinely good quality ring to replace your traditional wedding, college, and sports ring. People with an active life, especially those who love the outdoors, will find the silicone groove rings incredibly useful.
You must be wondering if forking out $ 30+ is actually worth paying for a silicone ring but you can also get a heavy discount if you're lucky.
One of the best-selling models in groove rings is the Zeus style. This is the latest collection from Groove Life and has been launched after intense three-year-long research. The Zeus groove ring is made of three layers – a strong outer band, a stretchable nylon band in the middle followed by a breathable inner band. These rings are made with anti-stretch technology to provide a comfortable and breathable fit.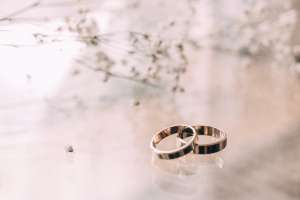 Why should I buy a Groove Ring?
Apart from reminding you of the special occasion or commitment that a ring symbolizes, there are several good reasons to buy a Groove Ring. Some of the top reasons that people choose Groove Ring over traditional rings are:
1. Silicone rings are safer
Tens of thousands of people suffer from Ring Avulsion Injuries every year in the United States. However, bound by tradition, people tend to think that they do not have an alternative other than not wearing a ring at all. However, thanks to its flexibility, silicone rings prevent getting snagged and causing injury as they are made to break after a certain extent of stretching, making them incredibly safe.
2. Silicone rings help save money
Nowadays, even a simple gold, silver, or platinum band can cost around a few hundred dollars. However, the value of traditional rings eventually decreases when the metal becomes dull and scratched with use over time.
On the other hand, silicone rings are incredibly inexpensive but their unique design makes them valuable too.
3. Silicone rings are easy to replace
The worry of losing a precious gold or platinum wedding band bogs the mind of every couple, especially those who need to do considerable physical work on a normal day. The anxiety could also lead to stress which has worse consequences.
However, you can easily replace your silicone ring if it breaks or gets lost (highly unlikely) by simply ordering another one online.
4. Silicone rings are easy to change
An additional advantage of the cost-efficient price of silicone rings is that you can buy multiple designs and styles simultaneously so you never get bored with the same one. You can easily match your ring to your outfit or wear special ones for special occasions.
5. Silicone rings are breathable
Conventional rings are bound to leave a band of sweat and a contrasting white-ring around your finger. This is one of the most uncomfortable things to experience in many situations. However, with the breathable design of Groove Rings, your finger is always dry and you can continue wearing silicone rings comfortably for as long as you like.
6. Silicone rings are stylish
Groove silicone rings are extremely stylish. They come in various designs and even in special themes. This has made Groove Rings incredibly popular as a style statement. The silicone ring is an amazingly cool alternative to traditional gold or platinum wedding bands when you are more focused on style.
7. Silicone rings are more comfortable
Anyone can attest to the fact that traditional metal wedding bands are rigid and often tend to get in the way. The avulsion injuries are another risk factor with traditional rings.
But silicone rings are significantly lighter, more stretchable, and hence extremely comfortable. The incredible lightweight band often makes you forget you are even wearing it after a few days.
8. Silicone rings remain stylish for longer
Seeing your precious gold wedding ring get dull and collect scratches every passing day tends to become upsetting after a while. The slow yet steady damage to the precious metal is inevitable.
However, with silicone rubber rings there's no risk of scratches, losing color, or other similar damage. You can choose to keep your traditional gold or platinum wedding band to be worn on special occasions and choose the Groove Ring for regular use.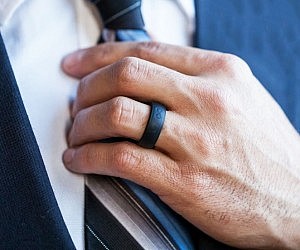 How to Buy the Best Groove Ring?
Groove Life makes the most reliable and extremely affordable top-quality silicone rings. Every Groove ring is made from high-grade silicone and has a unique outer design with a comfortable and breathable inner layer. Unless it is designed to do so, the nylon material in the middle layer is resistant to tearing and breaking.
Genuine Groove Rings look exactly like conventional rings but have the advantage of stretchable quality which you expect from high-end silicone.
If you are looking to buy Groove Rings, there are three important factors to keep in mind:
1. Fit
Silicone is a form of rubber basically and stretches, but it does not offer any breathability. If you need to wear your ring all day long, then make sure that the silicone ring has grooves, or at least is loose enough, to prevent sweat from building up and creating white-rings on your finger.
2. Design
After comfort (fit) you should check the design of the ring to make sure it looks good on you. Groove Life offers an incredible and versatile range of silicone rings to choose, from simple bands to designer and uniquely stylish choices.
3. Quality
Last, but not least, you need to ensure that the silicone quality is good. If possible, choose the ring which is made from certified medical-grade silicone. This is an excellent way to prevent potential allergies and ensures that the ring is of top quality.
Which is the Best Groove Ring for me?
Groove Life understands the need for uniqueness and style and offers an incredibly wide range of silicone rings to customers. Some of the most popular and best Groove Rings are:
Groove Life Zeus
The Zeus style silicone rings from Groove Life are basically three different rings combined together. Zeus silicone rings are made from a tough, durable outer ring. A specially-designed and safety-break patented nylon band is sandwiched in the middle while the innermost layer is made from an ultra-breathable material that lets air in and keeps moisture away.
Groove Life Kryptek
The Kryptek collection from Groove Life has silicone rings that are focused on providing comfort above everything else. Hence, it is made from a special, high elastomer blend. These also have the signature grooves in the inner band for breathability which makes them incredibly comfortable.
The most special aspect of the Kryptek collection of silicone rings is the unusual snakeskin-like style combo which gives each ring a unique and stylish edge. There are various colors to choose from in the Kryptek silicone ring collection from Groove Life.
Groove Life Mayhem (Rich Froning Collection)
The Groove Life Mayhem Rings combine the anti-stretch technology from the Zeus collection with special-edition designs by professional Crossfit Athlete, Rich Froning. The Mayhem is different from other rings as it comes in a regular and slim variety and comes in numerous stylish and attractive designs, including Grip, Incognito, Fracture Red, Solid Red, etc.
Groove Rings are an excellent alternate to your traditional wedding, engagement, and university or sports ring. Lightweight, durable, comfortable, and comfortable, the Groove Ring will let you enjoy an active life and keep a special reminder on your finger through everything.