Over 6 million car accidents happen each year in the US. Unfortunately, it's something many drivers experience over the course of a lifetime.
If you're worried about what to do in case of a car collision, you're not alone. It's something many drivers, especially newer drivers, worry about.
There is a lot to think about, from safety to insurance, so you'll need to manage the process carefully. Thankfully, most car accidents are just minor fender-benders, but you should still treat these accidents seriously.
To learn more about what to do after a car accident, keep reading to find our guide—it will help keep you safe.
After a Car Collision, Call 911
The first step after a car wreck should always be to seek emergency help—call 911.
You may need paramedics to tend to any injuries, and police are needed to file a police report. Police are also helpful to figure out who was at fault in the accident, something that often gets disputed.
The police report is important evidence if your case ends up going to court, especially if the drivers can't agree who is responsible. Also, it's a legal requirement in some states to report any car accident, however small.
When you call 911, let them know the location, as best you can, along with if there's a need for an ambulance or fire truck.
Check on Your Passengers and the Other Driver
Accidents can happen so suddenly, it can be very overwhelming. If you're physically able, check on both your passengers and the other driver. Are they injured? Do they need emergency care?
Sometimes, car accident injuries, like whiplash, aren't immediately noticeable, so it always helps to get looked over by a paramedic or by your family doctor. Even if you feel fine, it's not worth the risk to your health.
If you suspect a passenger has a spinal or neck injury, don't move them–this can make the injury worse. Instead, keep them calm and wait for emergency services to arrive.
Should you know basic first aid, it's fine to start administering first aid or CPR before paramedics arrive. When the paramedics do arrive, get them up to speed as soon as possible in regards to what's happened.
Move to a Safe Place
If your car can still be driven, it's a good idea to move it off the road so you don't block traffic. A nearby parking lot, highway breakdown lane, or even onto the grass is safer than on the road.
However, if the car is damaged, you won't be able to move it anywhere. Instead, you'll want to put our hazards, such as emergency flares, to warn other drivers. If you can, put your hazard lights on as well.
When it's safe to do so, a tow truck will then tow your car to an auto body shop or to your designated location.
Always take care where you stand, as even quiet roads can still have traffic approaching quickly, and they may not be able to see you on the road from a distance, especially in the dark.
Every driver should have emergency flares in their car, along with a reflective to wear at night for safety. Consider creating an emergency preparedness kit for your car, which can also include jumper cables, a spare tire, and a basic first-aid kit.
Stay Calm
After an accident, tempers can flare. It's normal to feel angry, confused, or frustrated when you've been in an accident, especially if you weren't at fault
However, yelling, getting angry, or becoming aggressive won't do any good–in fact, it could end with you being arrested. Try to remain calm and composed after the accident, and avoid becoming aggressive toward the other driver.
Remember that accidents are a part of life that all drivers experience at some point.
Exchange Details with the Other Driver
Next, you'll need to exchange details with the other driver before leaving the scene. It's essential to have each others' information to share with both your auto insurance company and your lawyer.
You'll want to know the other driver's full name, make and model of their car, license plate number, and the name and policy number of their insurance policy. If they happen to be uninsured, you'll need to know this as well.
Should there be any resistance or difficulty with this, it's helpful to have a police officer on-site to mediate. They may also be able to advise translation services, in case both parties don't speak the same language.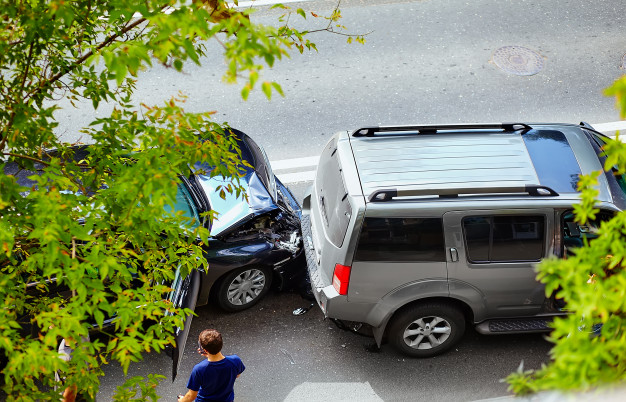 Take Photos of the Accident Scene
It's essential to take photos of the scene before leaving. Photos, or even videos, are important evidence for your insurance company and lawyers.
Use your phone to snap some photos of your car, the other driver's car, and the conditions of the road, and any relevant road signs or evidence (such as debris on the road).
It can also be helpful to see if there were any witnesses to the accident. This could be other drivers, pedestrians, or passers-by, or locals.
If they're willing, try to get the name and contact details of anyone who witnessed the accident. Witnesses are helpful if there is a dispute over who is at fault, as they are considered unbiased third parties.
You'll also want to note the time of day of the accident, along with any other relevant information that your insurer will need to know.
File an Insurance Claim
You'll want to report the claim to your insurance company as soon as possible. The insurer will need to know all of the details of the claim, which is why it's helpful to take photos and exchange details with the other driver.
They will also arrange for your car to be inspected, so their adjusters can work out the amount of damage and the repair cost. If it will cost more to repair your car than it's worth, then your car may be considered totaled and will be written off.
In this case, your insurance company may payout for the value of the vehicle, so you can replace it.
There are lots of factors that impact how much your company will pay, so it's helpful to always know the full details of your insurance policy. You may want to keep your insurance policy documents, or a copy of them, in your car's glove box.
That way, you'll have the phone number of your insurer and policy number in an accessible place at all times.
Your insurance company may cover medical bills as well if you were hospitalized or injured as a result of the accident.
Consider Hiring an Attorney        
Sometimes, you may need to hire an attorney after a car accident. If you feel like you're not able to represent yourself in the complex matters involved after a car accident, then working with a lawyer can ensure you get the best results.
Often, the other driver or your insurance company may dispute the facts of the case, which means it ends up going to court. With the help of a lawyer, you can make sure you receive compensation for your medical bills, missed time from work, pain, and suffering, and the damage is done to your vehicle or property.
A lawyer can also represent the passengers who were in your car, helping them as well.
To get started, search for an attorney in your area who specializes in car accidents. You'll then meet with them for a consultation, explaining the situation of the case, and they can talk you through your best options.
Stay Safe After a Car Accident
Hopefully, you'll never have to experience a serious car collision. However, if you do, use the guide above to stay safe.
While no one wants to be part of an accident, if you use the tips above, it will help you navigate the process–the sooner you get it reported to your insurance company, the sooner that claim can be processed and your car can be repaired, getting life back to normal for you.
If you're worried about how to handle an accident, you may want to write down some top tips to remember and keep them in your glove box, helping you in case you're unsure what to do.
Get started today and you'll be prepared for any accident.
Did you find this article useful? If so, please check out some of our additional content to learn more.