Is there an application that allows converting different file types into PDF, merging multiple PDF files, editing pictures, and making charts? If you are looking for such a multifunctional, web-based, and free tool, then there is good news for you! EEZZEE.IO is the best option for you. We have designed an online app, that can perform all the functions listed above, and the service is available for free.
First of all, EEZZEE.IO is an easy-to-use online PDF converter. Apply this tool to turn images, text files, Microsoft Office files, links, and HTML files into PDF format. The process of transformation just cannot be simpler. Any conversion is done within the shortest time. Upload files for conversions either from your device or from cloud storage (Google Drive and DropBox). That makes everything much easier.
If needed, you can combine several PDF files into one document with the help of EEZZEE.IO. The merging is done in a few seconds. Upload up to 20 files to combine them.
A free online editor of graphic files is available, too. EEZZEE.IO makes it possible to change pictures in a few clicks. Introduce any modifications that you need and receive high-quality results shortly after. Crop, rotate, and mirror pictures in a snap, and then download them.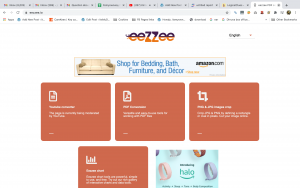 Among all the functions that EEZZEE.IO provides there is also a free web-based chart maker. The tool enables you to create charts quickly just in a browser. The process of building a chart takes you less than a minute. All you need to do is to select the chart type (horizontal bar, vertical bar, stacked line, or stepped line), edit the number of rows and columns, complete the table with your data, and wait for a few seconds until the chart is ready.
What makes EEZZEE.IO a really good and useful service? The platform is free of charge and works without any limitations. Upload files regardless of their size and run an unlimited number of operations for free. There is no need to pay. EEZZEE.IO is an online tool, therefore you do not have to install an app. Registration is not required. The platform functions well on various devices and operating systems, therefore you can seamlessly use it whenever you want.
EEZZEE.IO is a perfect service for everyone. The platform works well for users of different ages and different professions. We have created a very convenient application that provides quick results. Security and privacy are provided.