Discord is one such platform where people connect with each other. This particular platform has so many facilities that a huge number of users always use this platform to connect with each other. We cannot just say when people's minds would change and they start behaving weirdly. Many times it has been seen that people accept the connection request of some people and then regret that. Some people would try to scam you while some people might even try to abuse you so you have to find a solution for this. Dealing with such kinds of people is just impossible.
You might try to make such people understand your disagreement but it would not work most of the time. The best way to get them out of your way is to report them. This is not a very difficult step but you have to be evident in this case otherwise you would not be able to complete the reporting process. If you would follow certain steps then reporting someone from discord would become very easy for you. You should always know about the process of reporting because you never know when you have to face weird people. Here is how you can report someone on discord on desktop as well as through your mobile phone:
How to Report Someone on Discord through Mobile Phone:
This process works for both android and iPhone users so no matter what type of phone you use, you would be able to report someone following this process.
The first thing that you have to do here is to open the discord app on your phone. Your process would start from the app only. Make sure to be in a good internet area while you proceed with the process.
The next step here is to go to the setting and access the menu bar. Here you can either tap on your account to get the menu or you can also tap on the gear icon to get the entire menu of discord.
Here in the menu, you would get the app setting option and you have to tap there. You have to open the app setting option to bring any changes in the app and you would also be able to report someone in this way.
Now you would get a behavior option and once you will click that option, you would get the development mode option. You need to turn this option on so that things could be very easy for you in discord.
Now you would be able to report the person you want to. Here you have to find the message that was abusive to you along with the account. After that, you can tap on that profile to copy the ID of that account.
Now you have to copy the message-id and share the message with the discord team to proceed with the reporting procedure. If the message would be really offensive and inappropriate then you would easily be able to report that sender of the message.
After you would paste the ID to the management team then you would be able to tell them about your problem. Describing the issue in detail always helps in faster action so you should always be ready to describe what inappropriate thing you are facing.
Let us Know How you Can Report Someone in Discord through Desktop: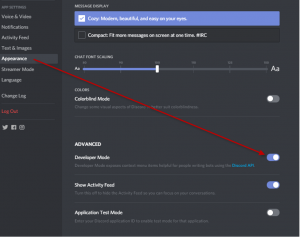 This is also an easy process that you should always know if you are an active user of discord. Eliminating inappropriate people is very important. Even though this would be a bit different from the mobile process but still you can follow some steps to do it perfectly.
You have to get logged in to your account first and let the app open on your desktop as the process would start from this. You need to be logged in otherwise you would not be able to report or do anything in your discord account.
The next step here is to open the setting so that you can proceed with the blocking process of the abusive person. The gear icon would be at the left top corner of the screen. You would get all the settings after you would tap on the gear button of the app.
Here you would get a lot of options but you should not get confused here. You need to find the appearance option that you would find at the left of your screen. You need to click on the appearance option to proceed further with the reporting process in discord.
You need to enable the development mode in your account as this is very important while you try to report someone from your discord account.
Now go back to the message section to copy the ID of the abusive message sender. You have to right-click on the profile of that person to get the copy ID option.
Now you have to paste the ID somewhere so that you can use it later. Now you need to copy the message so that you can tell why that person needs to be reported.
The last step here is to go to the trust and safety option so that you can report that person. Here you have to attach the ID of that person along with the abusive message that the person has sent you. You also have to describe it a bit so that things could be easily done by the management team of the discord app.
So, here was a detailed description of how to report someone on discord via PC or Mobiles. Want to know more about the mobile app, Gaming, and technology. Keep In touch with Technographx to get more such informative articles