The love and relationship between siblings are amazing and are valued all over the world. In India, this relation is known as one of the most pious festivals, and it is called Raksha Bandhan. The sister tied a rakhi, a sacred thread, on her brother's wrist as a prayer for him to protect him from all evil, and then he vowed to protect the same sister from all evil.
Raksha means protection, and Bandhan means combining the two. There are many ways to make it a truly memorable and unforgettable experience with your younger brother. Here, we will share some wonderful ways to celebrate the Raksha Festival with different, ready-to-wear, and more personalized styles, which will surprise you.
Unlimited Food
Everyone loves food. Now, what if, after tying your rakhi to the wrist of your baby brothers, they all continue the infinite food binge of their brother's choice and eat what they can eat? We mean what's better than a random adventure without a plan. They can all go to random places and try anything they want. This will make your connection stronger than it is now. And this would be a great idea to celebrate Raksha Bandhan with your younger brother.
Choosing The Right Rakhi For Your Brother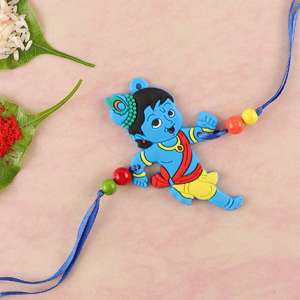 Your Kids Rakhi is always special and there are many options to choose from. High-end rakhis are made of gold, silver, and gems, and can even be personalized with names engraved on the metal. You can also go for some tassel decorations and rakhis like Mickey Mouse, Minion Rakhi, Spider-Man Rakhi, Batman Rakhi, and many more.
Home Decor
With some colorful cushions, changing curtains, some indoor plants, colored lights, carpets, or rugs, you can decorate your home at the festival of Raksha Bandhan. Believe us, a small change to simple things can make a big difference. We will feel an amazing festive atmosphere.
Send Flowers and Cakes
To surprise your younger brother, flowers and cakes can never go wrong. This combination is very simple but very sweet. You can surprise your brother with his favorite flavor cake and flowers at midnight, and vice versa. You can choose a variety of combinations (cake and flowers), which you can buy from online stores. You can also have a personalized bouquet made of chocolate, which is the perfect gift for brothers.
Rakhi Gift Baskets
You can give your brother some great rakhi baskets to make this gift box even more special. Buy gifts for your brothers to celebrate this day of harmony. Convey your feelings to your brother on a special day. You can also add some greeting cards to the basket to make it more special. Rakhi gift baskets provide you with a variety of choices. You will get a variety of gifts for all budgets, whether online or offline, as well as offers and different discounts.
Make a Special Rakhi Dessert
Make your own Rakhi tradition and commit to each other to follow this tradition together every year. You can make a special Rakhi dessert together, which you and your brother will like to eat. Read more on contentpond