In the field of email marketing, Constant Content has been a top leader for several decades. Despite this fact, it hasn't grown with the needs of consumers over recent years.
There is not a lot of robust automation functions and the email caption options that Constant Contact uses lack customization and are now dated.
While this tool is perfect for beginners that are just getting into email marketing, there are Constant Contact alternatives that you might want to consider as they have more features for your business.
1. Omnisend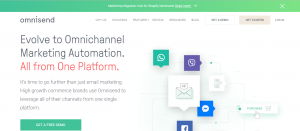 When searching for Constant Contact alternatives, Omnisend is at the top of the list. It has a wide number of features that support all your e-commerce needs. You get marketing automation through a wide number of channels. Everything integrates and works well with the program.
Advantages
You can integrate various channels Such as WhatsApp, Facebook messenger, and Viber. you can use SMS, email, and push notifications. It integrates into What's Google customer match and Facebook custom audiences. It features built-in animation workflows that are designed for your eCommerce business. There are excellent email capture forms. You can boost your subscription rate with their dynamic forms and add your own fields to help you gather the data you need.
They have segmentation and smart targeting. You can create detailed profiles of your customers so you can send them out personalized messages at the right time. You have customizable templates for creating your content. The interface is drag and drops as well as beginner friendly. You can also elements for more interaction such as a scratch card or a gift box to improve click-throughs.
Price
Free -You can use the basic email marketing features and you can send 15 mm emails each month without any cost to you.
Standard -This will cost you $16 each month. You can use the automation workflows and integrate SMS with your campaigns.
Pro -This will cost you $199 each month. You can integrate with all of the available channels, use advanced segmentation features and send unlimited emails.
2. ActiveCampaign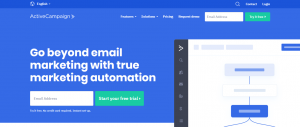 If you have a focus on CRM, then the active campaign is it a good option for you. You get sales help as there are plenty of advanced automation options with this program that are customizable to what you need. It will integrate with a wide number of channels for communication and the interface is easy to use.
Advantages
One of the major advantages of this program is the custom workflows. The interface is easy to use as drag-and-drop so everything is quite customizable to the way you want things to work. You also have CRM sales automation. You can create new tasks and notify your sales team with triggers. It also features a number of segmentation options so you have a lot of personalized communication. You will know how contact has interacted with your business through the lead scoring feature and if the customer is going to make a purchase or not. There is also a channel segmentation as well as email. You can combine in-site messaging, Facebook custom audiences, and SMS.
Price
Lite – This costs $9 each month. You get the basic marketing and email features
Plus -This costs $49 each month. You get deep data integration, sales automation, and you can integrate Facebook custom audiences and SMS.
Professional -This costs $129 each month. You will have access to a machine learning platform. This will help you determine which of your leads are going to convert for you.
Enterprise -This costs $229 each month. You will have an account representative assigned to you, free design services, and in-depth onboarding.
3. GetResponse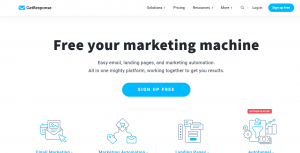 Some of the highlights of GetResponse include email capture forms, templates for your emails, and landing pages. Its best feature is its ability to scale workflows that are customizable with the dragon drop builder. It also features webinar marketing solutions and it's the first email marketing platform to offer this.
Advantages
It has solutions to help you with webinar marketing. You will have what you need to invite people, set up registration forms, and send reminders. The workflow builder uses a drag and drop interface so it's easy to set up your campaign. You get CRM support so you can see where the customer is on their journey. You will know their lead score and how much they've spent with you as well as other details. You have support for over 15 languages and the messages will be sent on time throughout those time zones. It also has e-commerce tools such as detailed segmentation data, reminders for abandoned carts, and built-in product recommendations.
Pricing
Email – This costs $12.30 each month. You will get the basic marketing and email features
Pro – This costs $40.18 each month. You get two more advanced marketing and email features.  you also get up to 100 attendees for a webinar
Max – This costs $135.30 each month. It gives you five hundred attendees for a webinar. You get campaign consulting and custom DKIM
Enterprise – This costs $839 each month. You get a dedicated infrastructure and an account manager
4. ConvertKit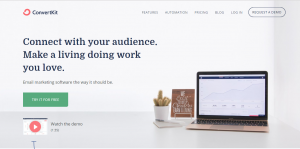 This is more for the content creator or the blogger but it can also help support your e-commerce needs. You can send unlimited emails and customizable forms to help you with your email marketing. There is a visual builder to help with automation. Its API allows integration with over 70 applications.
Advantages
It's easy to create animation with the builder. You can get the content to the right people when they need it. The email capture forms are customizable. The templates they provide are well-designed. You can embed them with ease into your website and you will find plenty of customization. It's easy to organize your subscribers. You can use segments and tags to do this and the messages that you send can be tailored. It can be integrated with over 70 different programs. It will work with various e-commerce applications such as a stripe, Woo-commerce, Recart, and Shoelace. The community is also quite active so you can find support from individuals that are using the program.
Price
$24 each month for 1000 subscribers
$41 each month for 1000 to 3000 subscribers
$64 each month for 3000 to 5000 subscribers
$83 each month for over 5000 subscribers
More subscribers may cost you more
5. MailChimp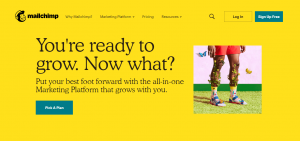 Many people are familiar with MailChimp. It's often seen as an easy application for email marketing. It has the basics you need to create social media ads or launch an email campaign. The automation functions are quite basic. You can test messages with the program and segment your audience.
Advantages
You get templates to use for your email capture forms. These are easy to embed on your website and easy to customize. There are templates to help you build your emails so you will have no problem with the design and composition. You can create ads on Instagram, Facebook, and Google with the ad creation system.  Use the reporting and segmentation to target your audience in a better way. The reports created are quite easy to use.
Price
Free – All you need to begin
Essentials – Costs $9.99 each month. More features and support
Standard – Costs 414.99 each month. More insights for a growing business
Premium – Costs $299 each month. Advanced features and customization
Summary
These are some Constant Contact alternatives to help you grow your business.  You should analyze your business and what you require now and in the future before you try any one of these alternatives.
If you Need Anything related to Email Marketing App then these articles would be extremely helpful for you.
Read: https://itsmyownway.com/essential-email-marketing-smartphone-apps/